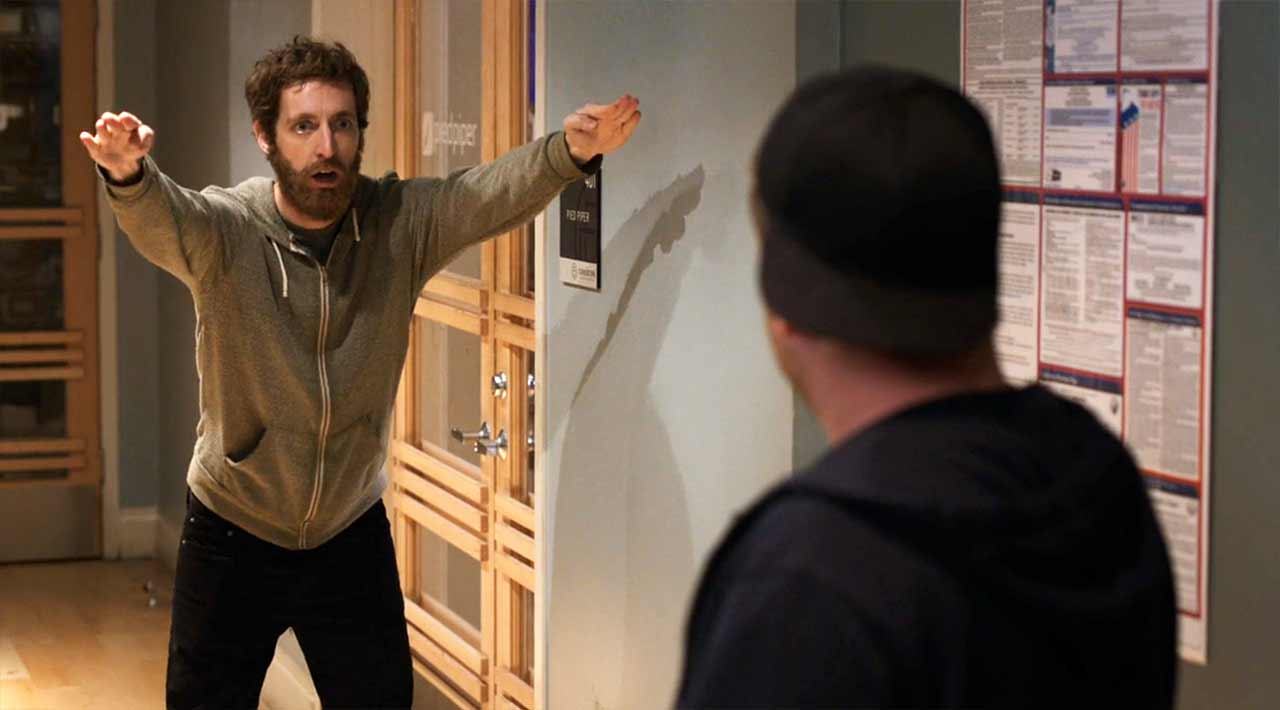 Und schon sind die gerade mal rund zwei Monate "Silicon Valley", die wir im Jahr haben, vorbei. Mittlerweile ungewohnt markiert die achte Episode bereits das Staffelfinale, was durch das Aufeinandertreffen so ziemlich sämtlicher Parteien und ein abrupt eintretendes Ende mit viel Ausblick bemerkbar ist.
Der Auftakt zur Folge war einer der besten seit Langem. Wir springen zum Launch des PiedPiperNets, bei dem selbst Richard so voller Euphorie ist, dass er beinahe souverän wirkt – trotz Rattenfänger-Kostüm. Kaum ist das Flötenspiel verklungen gelangen wir mittels origineller visueller Überleitung in ein zwei Monate später liegendes Szenario voll postapokalyptischer Umstände, was sich vor allem in Vollbärten und einem aufgedrehten Mini-Jared manifestiert.
"Give us time and we will climb, bitches!" (Holden)
Nach einem vermeintlichen Traktionspunkt, der an das User-Sammeln früherer Staffeln erinnert hat, stellt sich eine fiese Machenschaft aus dem fernen Osten als Ursache heraus, was eine Art Mehrheitsanteilsrecht-Rennen in Gang setzt. Der während des zwischenzeitlichen Hochs aufgeführte "Kiss my piss"-Tanz dürfte wie die Phrase selbst hoffentlich zum Kult werden, auch wenn einem als Zuschauer bereits an dem Punkt klar war, dass sich dieses kindische Verhalten nochmal rächen wird.
"No, I don't wanna talk to Gilfoyle – he's a racist and a witch." – "I'm not a witch. Now spit out the kimchi and tell me what the fuck is going on with our network!" (Jian-Yang & Gilfoyle)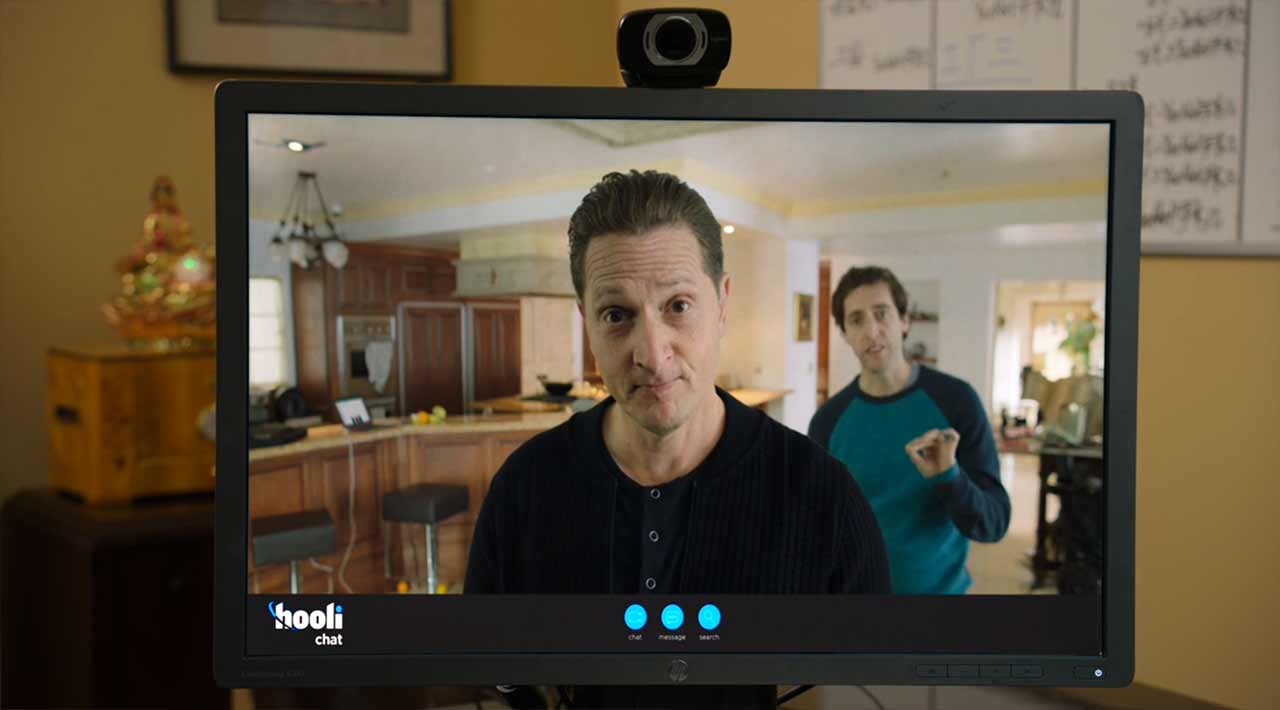 "Oh, it's all smashed up again." (Richard)
Der große "Kampf" findet dann bei Gavin Belson statt. Hooli droht aufgrund utopischer Unfähigkeit Belsons von Amazon verschlungen zu werden, aber er ist doch gerissen genug, um selbst in dieser vermeintlichen End-Situation noch einen Deal für sich stricken zu können. Dass Richard nach dieser inszenierten Videoschalte überhaupt im Anwesen bleibt, will mir nicht wirklich in den Sinn. Klar, die Macher wollten einen Showdown, aber erklärbar ist das Verhalten nicht wirklich.
Vor allem auch vor dem Hintergrund, dass die ganze Collin-Sache sich derart schnell auflöst. Der hat nämlich nicht bereits einen anderen Partner gefunden oder spricht nicht mehr mit Richard, er ist "campen", was sich hauptsächlich auf seine Lauerstellung im Shooter-Spiel bezieht. Dass er dann noch mit dem Tesla abgeholt werden und dessen Schnellfahrmodus mit physikalisch sinnfreien Grimassen-Aufnahmen prominent inszeniert wird, setzt dem ganzen die Krone auf. Wenigstens war Richards kleines Vertrags-Manöver noch rettend zur Stelle.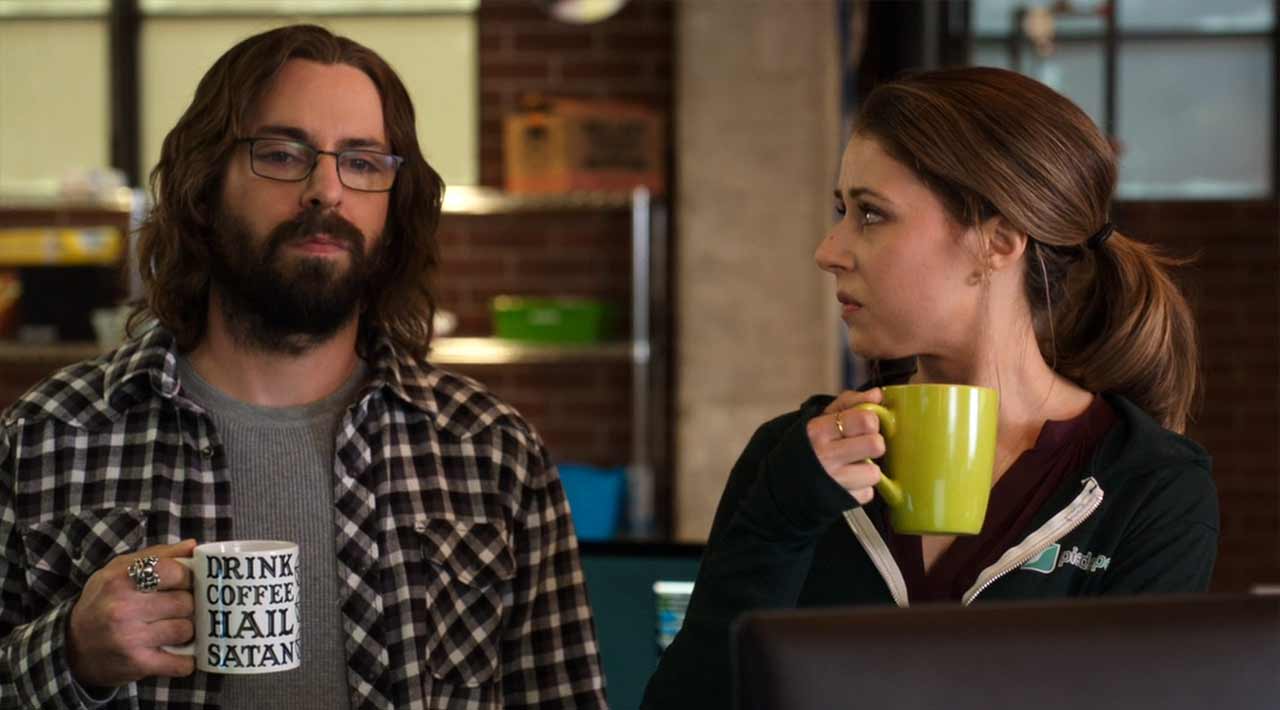 Am Ende zeigt sich, dass Gilfoyle doch irgendwie Gefühle (für Monica?) hat und es setzt einen schönen Rückbezug auf die erste Folge, was die Begehung neuer Büroräume und die erwartbare Raumgröße anbetrifft. Auch wenn dieser Sprung erneut etwas schnell und unerwartet kam – schöne Aufnahme und gute Aussichten!
Das (mit) Beste zum Schluss. Auch wenn mir die Entwicklungen und Turns zu schnell und teils einfach gingen (als ob Collin so schnell zu so etwas zu bewegen ist…) und trotz des Tesla-Debakels war das verdammt kurzweilig. Kurz hatte ich eine 4,5 in meinen Notizen stehen, für eine Top-Bewertung waren mir die Fehler in der Inszenierung dann aber leider doch zu zahlreich.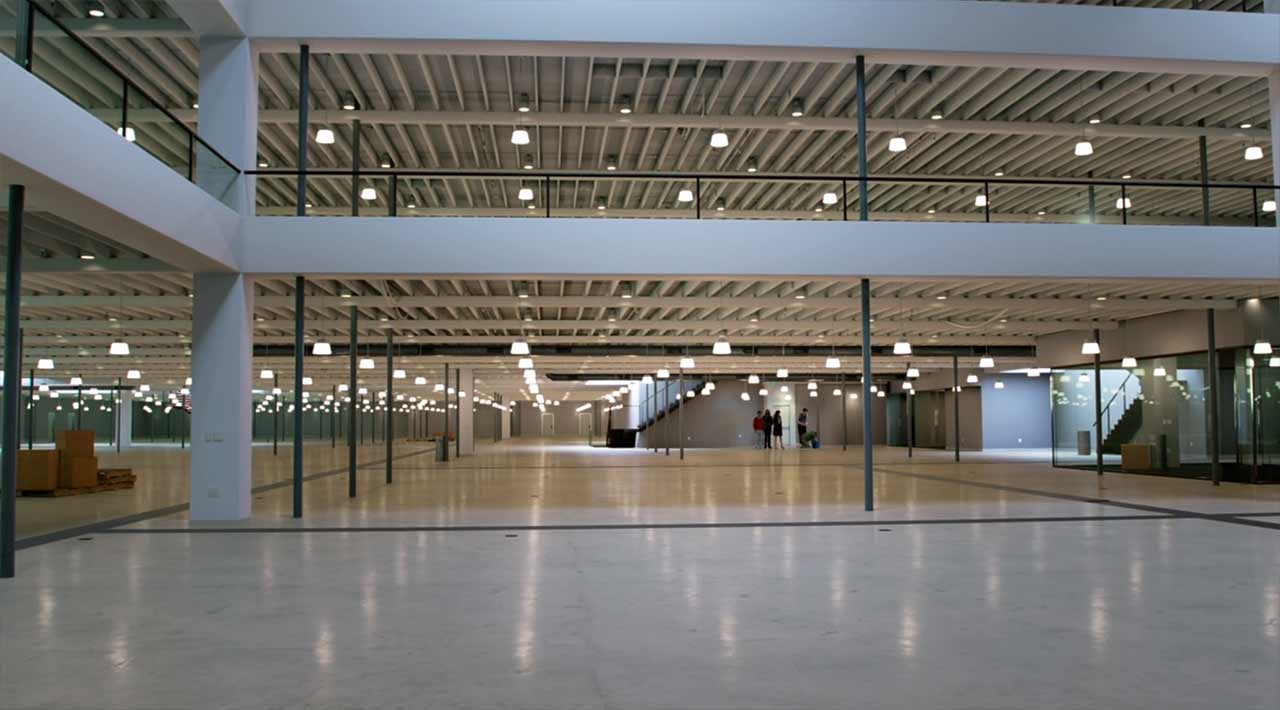 Silicon Valley Staffel 5 Review
Erneut konnte "Silicon Valley" unter Beweis stellen, eine der smartesten und modernsten Comedy-Serien unserer Zeit zu sein. Dennoch haben sich einige Mängel und Verschleiß-Erscheinungen bemerkbar gemacht. Nicht immer wirkt alles wirklich erklärbar inszeniert, dazu gefällt mir die Demontage Gavin Belsons bzw. Hoolis überhaupt nicht. Das einst erfolgreichste Unternehmen wird als inkompetenter Haufen dargestellt, der nicht einmal eine Produktion hin bekommt.
Gernevt hat mich dann doch der überdrehte Umgang mit Tesla. Was zunächst noch als ironisch gemeinte Referenz auf die ansteigende Anzahl nerviger Product Placements hätte gelten können, hat sich spätestens ab Mitte der Staffel (und in der letzten Folge) als eben genau das entpuppt: Nerviges Product Placement. Schade, hier hat man nicht gewusst, wann Schluss ist und sich nicht nur ein bisschen selbst und die Zuschauer für blöd verkauft. Meh.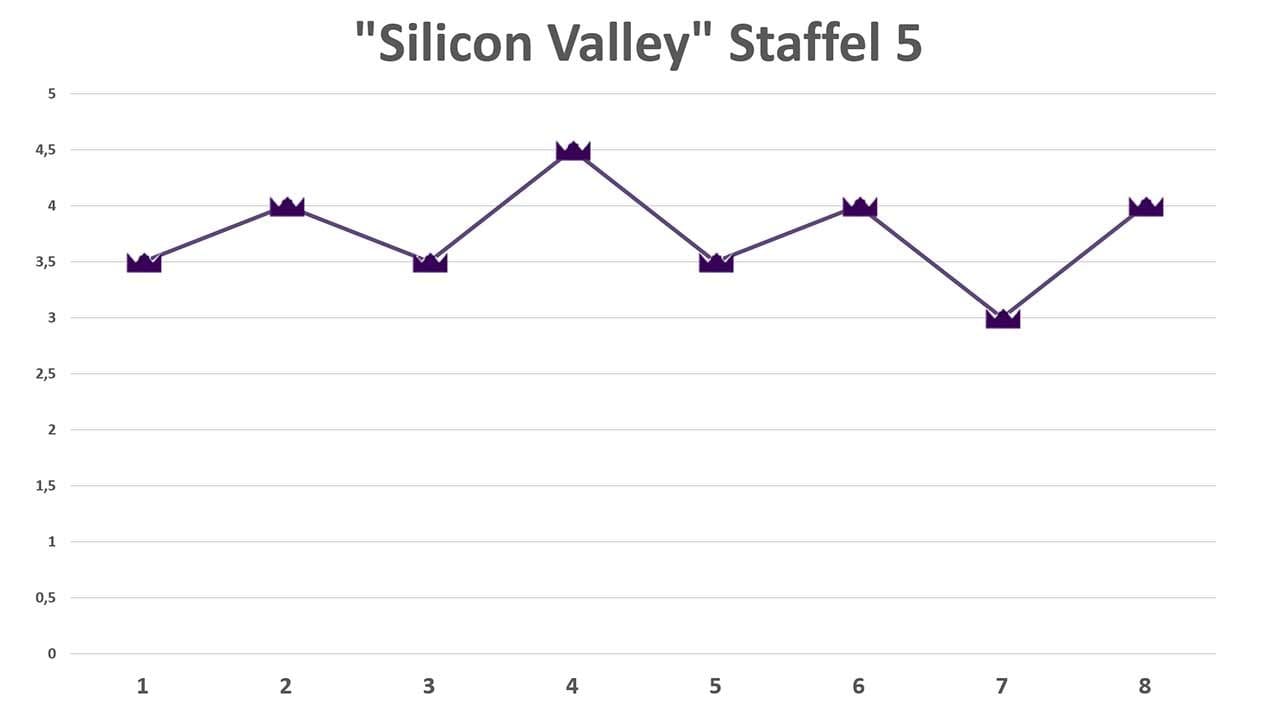 Insgesamt bleiben wieder viele gut geschriebene Dialoge, einige schöne Referenzen zur Tech- und Popkultur-Welt und viele erfreulich gut gemachte bildliche Darstellungen. Dennoch waren die ganz großen Momente Mangelware und so langsam pendelt man sich in einem solideren Bewertungs-Segment ein.
Silicon Valley Staffel 6?
Seit der meiner Meinung nach bislang stärksten Staffel der Serie (3) sinken die Ratings bei HBO mehr als deutlich ab, woraus sicherlich auch die erstmals seit der Debütstaffel auf acht Folgen reduzierte Staffellänge resultiert sein dürfte. Dennoch wurde bereits kurz nach Anlauf der jüngsten Staffel die sechste geordert, was mich sehr freut. Viele Schleifen kann die Serie inhaltlich aber nicht mehr wirklich drehen, denke ich. Von daher gehe ich davon aus, dass die Story langsam aber sicher in finale Wege geleitet werden dürfte, um das noch immer recht hohe Niveau halten und den Figuren gerecht werden zu können.
Inhaltlich gab es jetzt den richtigen Startschuss und – zumindest der Endszene nach zu urteilen – hohe Erwartungen. Ich denke, wir werden ein PiedPiper und einen Richard Hendricks in neuer Rolle sehen: erfolgreich. So richtig. Mal schauen, wie die Charaktere damit umgehen und welche Steine ihnen in den Weg gelegt werden. Jian-Yang kehrt dann auch überraschend schnell zurück und Monica und Richard müssen doch eigentlich auch noch passieren…
Bilder: HBO