OK, heute muss ich mal etwas nerdig an die neue Folge von The Walking Dead rangehen. Sie fängt nämlich auch ungewöhnlich an – mit einem mehrminütigen, scoregeprägten Intro, ohne jegliches Wort der handelnden Personen. Komponist Bear McCreary, der seit der ersten Folge mit an Bord ist, breitet hier ganz neue Klangwelten aus, startet hier mit Streichern und einem Cellosolo, immer begleitet von ziemlich guten Kameraeinstellungen von Michael E. Satrazemis, Chef-Cinematographer bei The Walking Dead und für diese Folge auch mal wieder Regisseur. Erst kurz vor dem Vorspann fällt der erste Dialog, gefolgt von einem kurzen Still und der einsetzenden Musik, bei der dieses Mal der Vorspann erst wenig später optisch einsetzt. Insgesamt sind die ersten Minuten damit schon ein echtes Highlight und absolut sehenswert – überraschenderweise dann aber auch schon das Highlight der gesamten Folge.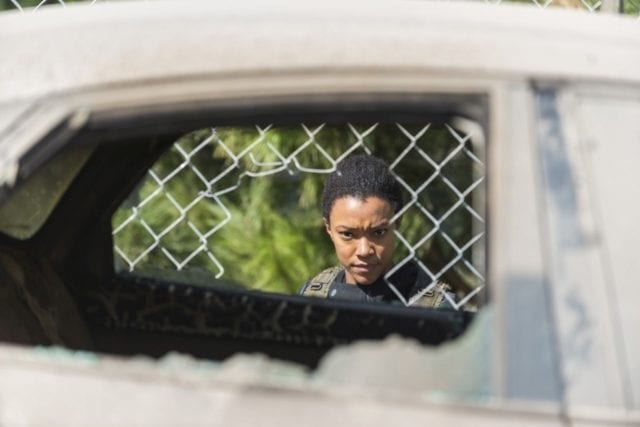 Dann übernehmen nämlich drei meiner vier eher ungeliebten Charaktere (Rosita, Sasha und Maggie) das Lead der Episode, so dass ich einerseits davon eingeschüchtert vor der Folge sitze, andererseits aber auch davon, dass Angela Kang aus dem TWD-Writer's Room die Episode schreiben durfte. Sie war definitiv für die schwächeren Folgen der letzten Staffeln verantwortlich, unter anderem für "Rock in the Road", "Sing me a Song" und "The Cell" aus dieser Staffel oder "The same Boat" aus der letzten Staffel. Irgendwie funktionieren ihre Folgen erzählerisch nicht so richtig, und sie haben immer einen sentimentalen, aber nicht wirklich überzeugenden Gesprächsteil dabei. Also, bei "Rectify" zum Beispiel bestehen die Folgen hauptsächlich aus eher tiefgründigen Gesprächen, aber da funktioniert es perfekt, und alles kommt überzeugend rüber, hier jedoch bleibt alles seicht an der Oberfläche.
Das ist bei dieser Episode umso bedauerlicher, als dass sie – wie schon gesagt – scoretechnisch und optisch vollkommen überzeugend ist. Zum Beispiel jene Stelle, in der Rosita und Sasha versuchen, sich ein Auto zu besorgen, und Komponist Bear McCreary auf eine elektronische Komposition umstellt. Eher fremd für The Walking Dead, und vielmehr schon in Richtung "The Knick" gehend. Und zur Optik: Michael E. Satrazemis hat's einfach drauf, alles optisch perfekt in Szene zu setzen. Gregorys Disput mit Simon zum Beispiel, in aller Enge zwischen Wand und Gebäude inszeniert, so dass man sich schon selbst beim Betrachten eingeengt fühlt. Oder Sashas und Rositas Marsch über die Straßen, durch die schmutzigen Scheiben eines Autos verfolgt. Oder der Angriff auf die beiden durch zwei Walker, die wir erst ganz zum Schluss sehen: Satrazemis bleibt die ganze Zeit auf Sasha und Rosita und geht mit uns Zuschauern quasi zwischen die beiden Walker, ohne von den beiden Frauen wegzuschwenken.
Optisch also ziemlich gut gemacht, musikalisch auch, aber erzählerisch leider mal wieder ein Reinfall. Als "Geschenk" bekommen wir dann noch mal wieder unsere Lieblingseigenschaft von The Walking Dead präsentiert: absolut unlogisches Verhalten. Sasha macht sich alleine auf, obwohl sie mit Rosita sicherlich bessere Chance gehabt hätte. Und Daryl macht sich auch alleine auf, um den beiden zu helfen – ist klar. Fragt man sich, wofür sie die anderen Mitstreiter wochenlang vorbereitet haben, wen sie jetzt doch alles im Alleingang machen. Jaja, die alten TWD-Krankheiten: Erzählung und Logik…
So wird's eine
obwohl die Folge aus den schon genannten Gründen wirklich mehr hätte erreichen können.