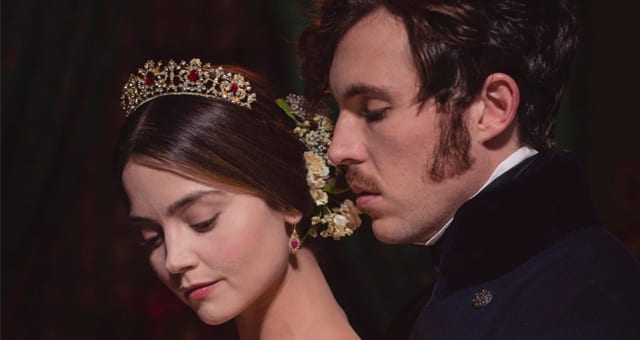 Seit kurzem läuft bei itv die 2. Staffel von "Victoria". Und natürlich habe ich mal einen Blick in den Staffelauftakt der royalen Serie aus dem letzten Jahr geworfen, die mir am besten gefallen hat. Mit "The Crown" wurde ich irgendwie nicht warm. Die Figuren bei "Victoria" sind mir da durchaus näher und sympathischer. Außerdem interessiert mich die Zeit der Serie mehr als bei "The Crown".
Und wie war er nun, der Auftakt zur 2. Staffel? Ich würde es mal mit ernüchternd beschreiben. Irgendwas fehlt. Aber beginnen wir mit einem kurzen Blick in die Handlung.
Handlung
Victoria und Albert haben in den ersten beiden Episoden mit der neuen Situation – verheiratet, Eltern geworden – zu kämpfen. Vor allem für Victoria ist die Rollenverteilung eine kleine Belastung, da sie für sich noch nicht die richtige Gewichtung gefunden hat. Königin, Ehefrau und Mutter. Da kann man sich schon mal im Wort vergreifen. Erst recht wenn etwas Eifersucht dazu kommt. Oder der eigene Mann die königlichen Geschäfte anders geregelt hat als man dies selber für richtig hält.
Denn während Victoria im Mutterschutz weilte und ihre Elternzeit nahm, übernahm Albert die meisten Pflichten am royalen Hofe. Dazu gehörte auch die Kommunikation mit der britischen Regierung und dem Austausch mit dem Premierminister zu wichtigen Themen. Und Albert entschied sich, nicht alle Themen mit seiner Frau zu teilen sondern sie von den eher schlechtern Nachrichten abzuschotten. Wie beispielsweise die bedrohliche Situation der königlichen Truppen in Afghanistan und die damit verbundene schlechte Stimmung in der Bevölkerung.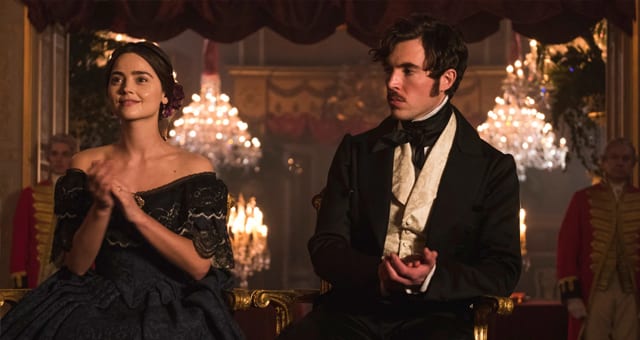 Zudem zeigt sich, dass Albert aufgrund seiner Erziehung und Bildung seiner Zeit und seinem Stand ein wenig voraus ist. Er denkt an die Zukunft, nicht nur militärisch sondern auch gesellschaftlich und kulturell. Albert, der selbst zur Führung eines Landes erzogen wurde, teilt viele Interessen, die seiner Frau eher fremd oder komisch vorkommen und sucht sich seine eigenen Betätigungsfelder. Und dort steht vor allem der stetige Besuch und die Unterstützung der Royal Society im Vordergrund, der nationalen Akademie der Wissenschaften des Vereinigten Königreiches für die Naturwissenschaften. Victoria wird immer mehr bewusst, dass Albert ihr intellektuell überlegen ist und sich für Dinge interessiert, die sie nicht versteht. Sie sieht sogar ihren Thron gefährdet und das Albert vorhaben könnte, das Königreich an ihrer statt zu regieren.
In dieser Melange und in der Unsicherheit ihrer eigenen Rollen ist das Eheleben der Beiden im Staffelauftakt weniger herzlich als noch zum Ende der 1. Staffel. Vor allem Victoria macht es ihrem Albert nicht gerade leicht. Zudem verbindet sie das wissenschaftliche Interesse ihres Mannes an einer Rechenmaschine der Mathematikerin Ada Lovelace mit einer zu tiefen Zuneigung der Beiden zueinander. Mit anderen Worten: Victoria ist ziemlich eifersüchtig, aber nicht auf Ada als Frau sondern als Wissenschaftlerin, die über Dinge Bescheid weiß über die ansonsten nur die Männer referieren wenn sie sich ins Kaminzimmer verziehen und eine Pfeife rauchen während die Frauen sticken oder mit den Hunden spielen.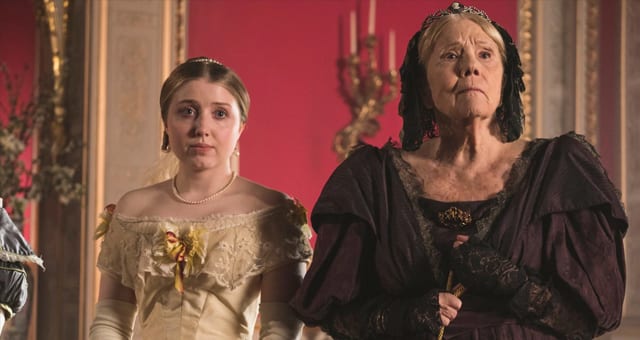 In ihrer Not wendet sie sich wieder ihrem Lord Melbourne zu, dem pensionierten Premierminister und Ratgeber aus der 1. Staffel. Wobei sie sich keinen politischen Rat erhofft sondern einen Ratschlag und eine Meinung zu ihrer Ehe, ihrer Rolle als Frau und auch als Königin. Aber natürlich wird diese erneute Kontaktaufnahme zu Lord M. nicht von allen Seiten positiv gesehen, vor allem Onkel Leopold (Bruder ihrer Mutter und familiärer Strippenzieher bei den Coburgs) sieht sein Gebilde Victoria/Albert und damit seinen eigenen Einfluss gefährdet.
Meinung
Was in meinen Augen in den ersten beiden Episoden klar wird, ist die Tatsache, dass Albert von Klein an auf die Rolle eines Staatslenkers vorbereitet wurde. Und Victoria nicht. Die Wahrscheinlichkeit dass dieses kleine Mädchen mal Königin werden könnte, war damals so gering wie unwahrscheinlich. Aber manchmal kommt es eben doch anders. Allerdings überzeugt Jenna Colemans Victoria durch innere Werte und das richtige Bauchgefühl, um die ein oder andere brenzlige Situation zu umschiffen bzw. galant zu lösen.
Von daher wundert es mich sehr, dass man versucht Victoria in die Ecke einer eifersüchtigen Ehefrau zu schieben. Passt in meinen Augen gar nicht ins Bild. Und auch nicht im historischen Sinne. Nur wo war hier das Bauchgefühl?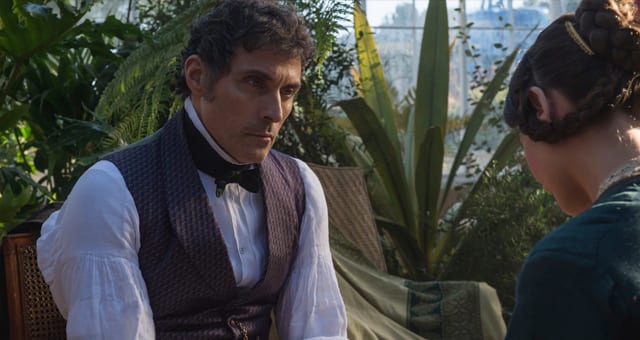 Von den eher nicht so wirklich vorhandenen Eheproblemen und den Eifersüchteleien mal abgesehen ist der Staffelauftakt eher arm an Höhepunkten. Ich bin so gar nicht underwhelmed. Dafür gelingt den Drehbuchautoren und dem Castingbereich ein durchaus gelungener Schachzug: Diana Rigg. Wer nicht sofort etwas mit ihrem Namen anfangen kann, die Rede ist von Lady Olenna Tyrell aus "Game of Thrones". Und man kann nicht übersehen, dass Rigg offenbar Gefallen an dieser Type gefunden hat, denn ihre Duchess of Buccleuch hat vieles was wir auch an Olenna Tyrell mochten. Auch wenn die Duchess of Buccleuch momentan eher comic relief Charakter hat. Aber schauen wir mal was sie aus dieser Figur machen werden. Eine Diana Rigg engagiert man nicht um sie als lustige Nebenrolle zu besetzen.
Eine ähnlich gute Idee ist die Rückkehr von Rufus Sewell als Lord Melbourne. Und wie die Vorausschau zeigt, bleibt er uns noch etwas länger erhalten. Ein Rufus Sewell tut einer Serie immer gut.
Ansonsten weiß ich noch nicht wirklich wohin die Staffel steuern möchte. Mir fehlt noch etwas der rote Faden. Es bewegt sich durchaus vieles, aber nichts geht wirklich voran. Was ich weiterhin gut finde, ist die Tatsache, dass auch weiterhin die Bediensteten der Königin ihre eigenen Geschichten haben, wenn auch bislang eher weniger im Mittelpunkt als noch in der ersten Staffel.
Worüber ich mich aber nicht mehr aufrege, ist die Tatsache, dass selbst die Deutschen (Vater, Söhne, Onkel) untereinander kein Deutsch sprechen. Nicht mal ansatzweise. Auch wenn Albert in den ersten beiden Folgen soviel Deutsch spricht wie in der gesamten 1. Staffel. Also ungefähr drei Sätze. Aber eben zu seiner Tochter. Naja.
Ich hoffe für die kommenden Folgen dass sie noch einen guten roten Faden für die aktuelle Staffel finden werden. Und eigentlich gehe ich auch davon aus.
Bilder: itv