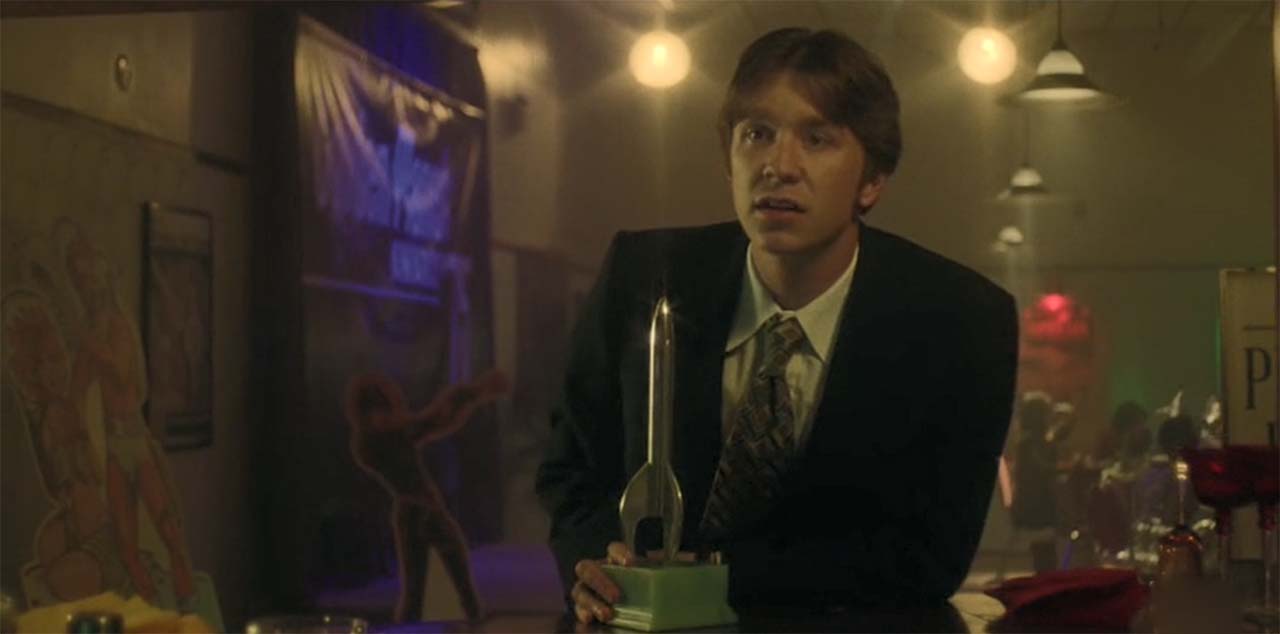 Eine besondere Folge mit für "Fargo" bislang eher untypischen Elementen gab es diese Woche zu sehen. Nicht immer glückt das erzählerische Experiment, aber zumindest bringt es uns einer Figur näher: Noch-Alt-Polizei-Chefin Gloria.
Zunächst gibt es den Zeitsprung ins Jahr 1975. SciFi-Schreiberling Thaddeus Mobley trifft Produzent Howert Zimmerman und somit den Anfang seiner Probleme. Die Aufmachung gerade zu Beginn gefällt sehr, vor allem in Verbindung mit dem knackigen Soundtrack. Dazu eine kleine Erinnerung an ein meiner Meinung nach eher unnötiges Kapitel aus Season 2…
"Say 'U-F-O'!" (Fotograf)
Die schöne Vivian wird "The Cheddar Kid" zum teuren Verhängnis – ach ja, und natürlich das Koks. Als vermeintlicher Drogenexkurs ins All beginnend, bekommen wir animierte Sequenzen zu sehen, die die Geschichte des prämierten Romans "The Planet Wyh" zu erzählt bekommen.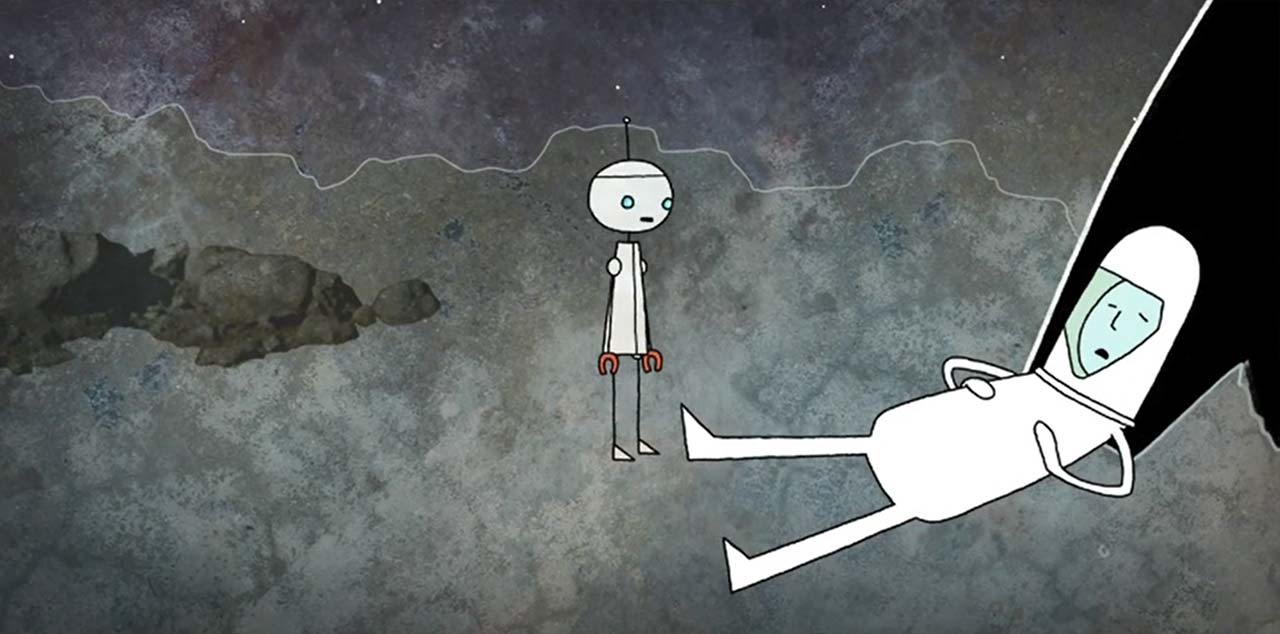 Den liest Stieftochter Gloria liest im Flugzeug und wir sind wieder im "Hier und Jetzt" des Jahres 2010 in Los Angeles.
"Is that a typo?" (Paul)
Neben den Produzenten spielenden Fred Melamed gibt es mit Ray Wise als Sitznachbar ein weiteres prominentes Gast-Gesicht.
"This is my sixth flight this week…" – "Isn't it Thursday?!" (Paul & Gloria)
Das ganze Setting ohne Schnee, leicht geheimnisvoller und skurriler Aufmachung und mit Carrie Coon in der Hauptrolle der Episode wirkt nicht nur ein bisschen wie "The Leftovers". Kofferstehlende Weihnachtsmänner, eine astreine "Useless Machine" und eine sehr persönliche Erzählweise.
"Mom, there is no such thing as Santa." – "There's not?! I can see about nine of them out of my window…" (Sohn & Gloria)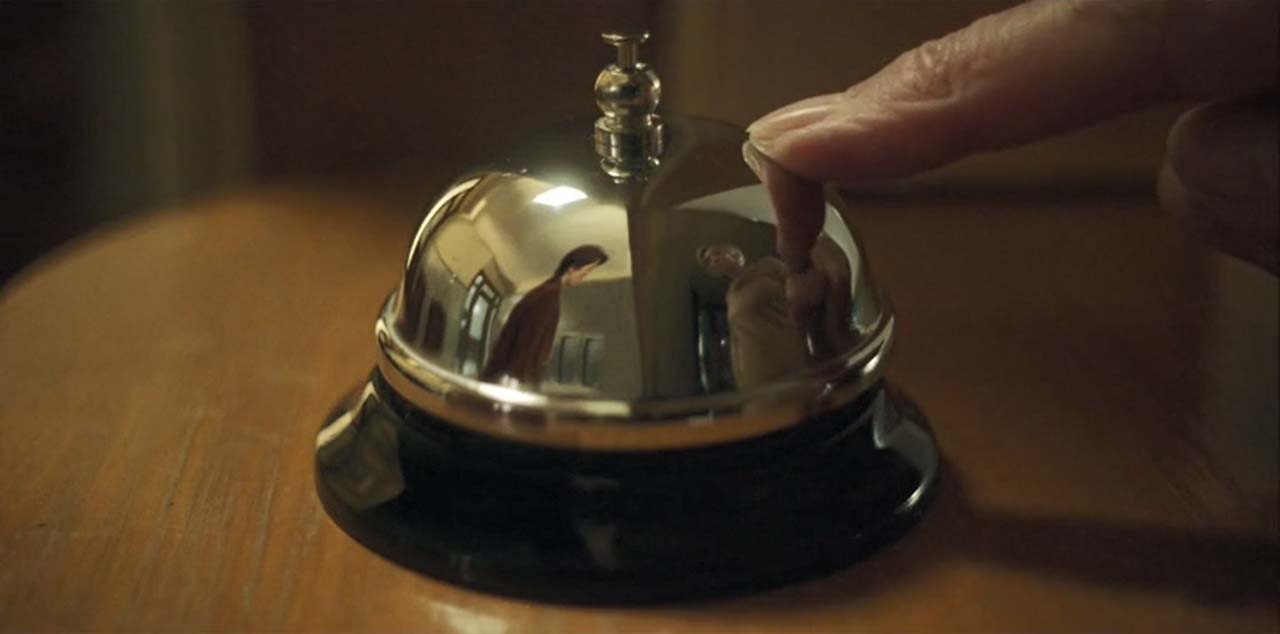 Ebenfalls serienbekannt: Rob McElhenney ("It's Always Sunny In Philadelphia") als Polizei-"Kollege". Der bricht ein bisschen mit der Vergangenheits-Aufarbeitung, indem er uns ins "Jetzt" von vor sieben Jahren und die etwas plumpere und mit weniger Stil und Geduld gesegnete Generation leitet.
"Can you stop saying 'Facebook'?!" (Gloria)
"I gotta go, drop the kids off the pool.." – "You got kids?!?" – "I got to shit!" (Officer & Gloria)
Etwas verwundert war ich, dass der alte Zimmerman 35 Jahre später noch lebt, war unser grolliger Schriftsteller doch bereits recht ordentlich gealtert. Die Besetzung des im Altersheim dahin lebenden Rentners war dagegen sehr gelungen, ebenso hat mir die Früher-Jetzt-Besetzung von Vivian gefallen.
"I'm 29 years sober – a long time. Before that, I wasn't." (Vivian)
"You're a bad person!" (Thaddeus)
Im Motel-Badezimmer-Gegenschnitt verwechselt man "Ted" und Gloria dank beinahe identischem Haarschnitt fast. Fehlt nur noch der 70er-Pornobalken. Dafür gibt es porzellane Inspiration in Sachen Namensgebung.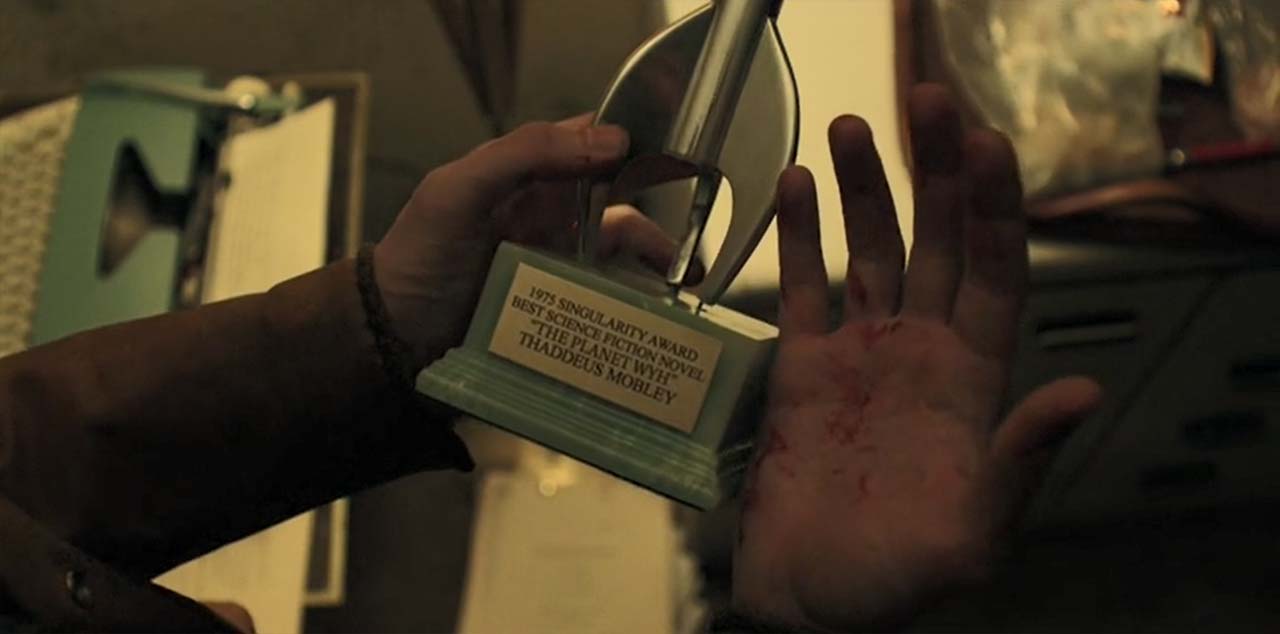 Am Ende stellt sich jedoch die Frage, ob dieser erzählerische Exkurs nicht so unnötig, wie die kleine Holzbox ist? Ja, nett anzuschauen und auf seine Weise originell, am Ende dreht sich die Welt aber auch ohne weiter. Es geht wieder zurück nach Eden Valley, es gibt Schnee zu sehen und die eigentliche Handlung wurde ohne Glorias zutun daheim voran gebracht. Auftragsmörder gefunden – Kollege Donny hat daheim für Frotschritt im Fall gesorgt und freut sich mehr über Milchshakes und Pommes als der Junge (fährt dann aber in eine ganz andere Richtung ab?).
"You just appear every time someone says 'Arby's'?!" – "You are going to Arby's?!?" (Gloria & Donny )
Vielleicht ist das aber auch alles eine Analogie. Der beim Aufladezustand am anfälligsten für Überfälle seiende Roboter, dessen Dienst erledigt ist und dessen inneres Licht wie die kleine Holz-Maschine von Grün auf Rot schaltet, bevor es ganz vorbei ist. Vielleicht eine Metapher für kommende Dinge, wie eine verwundbare Polizistin. Wir werden sehen.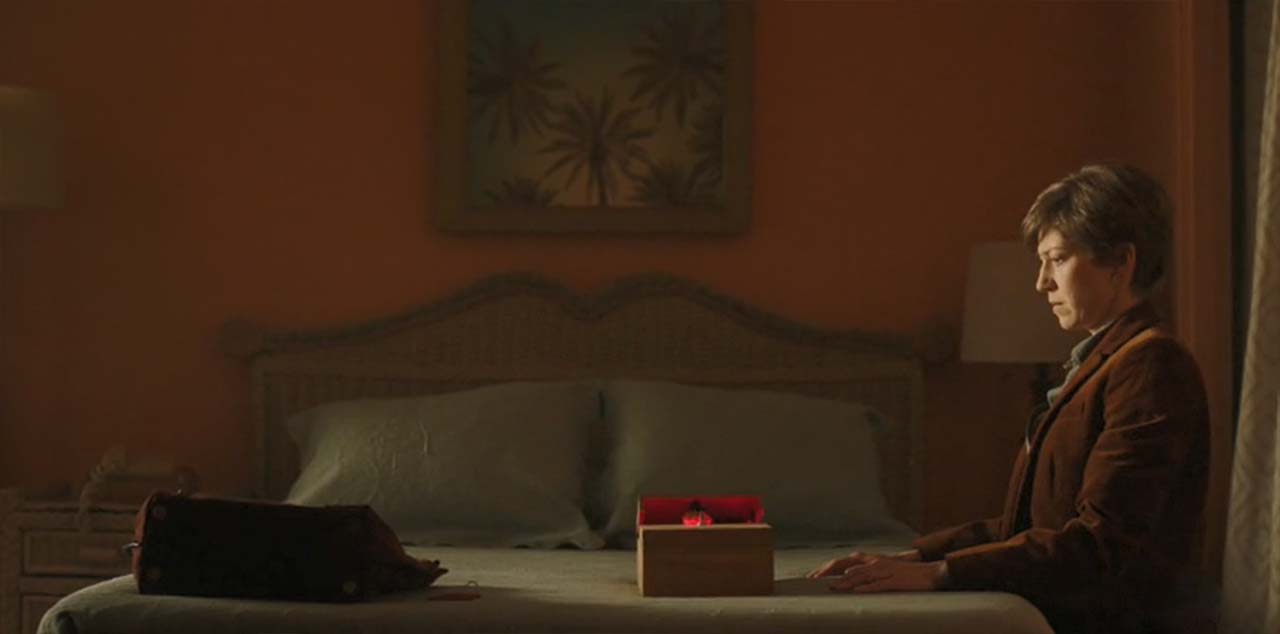 Noch immer bin ich etwas unschlüssig, was ich von der Folge halten soll. Die Erzählweise war durchaus gelungen und als Episoden-Exkurs bin ich eigentlich immer für so etwas zu haben. Aber die wirkliche Grundlage für die Geschichtsstunde fehlt mir (noch) zu sehr, dazu habe ich tatsächlich den (echten) Stussy-Klan vermisst, ebenso wirkte die Stimmung deutlich erdrückter als sonst. Daher für mich nur eine mittelmäßige Episode, gerade im Vergleich zu früheren Unterhaltungstaten.
Bilder: FX