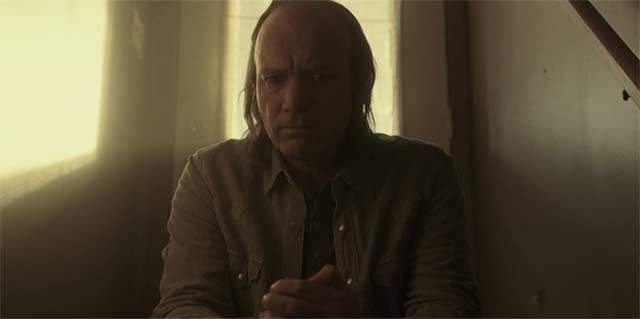 Glas ist direkt von Sekunde 1 der Episode zu sehen. Die Scheibe zum Fenster einer Tür, die eine Minute lang zu sehen ist, als Zeichen für die leidgeplagten Stunden der Nacht, die Ray zum Morgengrauen vor ihr sitzend und Rachepläne schmiedend beendet. Nikki lebt. Zwar sind Stolz und Körper stark verprellt, aber nichts, was ein gutes Eisbad nicht lösen könnte. Etwas seltsam wirkt jedoch, dass einen Tag später plötzlich Angst vor internen Verletzungen laut wird.
Die Darstellung der folgenden kleinen "wahren Geschichten" hat gefallen. Der Beginn des ersten Weltkrieges aufgrund eines Sandwiches, die gefakete Mondlandung – alles spielt wunderbar mit dem Story-Begriff, den wir zu Beginn einer jeden "Fargo"-Episode zu sehen bekommen. Wahr, erdichtet, gelogen oder verfälscht – am Ende immer eine Frage der Perspektive und des Glauben(wollen)s.
"You are talking about doubling the size of the company in SIX MONTHS?!" – "Three months." (Sy & V.M.)
Besonders abgefeiert habe ich dann Meemo als ordnungsliebendes Spiegelbild zum investigierenden Finanzbeamten. Ein sehr geiler Shot, ein ironisches Spiel mit überzogenen Vorurteilen und gar komplett identischen Stiften – herrlich!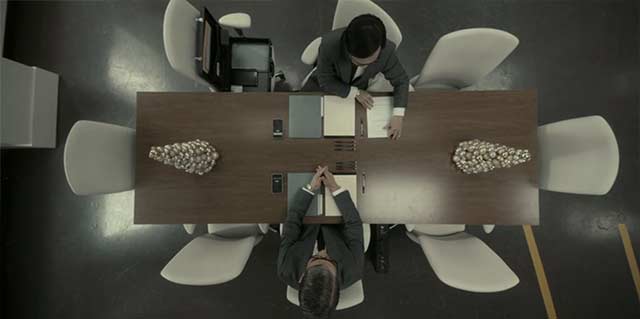 Allgemein erwische ich mich dabei, mehr und mehr Partei für die eigentlich Bösen zu ergreifen. Ich hatte ja bereits beschrieben, dass ich mit dem Protagonisten-Brudergespann nicht wirklich warm werde, die spielerisch wie professionell arbeitenden Gegenspieler versprühen aber eine ungemeine Wirkung, sind stets präsent, haben Charakter und sind originell. Es macht mittlerweile großen Spaß, ihren Machenschaften samt abgeklärter Art zuzuschauen. Lediglich beim polizeilichen Besuch spielt sich Varga dann vielleicht doch etwas sehr auffällig (und nicht wirklich souverän) in den Vordergrund. Das wirkte nicht ganz passend.
"I didn't get your name…?" – "True." (Gloria & V.M.)
Zu den vielen kleinen Dingen, die mir diese Woche gefallen haben, gehört auch die Tatsache, dass Gloria (trotz der einschlägigen Werbung für das Portal in Episode S03E03) noch immer nicht auf Facebook ist.
Ansonsten wurde meine Phobie gegenüber schrecklichen Klingeltönen genährt. Ray hat ungefähr die hässlichst-klingende Klingel der Welt, da kann man schon einmal vergessen, das Fluchtgeld mitzunehmen. Eine Kleinigkeit, die zu einer ungemein spannend inszenierten Motel-Szene führt, die mir ebenso sehr gefallen hat. Und zu einem finalen Treffen der Brüder. Emmit will die Fehde beiseite legen und macht ein Friedensangebot.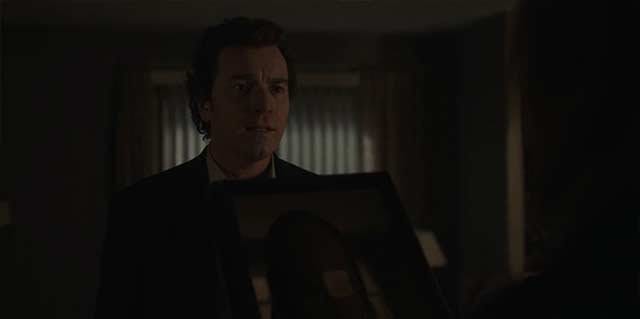 Gerade wollte ich die Szene loben (z.B. aufgrund der schönen Spiegelung im obigen Shot), da passiert dieses blutige Bilderrahmenglas-Fiasko! Zum einen ist die Todesart Rays selten dämlich (und so vermutlich auch lediglich theoretisch möglich), zum anderen merkt man leider, wie aufgrund der Doppelrolle Emmit in eine gelähmte Schockstarre versetzt wird, statt rettend zur Hilfe zu eilen. Das ist natürlich nachvollziehbar, wirkte auf mich aber unpassend, da beide in dem Moment doch ihre brüderliche Liebe zueinander offenkundig und schlagartig wiederentdeckt haben (man bemerke die um Hilfe flehenden letzten Worte und Blicke Rays, nachdem er zuvor noch voll stolz und ausgerufener Unabhängigkeit war). Vermutlich spielt es auch der weiteren Story (Stichwort: Spurenverwischung) in die Karten, dass Emmit sich nicht zu seinem Bruder geschmissen und ihn in blutverschmierte Arme genommen hat.
"Things of consequence rarely happen by accident." (V.M.)
Auch wenn ich den Tod an sich unheimlich bescheuert fand, war die Aufarbeitung dann doch wieder gelungen. Alleine der Farbwechsel von Grau auf Orange nach dem Aufsitzen von Varga während des Telefonats – klasse!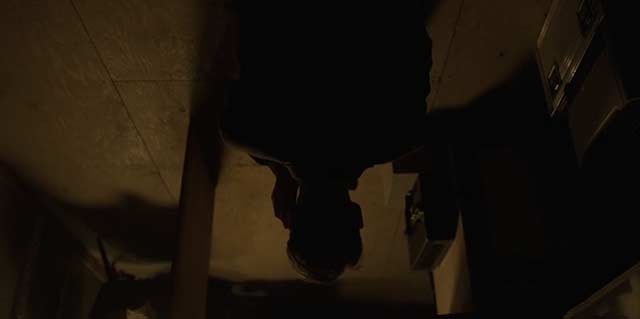 Potenzielles Durcheinander dürfte es dann kommende Woche geben, denn Gloria ist auf dem Weg.
Besser, um nicht zu sagen sehr gut. Die vielleicht schönste und am besten getimete und aufgebaute Episode der bisherigen Staffel. Kaum ablenkende Nebensachen, viele kleine Querbezüge, originelle Eigenheiten, tolle Aufnahmen, Kamerafahrten und Farben – wäre da doch bloß nicht dieser eine zentrale Moment des Glasbruches. Eigentlich hätte die Episode locker 4,5 Kronen verdient, aber mir will diese Todesart nicht in den Hals Kopf gehen. Klar, Fargo war schon immer "originell zustange gekommenes Zufallsblut", aber das wirkte dann doch arg plump und schlicht zu unwahrscheinlich. Ich hatte mich in dem Moment schon gefragt, wieso derart dramatisch die Stimmung im Soundtrack kippt, während wir eine Großaufnahme von ein paar kleinen Schnittwunden zu sehen bekommen… Natürlich bot das einen Überraschungsmoment, aber ich mochte ihn nicht. Ebenso bin ich ein wenig enttäuscht darüber, dass die groß angekündigte Doppelrolle Ewan McGregors quasi nach fünfeinhalb Folgen Geschichte ist.
Dann doch lieber Ekelpaket Varga. Blutiges Zahngestocher wird in Kontrast zu klassischer Musik gesetzt – er ist eben ein vielschichtiger Charakter, der wunderbar polar dargestellt wird und immer wieder zu überraschen weiß. Daher freue ich mich nicht nur ein bisschen darauf, wie er und seine Mannen sich kommende Woche aus der Gloria-Situation befreien wollen.
Bilder: FX