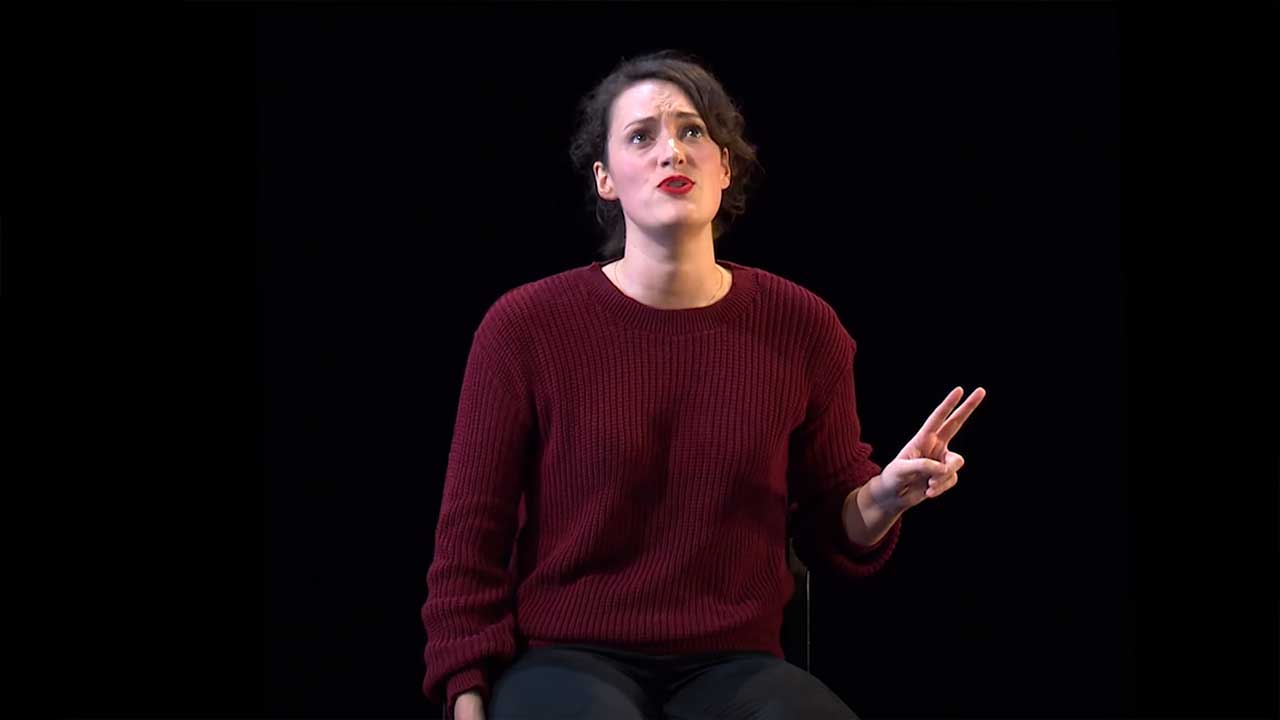 Wie ihr vielleicht wisst, war "Fleabag" vor dem Durchbruch als Dramedy-Serie ein Theaterstück. Geschrieben und dargeboten von Phoebe Waller-Bridge. Alleine. Letztes Jahr gab es hier in Berlin mal ein paar Kino-Ausstrahlungen einer Aufzeichnung des National London Theatres, so dass auch ich mir die Ein-Frau-Darbietung anschauen konnte. In etlichen Momenten hatte ich die Fernseh-äquivalenten Szenen im Kopf und verglich mal bewusst, mal unfreiwillig beide Varianten miteinander. Thomas Flight (zuvor hier im Blog) hat das konzentriert und vor allem für alle nachvollziehbar in einem Video Essay aufbereitet, das uns die ursprüngliche Theateraufführungs-Version und die TV-Variante gegenüberstellt.
"Fleabag originated as a stage show, how did it change on it's way from stage to screen? This video examines and shows side-by-side how the two compare."
Bei mir ist nach Betrachten der Theater-Inszenierung vor allem eines hängen geblieben: Was für eine Darbietung von Phoebe Waller-Bridge! Damit meine ich nicht mal den zweifelsohne einen Nerv treffenden Inhalt ihrer Geschichte, sondern vor allem die fokussierte Erzählung. Ohne viele Requisiten und lediglich hier und da mit ein paar Stimmen aus dem Off oder minimalen Szenerie-Beleuchtungen, wirkt das Stück filterlos auf einen ein. Und ebenso vor allem Mimik und Stimme Waller-Bridges. Und wie sie den kompletten Text, der mitunter ja nicht gerade mundfreundlich geschrieben und vor allem schnell gesprochen dargeboten wird, so ziemlich fehlerfrei herunter redet, ist einfach nur eindrucksvoll. Und im Falle einer cineastischen Ausstrahlung eben wahrlich großes Kino!
Schade nur, dass "Fleabag" vorerst keine weitere Staffel erhalten wird. Vielleicht, wenn ihre Hauptfigur ein bisschen älter ist, wolle Phoebe Waller-Bridge nochmal in diese Rolle schlüpfen. Ich denke, sie würde viele Leute damit glücklich machen. Sei es nun auf der Bühne oder dem Bildschirm.