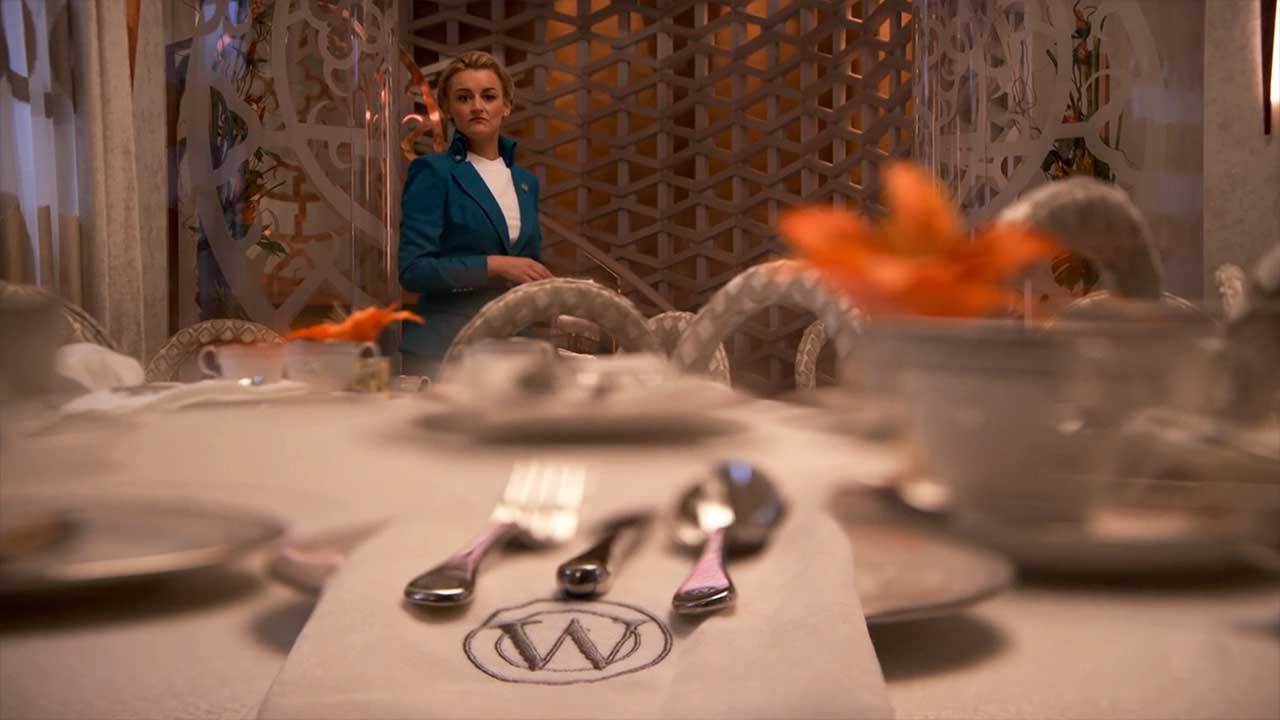 Nachdem ich in den ersten Episoden beim Anblick des Wilford-"W" an WordPress denken musste, hat die Eröffnungs-Sequenz mir diese Woche Eis-Hunger verschafft. Verkehrtherum auf dem Löffelgriff graviert sieht das eher wie ein Magnum-"M" aus… Aber ich schweife ab, sollte ich mich doch eigentlich darauf besinnen, dass man hier den Versucht gestartet hat, eine klassische Doppel-Brennweiten-Einstellung zu erschaffen. Schaut mir aber zumindest in dem Standbild hier eher künstlich nachbearbeitet aus.
Wie dem auch sei, dank eines total unauffälligen Licht-Signals wird LJ signalisiert, dass sie in den Motorenraum vorne in den Zug kommen soll, um sich ein eigenes Bild von der Lage zu machen. Das bewältigt sie Rekordzeit, trotz des so ganz und gar nicht spannenden Moment mit ihr und dem Techniker.
"Password?" – "Eat the rich." (Miles & LJ)
Erstaunlich schnell ging es auch mit Layton und seiner Zusammenrottung der Revolutionäre. Ja, das hatte bereits vor der Folge begonnen, dass dann aber doch bereits die Revolution direkt vor der Tür steht, hatte ich so nicht erwartet. Aber gut, sind ja nicht mehr viele Episoden diese Staffel. Ein rotes Stück Stoff signalisiert allen Teilnehmenden, dass es losgeht und kurzerhand wird der Wahlkampf-Slogan "One Tail!" in den Wagenkampf-Slogan "One Train!" umgewandelt (When I say "one", you say "train"…!).
"Today, we march to the engine!" (Layton)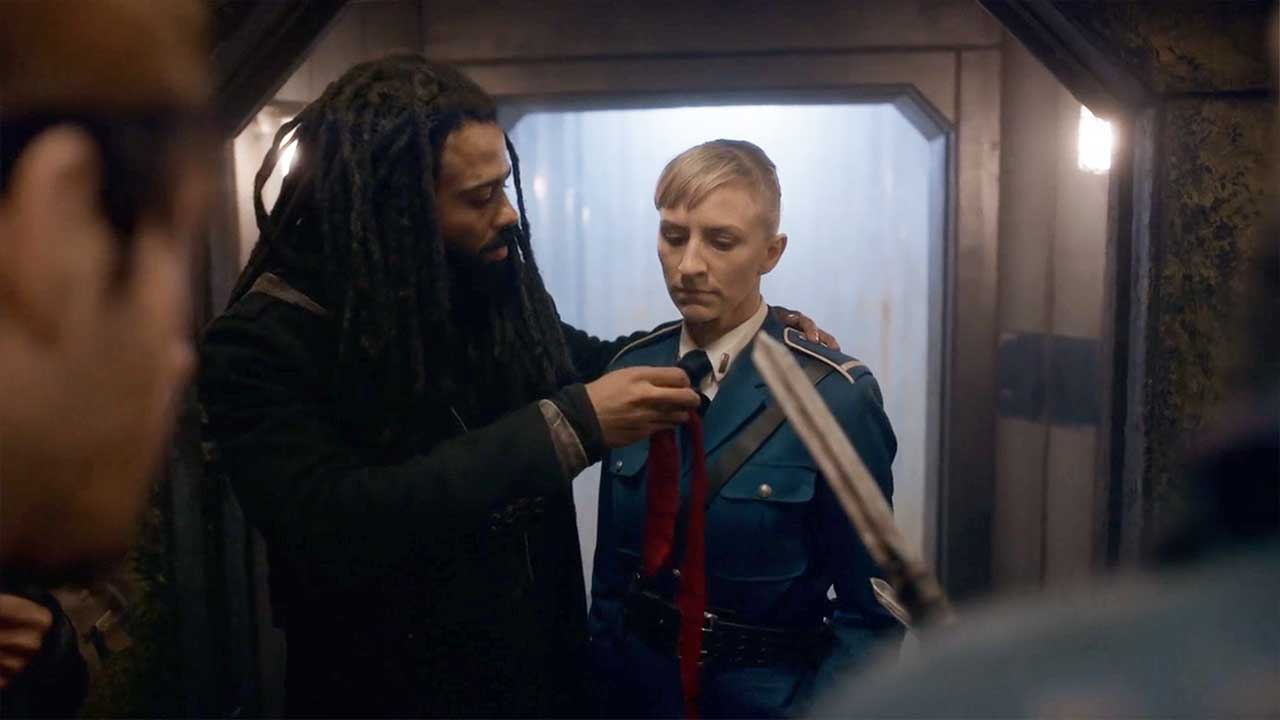 Till festigt ihre Position auf Seiten der Rebellion, indem sie den guten alten Han-Solo-Look annimmt. Die Frau gefällt mir von Folge zu Folge mehr!
"Please don't make me choose between you and the train." (Jinju)
Was bisher eher harmlose Gedankenspielerei war, wird dann doch recht schnell verdammt blutiger Ernst. Zuerst bekommen wir die krasse Bolzen-Schuss-Maschinerie zu sehen, die auf wundersame Weise immer zu treffen scheint. Das könnte nur noch dadurch irrational übertroffen werden, wenn ein ausgehungerter Tailie (zumindest kurz) gegen kampferprobte und besser ausgestattete Soldaten bestehen könnte. Upps…
Wirklich hart wird es dann aber im Nightcar. Zuerst hat mir das Spiel mit dem Stroboskob-haften Lichtwechsel gefallen, konnte es in der Szene mit dem Karton und der damit einhergehenden "What's in the boooox?!"-Hommage noch atmosphärisch punkten (auch wenn das sowas von fett "FALLE!" drauf stehen hatte, dass es verwunderlich erscheint, dass die Soldaten da wirklich stumpf reingeschaut haben, aber gut, ist ja nichts passiert). Die folgende Schlacht hatte jedenfalls ordentlich Splatter zu bieten und dürfte dafür gesorgt haben, dass der Snowpiercer fortan ein paar Mäuler weniger zu stopfen hat.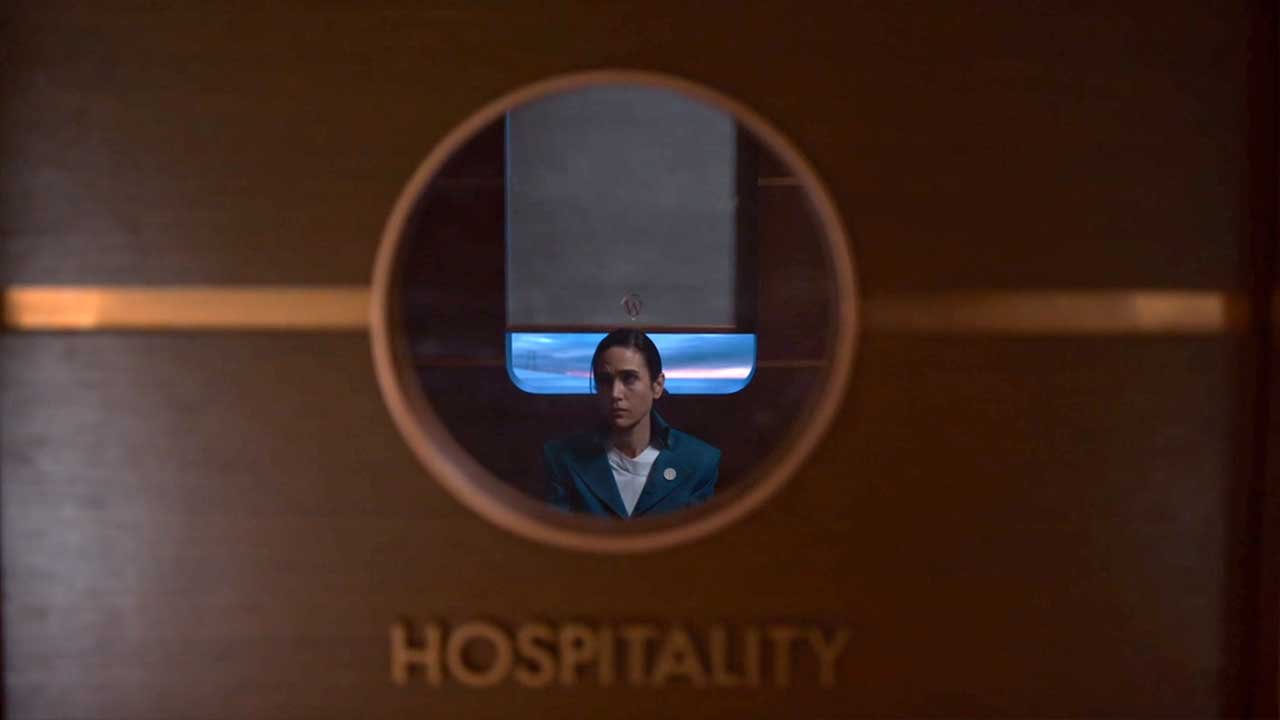 Und Melanie? Was macht die eigentlich? Nachdem sie bezüglich der Wilford-Thematik (also jetzt nicht, ob das "W" eher an WordPress oder Magnum erinnert…) konfrontiert worden war, findet sie sich auf der anderen Seite des Befragungstisches wieder. Machtlos kann sie lediglich durch das Bullaugen-Fenster blicken und abwarten, wissend, dass sich gerade die restliche Weltbevölkerung um sie herum an die Gurgel geht. Eine bildstarke Einstellung, die auch aufzeigt, wie wichtig ihre Funktion und auch ihr vorgetäuschtes Wilford-Spiel bislang gewesen ist. Der war anscheinend lediglich auf Profit und Machtgeilheit aus, sie selbst hat jedoch den Zug entworfen und bauen lassen. Der Dank? Eine anberaumte Exekution.
"Does he speak Mandarin?!" – "No! He. Doesn't. Speak!" (Doctor Klimpt & The Last Austrlalian)
Beinahe so aufgeweckt wie Till sind auch Strong Boy und ein paar andere Tailies, die aus den Schubladen befreit werden. Oder besser: werden sollen. Denn nicht alle sind da. Der Dreh, dass Pikes Schublade leer ist, weil die erste Klasse zuvor gekommen ist, fand ich ja ganz erfrischend. Auch wenn sich natürlich die Fragen stellen, weshalb (A) sie ihn erst als drittes aufwecken wollen (und das allgemein derart verzögert zu den anderen passieren muss?) und (B) das Timing-technisch überhaupt unbemerkt klappen konnte. Denn von der Inszenierung her waren die doch die ganze Revolutions-Dauer über in dem Waggon und plötzlich sitzt der blutverschmierte General da seelenruhig und schau Pike dabei zu, wie der das obligatorische Genießer-Gesicht aufsetzen darf?
"Another piece of this – and I'll give you Layton." (Pike)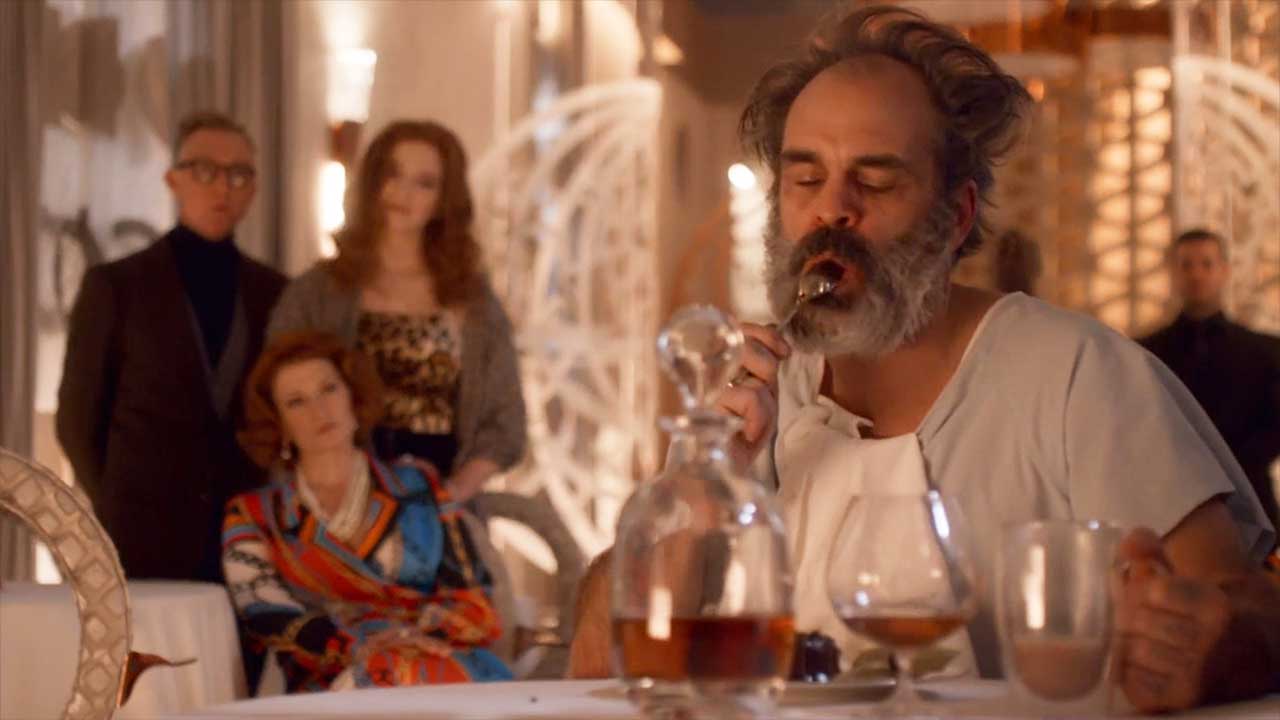 Zum Genießen war die Folge jetzt nicht, aber wer auf Serien-Entzug (choo-chooo!) war, dürfte seinen Gefallen daran gefunden haben. Schlecht war sie jedenfalls nicht, gerade die Inszenierung des Aufstandes sowie auch die Darstellung der auf vor allem Layton und Melanie verteilten Verlustmomente (Spiel mit Unschärfe und Zeitlupe) hat mir gefallen. Erneut gab es jedoch auch einige Fehler in der Erzählweise zu sehen und so ganz überspringen wollte der Funke dann auch nicht. Aber es ist ordentlich Bewegung in den Zug gekommen, und das an so ziemlich allen Enden (also, allen beiden…). Das dürfte für ein zugespitztes Staffelfinale sorgen können. Wobei ich gerade nicht so recht weiß, was da noch über zwei Folgen hinweg passieren soll. Aber hey, so ein bisschen unwissentliche Spannung kann ja nicht schaden!

Bilder: TNT / Netflix

-->