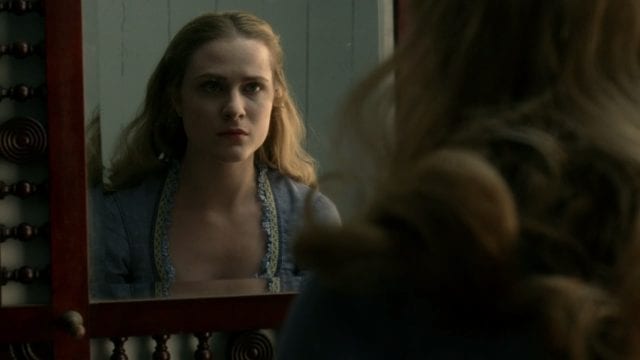 Verwirrend ist sie, die Welt von Westworld. Was könnte in der Situation von Androidin Dolores da besser passen als ein Zitat des einen, so bekannten Wunderlandes? Interessant, dass sie äußerlich einer gewissen Alice ganz schön ähnelt.
"Dear, dear! How queer everything is today. And yesterday things went on just as usual. I wonder if I've been changed in the night?" – Dolores (Lewis Carroll – Alice in Wonderland)
Was Bernard mit Dolores vorhat, bleibt weiterhin ein Rätsel. Dass sie eine besondere Androidin ist, ist mittlerweile ziemlich klar geworden. Für Bernard scheint es ein Test zu sein, wie weit er gehen kann, zu was er sie bewegen, trainieren kann – zu vollkommener Erkenntnis und klarem Bewusstsein? Dolores jedenfalls scheint eine der wenigen zu sein, mit denen Bernard über seinen verstorbenen Sohn Charlie sprechen kann. Die Ursachen für seinen Tod sind stets ungewiss – zumindest für den Zuschauer.
Doch Bernard scheint nicht der einzige zu sein, der daran glaubt, dass die Roboter zu ein bisschen mehr imstande sind als nur stumpf zu agieren und Tag für Tag einer stupiden Routine zu folgen. In einem persönlich Gespräch mit Dr. Robert Ford erfährt Bernard sogar, dass Ford Westworld nicht allein geschaffen hat, sondern vor offizieller Eröffnung des Parks Unterstützung eines Kollegen mit Namen Arnold hatte. Und der hatte fest daran geglaubt, dass die Androiden ein Bewusstsein entwickeln können. Nicht viel später starb Arnold schließlich im Park und Ford konnte wieder seiner Überzeugung folgen – denn für ihn stand fest: Bei den Dingen, die die Menschen den Robotern antaten, ist Bewusstsein das Letzte, was sie mit sich bringen sollen und Vergessen das Mindeste, das ihnen geschenkt werden kann.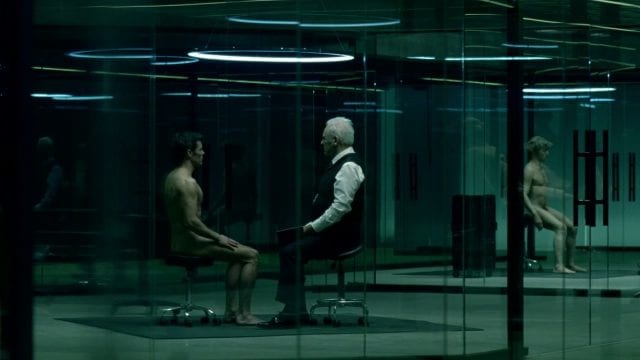 Teddy beweist mal wieder am laufenden Band, was für ein Held er ist – und stirbt und stirbt und stirbt noch einmal. Ist das sein neverending Schicksal? Als großer Held auftreten und dann den großen Heldentod sterben? Ein bisschen Abwechslung gibt es dann aber doch: Ford pflanzt Teddy eine neue Storyline ein, eine neue Backstory, die ihn im Hier und Jetzt motiviert und sein Handeln beeinflusst. Das ist allerdings auch der Grund, warum er die aufbruchfreudige Dolores in ihrem Vorhaben, den Ort zu verlassen, auf ungewisse Zeit vertröstet.
"You said someday. Not today or tomorrow or next week. Just someday. 'Someday' sounds a lot like the thing people say when they actually mean 'never.'" – Dolores
Unterdessen sind Elsie und Ashley auf der Suche nach einem "Streuner", einem Roboter, der vom Skript abgewichen und vom Weg abgekommen ist. Die einzige Spur, die er hinterlassen hat, sind seine Holzschnitzereien mit Sternenbildern. Eine Diskussion über den Sinn oder Unsinn einer Backstory der Hosts entfacht – und es wird noch deutlicher, dass die Roboter einem vorgefertigten Pfad folgen, auf dem sie sehr selektiv autorisiert werden, bestimmte Handlungen auszuführen. Bestes Beispiel dafür ist das missglückte Schießtraining von Dolores – das ebenfalls große Erkenntnis mit sich bringt. Evan Rachel Woods Schauspiel ist besonders zum Ende der Episode hin extrem ergreifend.
"Backstories do more than amuse guests. They anchor the host, it's their cornerstone. The rest of their identity is build around it layer by layer." – Elsie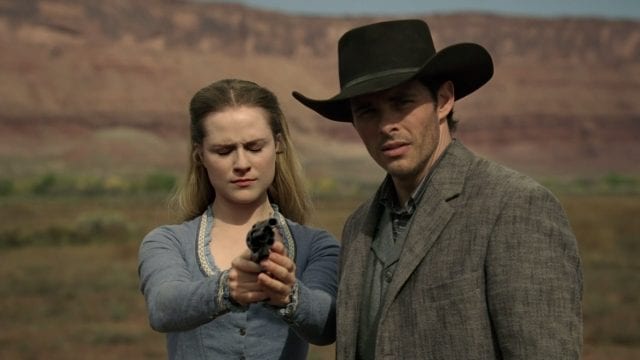 In der Episode "The Stray", in der es viel mehr um Dolores Bewusstsein als um diesen einen Streuner geht, gibt es ein sehr schönes Wechselspiel zwischen dem Abspruch der Menschlichkeit der Androiden und dem Vertrauen und Glauben daran, dass die auf Unterhaltung von Menschen ausgerichteten Roboter mehr sind als (mal mehr, mal weniger) funktionierende Maschinen. Auf der einen Seite haben wir den überzeugten Wissenschaftler, der durch seine persönlichen Experimente beweist, dass Androiden und Bewusstsein sich nicht ausschließen. Auf der anderen Seite haben wir den Schöpfer des Parks, der aus der Haut (bzw. in die Haut?!) fährt, wenn auch nur ein Angestellter den Androiden eine menschliche Eigenschaft wie Scham zuspricht.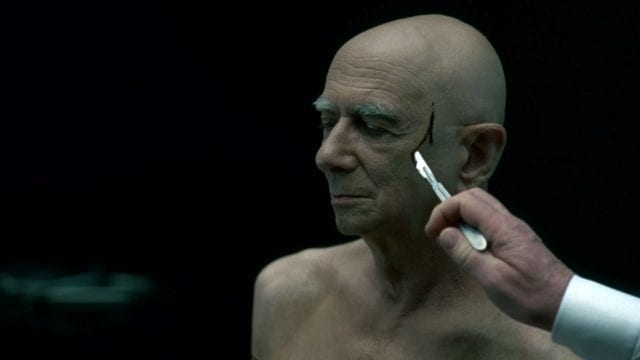 Wahrend Fehler in einer programmierten Welt zu Loops und Aussetzern führen, sind sie in einer menschlichen Welt erforderlich für die Evolution. So sehen wir auch in dieser Folge wieder zahlreiche Wiederholungen von Ereignissen, die langsam nicht mehr dem gewohnten Ablauf folgen, sondern immer öfter kleine Abweichungen aufweisen.
Interessant finde ich, dass Westworld Fragen hervorruft, die wir uns in unserer durch und durch digitalisierten Welt früher oder später mal stellen sollten. Wo liegt nun die Grenze zwischen Mensch und Maschine? Wenn Maschinen Bewusstsein entwickeln, Erinnerungen abrufen und Gefühle empfinden können, was unterscheidet sie dann noch von uns Menschen? Ist das pumpende Herz wirklich der ausschlaggebende Faktor? Und gibt es tatsächlich einen Unterschied zwischen den Dingen, die wir einem menschlich-aussehenden Roboter antun und denen, die wir wahrhaftigen Menschen zufügen? Sagt unsere Bereitschaft, diese Dinge überhaupt zu tun, nicht vielleicht viel mehr über uns aus, als uns lieb ist – und suchen wir dann nicht zur Beruhigung unserer Selbst in der Beschaffenheit der Androiden eine Ausrede und Rechtfertigung für die Taten, die wir zu tun bereit – und gewillt sind?
"Just don't forget, the hosts are not real." – Dr. Robert Ford
Bilder: HBO

-->