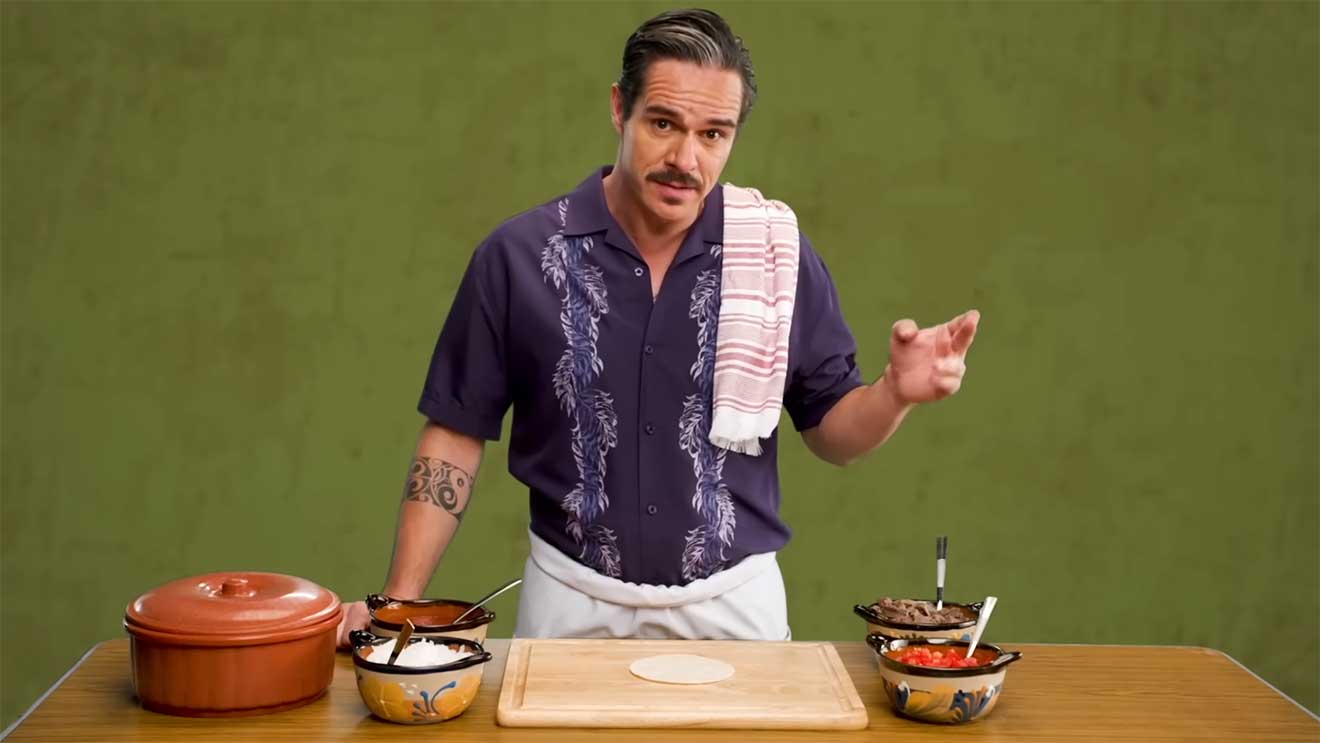 Was ist das denn bitte Skurriles?! Aktuell befindet sich "Better Call Saul" auf der Zielgeraden mit gerade mal zwei ausstehenden Episoden, der indische YouTube-Kanal von Sony Pictures Entertainment scheint aber daran bedacht zu sein, den Fuß vom Gas zu nehmen und ein bisschen vom knallharten Drama abzulenken. Wohl auch, um die vorherige fünfte Staffel zu bewerben. Jedenfalls bekommen wir Figuren aus der Serie bei der Durchführung langweiliger Alltagsdinge zu sehen.
Aber als wäre das nicht genug, Lalo Salamanca beim Zubereiten eines Tacos oder Saul Goodman beim Binden einer Krawatte zuzuschauen, scheint es mir auch noch, als hätten die beiden Darsteller (vor allem Bob Odenkirk) mal so gar keine Lust auf die Aktion. Odenkirk liest das doch nur beiläufig ab?! Hinzu kommt die eher billige Aufmachung der Clips, die wohl lustig gemeint sind aber eher ungewollt cringe daher kommen. Aber letztlich sind wir ja alle froh über jedes Stück Lalo und Saul, das wir bekommen können, oder? Mal schauen, ob danach noch was folgen wird. Vielleicht ja "Aktentasche-Packen mit Kim Wexler", "Yoga-Kurs mit Howard Hamlin" oder "Puppenhausaufbau mit Mike Ehrmantraut"?! Wobei, so eine längere Kochshow mit Lalo würde ich ja schon gucken… Ach was, eigentlich ist mir ganz egal, was der macht, ich würde alles gucken!
"Saul is here to help you dress your best, to impress. Follow along and let us know if you learnt the trick."
"Are you hungry? Watch how Lalo Salamanca makes a Carne Asada Taco!"
UPDATE (07.08.2022 – 08:48): Mittlerweile ist auch ein Mike-Video veröffentlicht worden – darin geht es allerdings "nur" um die Zubereitung eines Sandwiches.
"Grab the ingredients and follow along for a quick snack! Better learn the trick quick, for Mike is not one to repeat himself."
-->