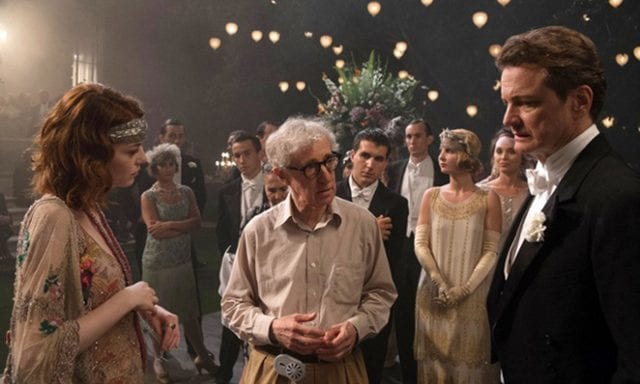 Woody Allen am Set von "Magic in the Moonlight" mit Emma Stone und Colin Firth. Für 2016 soll Woody Allen eine Amazon-Serie produzieren. (Foto: Sony Pictures Classics)
Amazon hat Woody Allen ins Serienfach gelockt: Mit dem Regisseur hat Amazin für seinen Streaming-Dienst einen Vertrag über eine Serie abgeschlossen. Sechs Folgen sind offensichtlich geplant, Woody Allen soll das Drehbuch liefern und Regie führen. Wie er jetzt verriert, fühlt er sich dem Projekt allerdings wohl nicht so ganz gewachsen – nach eigener Aussage bereut er es jeden Tag, Amazon zugesagt zu haben.
Eigentlich ist Woody Allen auf Filmproduktionen abonniert – serienweise liefert er, in der Regel einmal pro Jahr, einen neuen Kinofilm ab. Jetzt wagt er sich in unbekannte Gefilde, um bis 2016 eine Serie zu produzieren – und das macht ihm offensichtlich Angst. Er wisse gar nicht, was eigentlich von ihm erwartet werde. Er kenne Serien die "Die Sopranos" oder "Mad Men" gar nicht, schaue selbst nie Fernsehen, verstehe also gar nichts davon, erklärt er gegenüber dem US-Magazin Deadline. Er dachte eigentlich, er produziere einfach einen Film in sechs Teilen, aber so einfach sei es wohl nicht. Er habe derzeit keine Ideen für das Projekt und wisse nicht, wo er anfangen solle. Außerdem möchte er Amazon nicht enttäuschen, aber genau das werde wohl passieren, fürchtet der 79-Jährige.
Amazon kept coming to me and saying, please do this, whatever you want. I kept saying I have no ideas for it, that I never watch television. I don't know the first thing about it. Well, this went on for a year and a half, and they kept making a better deal and a better deal. Finally they said look, we'll do anything that you want, just give us six half hours. They can be black and white, they can take place in Paris, in New York and California, they can be about a family, they can be comedy, you can be in them, they can be tragic. We don't have to know anything, just come in with six half hours. And they offered a lot of money and everybody around me was pressuring me, go ahead and do it, what do you have to lose?
Amazon habe einfach nicht locker gelassen und über Monate immer wieder angefragt und das Angebot stets verbessert. Irgendwann hätten sie gesagt, sie würden alles produzieren, egal ob in Schwarzweiß oder Farbe, ob in Paris oder New York, ob Komödie oder Tragödie. Vor der Anfrage habe er Amazon gar nicht gekannt. Er habe keinen eigenen Computer und nicht gewusst, was ein 'Streaming Service' sei.

Na, da sind wir mal gespannt, ob Woody Allen wirklich etwas auf die Beine stellt und nur mit seiner Unsicherkeit kokettiert, oder ob sich die Kooperation Amazon-Allen eher zu einem Missverständnis entwickelt.

via: Deadline

-->