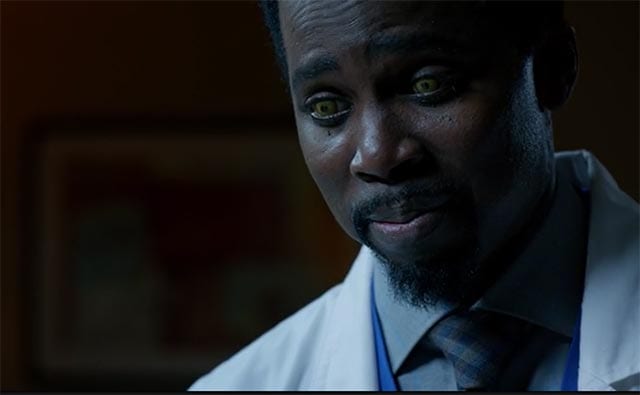 (Jetzt bitte Bon Jovi-Stimme vorstellen:) "Shot through the heart"! Kids, lasst die Finger von Drogen! Die sind dämonisch. Das verdeutlicht Constantine diese Woche recht deutlich – dabei gibt sich die Folge deutlich menschlicher als bisher. Das muss vor allem Engel Manny am eigenen Leibe erfahren.
"Nobody's ever ready! Not for what we do…" (Constantine)
Die Manny-Szenen sind an sich ja bereits stets ganz unterhaltsam. Dieses Mal wird er jedoch von John in einen menschlichen Körper gebannt und spielt eine deutlich größere (da bleibende) Rolle als bisher. Manny konnte bisher nie Tot riechen und muss sich übergeben – herrlich. Fast so sehr wie die Tatsache, dass John Manny "gepaged" hat. Und plötzlich genießt er sein neu gewonnenes Menschsein durchaus…
"Speaking of infernal power – can you use a computer?" (Constantine zu Manny)
Zed hat einen Anfall. Und eine wissenschaftliche Erklärung für ihre Visionen. Und den vermutlich nettesten Arzt der Welt. Vermeintlich. Naja, fast. Eine sehr schöne Sache: wir bekommen mit der "Zaubervisitenkarte" noch einmal ein bekanntes Spielzeug aus der Spirituell-Abteilung zu sehen. Und ein bisschen mehr Chas-Action – nur schade, dass seine Lebensanzahl irgendwann begrenzt sein dürfte…
"You need a guinea pig." – "I'd rather call it 'test subject'…" (Chas & Constantine)
Ach, und dann wäre da noch das Ende. Wie melodramatisch – das göttliche Licht bekämpft die dämonische Dunkelheit. Etwas platt und leider dann doch zu offensichtlich, wieso gerade bei diesem Fall Manny plötzlich zum Menschen gemacht wird. Ansonsten wäre das Problem eben kein Problem gewesen.
Mir hat die Folge sehr gefallen, was vor allem an der Chemie zwischen Constantine und Manny lag. arold Perrineau ein bisschen mehr zu sehen ist eine willkommene Abwechslung. Dazu ein netter Case, eine schöne gesellschaftliche Message – nur das Ende hätte mal wieder etwas weniger billig-Schrägstrich-einfach ausfallen dürfen. Dennoch sehr unterhaltsam.