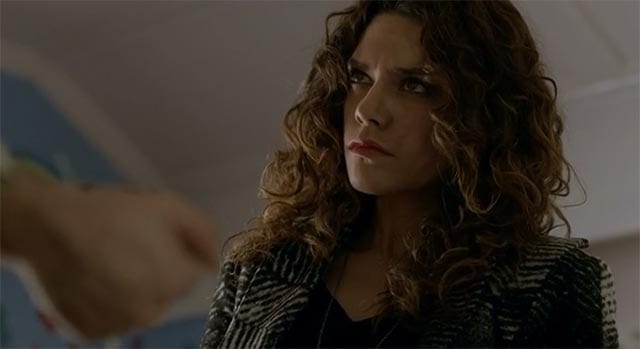 Und schon ist die erste Staffel vorbei – und das, ohne viel größeren Rahmen in Sachen Handlung zu spannen. Das wird ersichtlich, wenn man im "Previously on…"-Vorspann tatsächlich SÄMTLICHE zuvor gemachten Andeutungen und Entwicklungen hinsichtlich einer übergeordneten Handlung zu sehen bekommt. Drei Minuten aus 12 Episoden und im Konsenz das "große Böse". Viel ungenauer geht es nicht, oder?!
"We can all shape our destiny but none of us get to escape our faith." (Constantine)
Beim Gedanken an das Staffelfinale bleibt nicht nur drei jungen Mädchen die Luft weg. Ein Satansjünger hat ihnen "den Mann" gestanden und geht bei Blutmond auf Beutejagd. Das jedoch derart dumm, dass es ein Wunder ist, dass die zwei Gedankensprünge, die eigentlich Routine für ein Polizeibüro sein sollten, erst Jahre nach der ersten Tat stattfinden. Ähnlich billig kommt eine plötzliche Leichen-Kommunikation mit Beetlejoice-Verschnitt und die Eigen-Initiative von Papa Midnight daher (ja, genau, übergeordnete Handlung – Papa taucht auf).
"You're not the only one who can reanimate a corpse!" (Constantine)
Dabei hatte der doch zuvor gekonnt einen Voodoo-Zombie auf Constantine losgeschickt (der plötzlich ein Kopfgeld inne hat, weil das ach so große Böse scheinbar Hilfe benötigt). Wieso nicht einfach mehrere davon heran züchten?! Aber okay, in einer Folge, in der jemand Haare isst und sich einer Elektroschock-Therapie unterzieht, sind Fragen wohl unangebracht…
"Hey-ey-ey! Mine's bigger…" (Constantine)
Constantines Wortwitz ist gelegentlich aufgeblitzt und auch Manny hatte durchaus seinen Part. Die Figur des Jimmy ist mir noch zu pappig gezeichnet. Dafür setzt es starke Ansagen von Constantine in Richtung dieser aufsteigenden Dunkelheit – vermutlich ein Indiz an den Sender, dass man doch bitte eine zweite Staffel freigeben soll. Etwas verwirrend war dagegen die Abschluss-Pointe von Manny. Die La Brujería arbeitet für ihn? Ein rhetorisches Bildnis, eine Offenbarung, dass er der falschen Seite angehört (aber seine Flügel sind weiß?!) oder, dass er die böse Seite infiltriert hat? Diesbezüglich bleibt es spannend. Immerhin.
Insgesamt war das aber bestenfalls mittelprächtig. Gerade bei einem Staffelfinale erwarte ich dann doch etwas mehr, zumal der Fall der Woche verhältnismäßig zahm und nichtig war. Eine komplette Fokussierung auf die übergeordnete Handlung hätte hier besser gepasst – oder eben der tatsächliche Verrat oder Tod eines Freundes (Manny könnte der Verräter sein, aber auch das ist bislang eben noch ohne direkte Konsequenzen). Dazu merkt man zu häufig, dass das Produktionsbudget scheinbar aufgebraucht war – und vielleicht auch der Ideen-Topf. Ich wünsche mir etwas mehr Verwobenheit und Tiefe für eine zweite Staffel. Die hat Constantine definitiv verdient, denn tolle Momente waren absolut dabei. Nur eben etwas zu rar gesät.
Staffelüberblick
Nach starkem Auftakt ist die Serie leider mehr und mehr im Mittelmaß versunken, ehe stärker inszenierte Einzelfälle die Tendenz wieder haben etwas steigen lassen. Wirkliche Bringer waren aber eben viel zu selten da und gerade die Einzelfälle wirkten oft zu inszeniert. Aber man sieht, dass Potenzial da ist, man muss es eben nur konsequenter und durchdachter auf den Bildschirm bringen. Die Figur des Constantine ist allemal unterhaltsam, nun muss man ihn nur noch loslassen!

Abschließend hätte ich gerne einen "Zed is wondering"-Supercut, in der wir ihrem schönen Augenspiel folgen können, wenn immer sie einem verrückten Spritus-Spielchen Constantines beiwohnt.

-->