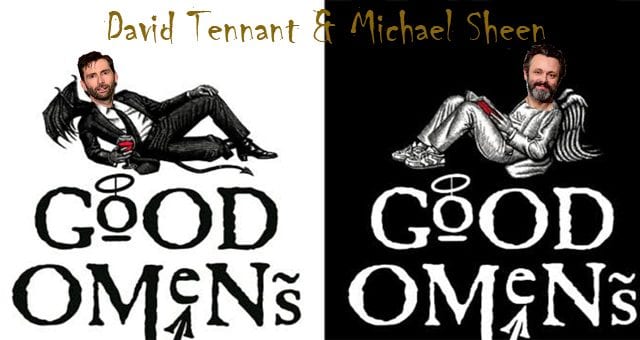 Vor einiger Zeit hatte Michael euch schon erzählt, dass ein weiteres Meisterwerk von Terry Pratchett den Weg auf die Mattscheibe finden wird: "Good Omens". Bei Amazon Prime. Damals sprach man von einer Umsetzung im Laufe des Jahres 2018. So wie es aktuell aussieht, wird sich das nach hinten verschieben. Die weltweite Veröffentlichung via Amazon Prime ist für 2019 vorgesehen. Wer jetzt kein Amazon Prime Abo hat aber ein riesen Pratchett Fan ist, der hat die Möglichkeit zeitnah nach der Veröffentlichung über Amazon Prime UK die Serie in der BBC zu sehen, und zwar bei BBC two. Dies könnte man dann zumindest legal online aufnehmen und sich dann recht schnell reinziehen.
Neben der zeitlichen Verlagerung gibt es aber eine tolle und absolut positive Nachricht. Denn die beiden Hauptrollen sind besetzt worden. Und zwar mit zwei Hochkarätern.
Die Rolle des Engels Erziraphael wird Michael Sheen ("Masters of Sex") übernehmen, die Rolle des Dämonen Crowley wird David Tennant ("Doctor Who", "Broadchurch") verkörpern. Nice. Very nice. Meint auch Neil Gaimans, Mitautor des Buches und Showrunner der Serie.
"If you are looking for actors to play two of the best-loved characters you and Terry Pratchett ever created, then, if you are very lucky and have been very good, you will get Michael Sheen and David Tennant to bring them to life. The best Welsh actor of his generation gets to be an angel, the best Scottish actor of his, a demon. Terry and I wrote Good Omens (I like to think it's one of the funniest novels ever written about the end of the world and how we are all going to die) almost 30 years ago. It's strange that it feels more relevant now than it ever did before. I only wish that Terry could be here to see it come to life with such a fantastic team. (Neil Gaiman)"
Ich bin wirklich kein großer Pratchett Fan und habe noch keine 100 Seiten seiner Werke gelesen, aber diese Serie werde ich mir definitiv gönnen. Because of David Tennant. Da bin ich Fanboy. Da darf ich sein.
Wie seht ihr die Besetzung? Vor allem wenn ihr Kenner des Buches seid.
via: tvwise.co.uk