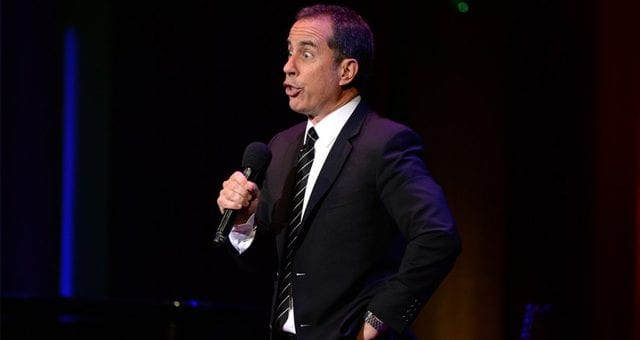 Für viele Stand-Up Comedians dürfte Jerry Seinfeld als Vorbild gelten, seine Art einen Gag vorzubereiten, Geschichten zu erzählen waren und sind immer noch beneidenswert. Jerry Seinfeld hat nun mal das richtige Timing und die richtigen Themen. Vor einiger Zeit habe ich mal (fast) alle Stand-Up Spezials auf Netflix durchgeschaut. Da waren jetzt nicht wirklich viele Comedians die mir gefallen haben. Klar, Louis C.K. ist eben Louis C.K.. Und damit in Ordnung. Aber richtig zum Lachen gebracht hat er mich nicht.
Überrascht war ich von Ali Wong. Bei ihrem Special "Baby Cobra" musste ich mehrmals wirklich lachen, Ali Wong würde ich mir demnach auch mal Live anschauen wenn die Möglichkeit bestünde.
Ali Wong: Baby Cobra - The Pregnant Female Comedian | Netflix Is A Joke
Wer sich mal bei Netflix zum Thema Stand-Up Specials rumtummeln mag, dem empfehle ich diesen Beitrag bei uproxx.com der sich mit den 15 aktuell besten Stand-Up Specials bei Netflix beschäftigt. Es gibt kurze Erläuterungen und Youtube Clips.
Back to Jerry. Das Jerry Seinfeld mit seinem Format "Comedians In Cars Getting Coffee" vor geraumer Zeit bei Netflix gelandet ist, dürftet ihr schon mitbekommen haben. Im Rahmen dieses Deals wurde auch ein Stand-Up Special vereinbart welches nun ab dem 19.September abrufbar sein wird. Und darauf freue ich mich schon, denn während der mannigfaltigen Specials auf Netflix dachte ich mir, wie cool wäre ein neues Stand-Up Special von und mit Jerry Seinfeld. Und nun kommt es. Nice.
Netflix hat nun ein paar Clips bei Instragram veröffentlicht die schon mal ein wenig das Special anteasern sollen. Nett finde ich dabei die Idee das man Jerry Seinfelds altes Notizbuch visualisiert und sogar sein allererster Gag wird hier benutzt. Ein Guter, wie ich finde. Auch wenn ich Rechtshänder bin.
Mögt ihr die Stand-Up Specials bei Netflix? Meint ihr nicht auch dass man nun mit Jerry Seinfeld eine große Lücke im Angebot schließt?

via: avclub.com

-->