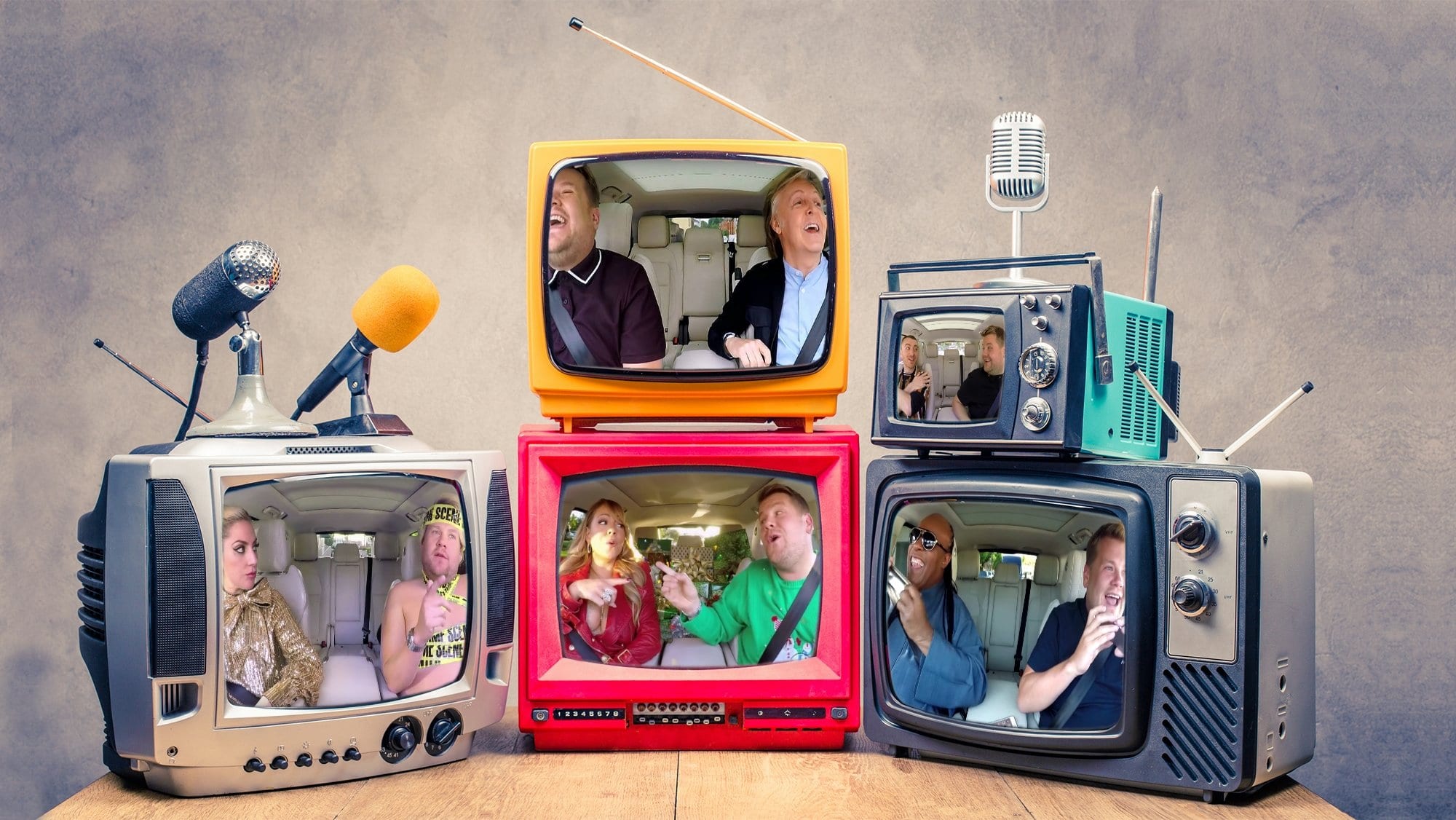 Ich bin ja bekanntlich ein ziemlich großer James Corden-, "The Late Late Show"- und vor allem "Carpool Karaoke"-Fan. Ich würde sogar behaupten, es vergeht kaum eine Woche, in der ich mir nicht irgendetwas von James oder aber eine der besten Folgen "Carpool Karaoke" anschaue. Perfekter Anlass, um mal meine persönlichen Top 5 Musikautofahrten zu küren. Und da ja ein Countdown cooler ist als eine Aufzählung, arbeite ich mich langsam zur Nummer eins vor.
5. Carpool Karaoke – Weihnachtsepisode 2016
Gerade jetzt in der (Post-)Weihnachtszeit eignet sich natürlich kaum eine andere "Carpool Karaoke"-Episode besser, eine Bestenliste einzuleiten, als die mit Mariah Carey, in der sie ihren Klassiker "All I Want For Christmas Is You" zum Besten gibt. Soweit, so gut. Doch die Überraschung kommt ja erst, als so gut wie alle anderen Stars, die in 2016 auf James Beifahrersitz saßen, plötzlich mit einstimmen und man merkt, dass dieses Video von langer Hand geplant war. Es ist mit seinen dreieinhalb Minuten vielleicht das kürzeste Video der "Carpool"-Reihe und zählt vielleicht auch gar nicht so richtig zu den regulären Folgen, macht aber große Freude – und amüsiert allein deshalb, dass man weiß, dass einige der Stars, u.a. Adele, Elton John und Lady Gaga, ihren Part teilweise im Sommer des Jahres aufnehmen mussten.
Song: "All I Want For Christmas Is You"
4. Carpool Karaoke mit Lady Gaga
Wo wir gerade bei Lady Gaga sind: Auch die "Carpool Karaoke"-Folge mit ihr schafft es in meine Bestenliste. Man mag über sie denken, was man möchte, aber als Künstlerin ist sie einfach einzigartig. Auch wenn es dieser Folge an ganz großen Lachern etwas fehlt, überzeugt einfach die musikalische Note dieser Episode. Und bitte, James Outfits sind der Knaller.
Songs: 'Perfect Illusion', 'Bad Romance', 'Edge of Glory', 'Born This Way', 'Liquid Dreams' [von O-Town], 'Poker Face', 'Million Reasons'
3. Carpool Karaoke mit Sam Smith
Was für ein sympatischer Typ dieser Sam Smith doch ist. Und tiefe Einblicke in sein Privatleben gibt er auch – insbesondere in die Planung, wie seine Hochzeit mit seinem Partner aussehen sollte. In dieser Episode hab ich mich echt gekrümmt vor Lachen und als am Ende dann auch noch Überraschungsgäste auf der Rückband des Autos Platz nehmen und James damit Super-Fifth Harmony-Fan Sam überrascht, bleibt vor Lachen wirklich kein Auge mehr trocken. Und die Musik erst. Schön, einfach schön. Ein Träumchen.
Songs: 'Too Good at Goodbyes', 'Lay Me Down', 'I'm Not the Only One', 'Money on My Mind', 'Stay with Me', 'Pray', 'Work' [von Fifth Harmony]
2. Carpool Karaoke mit Stevie Wonder
Erst macht er Scherze, dass er das Auto selbst fahren will, dann gibt es eine Runde FaceTime und später noch eine kleine Mundharmonika-Session. Die "Carpool Karaoke"-Folge mit Stevie Wonder ist unheimlich unterhaltsam und witzig. In elf Minuten werden sechs Songs von Stevie Wonder angesungen – wer seine Songs kennt, weiß, dass sonst auch gerne mal ein Song diese Länge einnehmen kann. Doch kein Moment dieser Autofahrt schlägt den, als Stevie James Frau anruft und ihr mitteilt, dass er nur eben anruft, um ihr zu sagen (singen), dass James sie liebt. Ein großer Moment für James, seine Frau – und uns Zuschauer. Wer muss da nicht weinen?
Songs: 'Superstitious', 'Sir Duke', 'I Just Called to Say I Love You', 'Isn't She Lovely', 'Signed Sealed Delivered', 'For Once in My Life'
1. Carpool Karaoke mit Paul McCartney
Die Episode ist vermutlich die längste, die es bei "Carpool Karaoke" je gab und geben wird, doch der Anlass dafür ist mehr als nachvollziehbar: Paul McCartney, ehemaliger Beatles-Sänger, nimmt Platz an Cordens Seite, zwischendurch auch auf dem Fahrersitz, als die beiden durch McCartneys Heimatstadt Liverpool fahren und so einige Erinnerungen aus der Vergangenheit des Superstars hervorholen. Neben McCartneys Gelassenheit und dem Eindruck, dass dieser Mann leben wird, solange er singen kann, sind es natürlich die wirklich tollen Songs, die einen als Zuschauer bewegen – und die Reaktionen der Passanten auf McCartney. Doch auch James ist immer wieder überwältigt, was er da eigentlich gerade erleben darf. Absolutes Highlight, absolut zeitlose für-immer-und-ewig-immer-wieder-anschauen-Episode.

Songs: 'Penny Lane', 'Let It Be', 'A Hard Day's Night', 'Love Me Do', 'Back in the USSR', 'Hey Jude' usw.

Es war sehr knapp für viele, z.B. Ed Sheeran, Sia, Elton John, Adele oder auch Pink – aber wir haben nur fünf Plätze zu vergeben. Hoffen wir, dass 2019 wieder so einige Highlights für uns bereit hält.

Welche "Carpool Karaoke"-Folgen sind eure Favoriten? Schreibt es uns doch in den Kommentaren. Und jetzt wird weiter gesungen.

-->