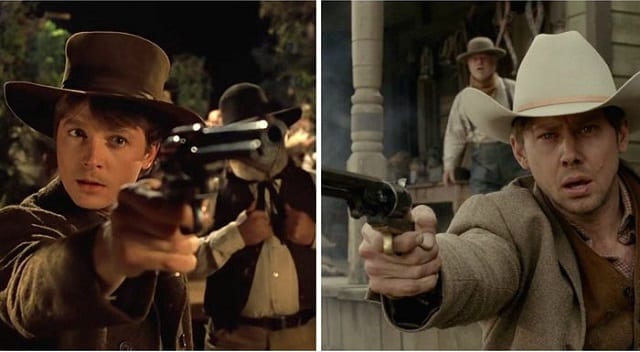 Ich dürfte zu einer kleinen Minderheit unter den Serienfans gehören, da ich bisher erst eine Folge des großen neuen HBO Hits "Westworld" gesehen habe und noch nicht wirklich gehyped bin. Ja, ist interessant. Ja, hat tolle Schauspieler. Aber gepackt hat mich dieser SciFi Western noch nicht. Aber möglicherweise kommt das noch, bei "The Wire" hat es auch drei, vier Folgen gedauert bis ich ins Bingen gekommen bin.
Dass die Serie auf einem sehr guten Weg ist, für längere Zeit die Serienlandschaft zu bereichern, merkt man immer daran, wenn nach und nach dieser coole fanmade Shizzle rund um eine Serie auftaucht, den wir uns hier auf unsere Fahnen geschrieben haben. Und wenn man dann noch die Serie mit einer der größten Kino"serien" in Verbindung bringt, spätestens dann sollte man einen Blick in die Serie geworfen haben.
Hier hat der YouTuber Todd Spence ein Mashup aus "Back To The Future III" und eben "Westworld" gebastet und man muss sagen, dass Doc und Marty auch in der Serie eine gute Figur machen würden. Oder?
Wer noch gar keinen Blick in "Westworld" geworfen hat, sollte vielleicht nicht das Video anklicken – wobei ich mir nicht vorstellen kann, dass man den Hintergrund zur Serie bzw. seinem USP noch nicht mitbekommen hat.
via: avclub.com