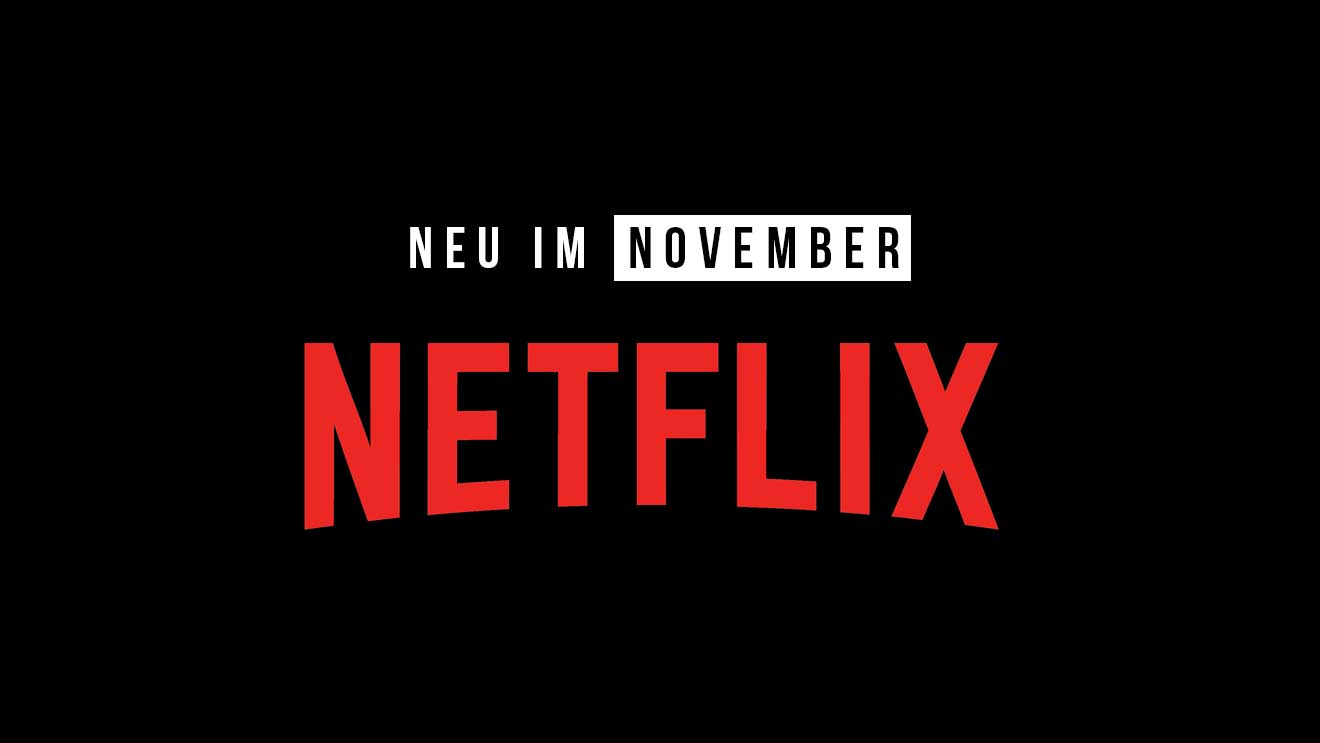 Gruselig ist es nicht nur, weil Halloween kurz vor der Tür steht, sondern in erster Linie, weil bald schon der November, der vorletzte Monat des Jahres 2022, anbricht! Holy Moly! Die plötzlich wieder eingetretenen sommerlichen Temperaturen lassen es eigentlich gar nicht vermuten, aber anhand der von den Bäumen herabfallenden, um uns herum tanzenden Blätter, die wieder einmal als ein Farbspektakel zu betrachten sind, bahnt sich doch langsam das Gefühl an, dass der Herbst mittlerweile angekommen ist. Das Schöne daran ist, dass der Herbst ja eigentlich auch die gemütliche Jahreszeit ist. Die, bei der man sich einkuscheln kann, während es draußen langsam kühler wird (falls das denn bald passieren sollte), bei der man langsam in die Weihnachtsplanung einsteigen und die ersten Karten und Geschenke basteln kann, während im TV vielleicht schon die ersten Weihnachtsserien und Filme über den Bildschirm flimmern.
Was im November neu auf Netflix ist, schauen wir uns in der folgenden Übersicht mal an. Dabei sticht der Mystery-Thriller "1899" heraus, der von den "DARK"-Macher:innen Baran bo Odar und Jantje Friese ist und uns an Bord eines Auswandererschiffes führt. Wer "DARK" kennt, weiß, dass hier absolute Konzentration beim Verfolgen der Story gefragt ist, damit man auch nur im geringsten mithalten kann, wenn sich die Geschichte entwickelt. Denn auch diese Serie soll wieder mit vielen Rätseln gespickt sein, die es zu entschlüsseln gilt. Darüber hinaus startet auch die fünfte Staffel von "The Crown" im November auf Netflix. Darin dreht sich wieder einmal alles um die britische Königsfamilie, während wir von den Ereignissen her mittlerweile in den frühen 1990er Jahren angelangt sind. Nach dem kürzlichen Tod von Queen Elizabeth II. schaut man die Serie sicherlich nochmal anders – wenn man sie überhaupt schaut, denn mit der Umsetzung schwingt ja auch immer viel Kritik mit. Und schließlich lernen wir in "Wednesday" die junge Wednesday Addams aus der Addams Family nochmal auf ganz neue Art und Weise kennen. Die Serie erzählt von ihren Schuljahren an der Nevermore Academy, an der sie ihre übernatürlichen Fähigkeiten versucht unter Kontrolle zu bringen. An der Filmfront geht es zudem weiter mit dem zweiten Teil von "Enola Holmes", in dem Millie Bobby Brown als Enola ihrem ersten eigenen Fall nachgeht. Dabei führt uns die Geschichte wieder nach London, was ich sehr begrüße. Welche Highlights merkt ihr euch für den November?
Neue Staffeln & Serien bei Netflix:
Starttermine November 2022
1. November
The Worst Witch (4. Staffel)
Gabby's Dollhouse (6. Staffel)
LEGO Ninjago: The Island (3. Staffel, 1. Part)
LEGO Ninjago: Seabound (3. Staffel, 2. Part)
Young Royals (2. Staffel)
3. November
Blockbuster (1. Staffel)
Der Prinz der Drachen (4. Staffel)
4. November
Manifest (4. Staffel, 1. Part)
The Fabulous (1. Staffel)
Buying Beverly Hills (1. Staffel)
Lookism (1. Staffel)
7. November
Deepa und Anoop (2. Staffel)
9. November
The Crown (5. Staffel)
10. November
Liebe lügt nicht: Sardinien (1. Staffel)
Warrior Nun (2. Staffel)
11. November
Um die Welt mit Zac Efron: Australien (2. Staffel)
15. November
Run for the Money (1. Staffel)
Jurassic World: Neue Abenteuer: Verborgenes Abenteuer
16. November
Mind Your Manners (1. Staffel)
17. November
1899 (1. Staffel)
Dead to Me (3. Staffel)
18. November
Somebody (1. Staffel)
Inside Job (2. Teil)
The Cuphead Show! (3. Teil)
Élite (6. Staffel)
19. November
Under the Queen's Umbrella (1. Staffel)
21. November
Antwortenrunde mit den StoryBots
My Little Pony – Mit Huf und Herz (2. Kapitel)
23. November
Wednesday (1. Staffel)
The Unbroken Voice (1. Staffel)
24. November
First Love (1. Staffel)
25. November
Blood & Water (3. Staffel)
28. November
The Action Pack Saves Christmas
30. November
Snack VS. Chef (1. Staffel)
Die tierischen Fälle von Kit und Sam (2. Staffel)
Neues Special bei Netflix:
Starttermin November 2022
Neue Comedy Specials bei Netflix:
Starttermine November 2022
8. November
Neal Brennan: Blocks
15. November
Deon Cole: Charleen's Boy
Johanna Nordström: Ruf die Polizei
22. November
Trevor Noah: I Wish You Would
29. November
Romesh Ranganathan: The Cynic
Neue Dokus bei Netflix:
Starttermine November 2022
2. November
Killer Sally
5. November
Orgasm Inc: The Story of OneTaste
9. November
FIFA Uncovered
10. November
Der Bundesstaat von Alabama gegen Brittany Smith
11. November
Capturing the Killer Nurse
Untergegangenen Zivilisationen auf der Spur
Is That Black Enough for You?!?
14. November
Stutz
16. November
Racionais: Das Ruas de São Paulo Pro Mundo
In ihren Händen
17. November
Pepsi, wo ist mein Jet?
Ich bin Vanessa Guillen
23. November
Die Geschichte des Tacos: Über die Grenze hinaus
Blood, Sex & Royalty
25. November
Ghislaine Maxwell: Stinkreich
29. November
Ermordet: Tatort Texas Killing Fields
30. November
Take Your Pills: Xanax
Bald verfügbar
Was geschah mit dem Delfin-König?
Neue Filme bei Netflix:
Starttermine November 2022
1. November
The Takeover
Scoob!
The Fighter
King Richard (Schweiz ausgenommen)
3. November
Panayotis Pascot: Beinahe
4. November
Enola Holmes 2
Ẹlẹṣin Ọba: The King's Horseman
8. November
Die Familie Claus 2 (Schweiz ausgenommen)
Minions & More Volume 2
Medieval
9. November
Voll mutiert: Fußballcup in Gefahr
10. November
Verirrte Kugel 2
Falling for Christmas
11. November
Der Drache meines Vaters
Kal – Verlass mich nicht
Monica, O My Darling
14. November
Teletubbies
16. November
Das Wunder
Neben der Spur
The Lost Lotteries
17. November
Christmas With You
18. November
Schlummerland
23. November
El Guau
Weihnachten auf der Mistelzweigfarm
Stundenplan
Die Schwimmerinnen
24. November
The Noel Diary
30. November
Mein Name ist Vendetta
Ein Mann der Tat
Video-Vorschau: Netflix November 2022
Und hier erhaltet ihr wie immer die Bewegtbildvorschau auf den kommenden Monat.

-->