In Folge 8 geht es um Alex. Der Aufhänger ist das Unterhosen-Business, welches Piper erdacht und jetzt mit Alex aufbauen will. Eigentlich soll sich Alex um den jungen neuen Aufpasser im Gefängnis kümmern, er ist auserkoren worden die dreckigen und riechenden Unterhosen nach draußen zu befördern. Doch Alex ist abgelenkt, denn die neue Gefangene namens Lolly schleicht die ganze Zeit um sie herum. Dabei kommen in ihr Erinnerungen hervor. In ihrer Zeit als Drogendschmuggler ist sie nur sehr knapp der Liquidierung durch den Drogenboss entgangen, ein Freund wurde vor ihren Augen erschossen, doch sie erhielt eine Begnadigung. Die Worte des Bosses machten ihr unverständlich klar, dass er überall Freunde habe und sie zukünftig auf der Hut sein müsse. Da Alex eben diesen Boss in der zweiten Staffel verriet um aus dem Gefängnis zu kommen, hat sie jetzt verständlicherweise Angst. Der große Cliffhanger am Ende – endlich gibt es einen, juchu! – ist, dass die harmlos aussehende neue Gefangene tatsächlich auf Alex angesetzt wurde. Auf einem Zettel notiert sie ihre Tagesroutine.
Ich kann gar nicht sagen wie befreiend dieser Hauch von Spannung ist, endlich wieder eine Bedrohung, etwas, was einen dazu drängt sofort die nächste Folge schauen zu wollen. Danke!
Aber noch einmal zurück zur Geschichte. Neben der neuen Spannung ereignen sich weitere Höhepunkt in der Staffel. Zum eine ist da Piper, welche ihr Unterwäsche-Business wortgewaltig bewirbt. Gegenüber den anderen Insassen hält sie eine wahnsinnig witzige Rede.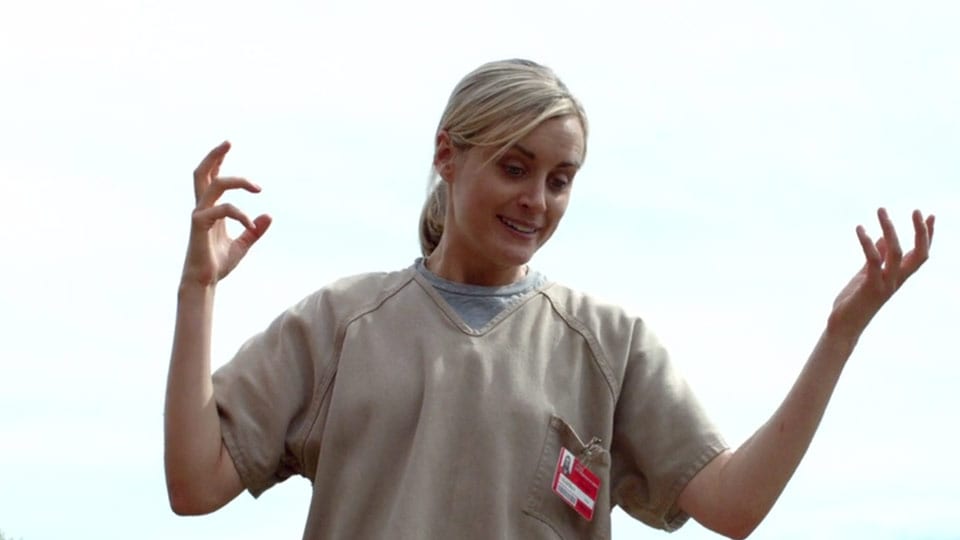 Piper hält die Rede ihres Lebens (c) Netflix
Long after we are gone, our smell will linger in some gas station in Toronto, in some office cubicle in Tokyo. And in that way, we are known. And in that way we are remembered.
Ihr Ziel ist es, Frauen zu überzeugen mitzumachen und Unterwäsche zu tragen, so dass sie diese verkaufen kann. Man spürt wir Taylor Schilling Spaß an diesem Auftritt hat. Voller Inbrunst spricht sie über den Stolz des weiblichen Geruchs und, dass dieser Geruch durch das Verkaufen der Unterhosen jede einzelne unsterblich machen werde. Definitiv ein Höhepunkt, nicht nur in der Staffel, sondern in der gesamten Serie.

Ein weiterer Höhepunkt ist eine Szene mit dem neuen Managements des Gefängnisses. Der Caputo zugeordnete Danny ist entgegen seiner Aussage eben doch sein Chef. Das erfahren wir in einer Sitzung der Investmentgesellschaft, die von Dannys Vater geleitet wird. Die Diskussion in der Runde von Turbokapitalisten ist ebenfalls großartig. Diese kleinen Business-Äffchen, welche sich über ihre Sparmaßnahmen freuen – nicht mal Bücher sollen die Insassen bekommen

Endlich umfasst eine Folge OITNB wieder das Element Comendy – mit Piper und den Business Äffchen – UND dazu Spannung; die Gefahr welcher Alex ausgesetzt ist. Vor dieser Episode hatte ich tatsächlich Angst um meine zweitliebste Netflix Serie, dass sie in einem nichtssagenden Brei aus Hintergrundgeschichten zu inhaftierten Frauen versinkt, die zueinander keinerlei Verbindung haben. Diese Angst fängt jetzt an sich zu verflüchtigen. Die Autorin der Serie scheint im letzten Drittel der Staffel die Zügel endlich wieder etwas anzuziehen und den Zuschauer mitzureißen zu wollen. Ich freu mich auf die nächste Folge.

-->