Ich probiere mal etwas Neue: Statt jede Folge einzeln durch zu gehen, möchte ich die ganze Staffel besprechen, genauso wie man heutzutage oft Serien schaut: Am Stück. Dabei will ich auch gar nicht alles von der Serie verraten, sondern nur so viel, um euch die Entscheidung zu erleichtern, ob es für euch etwas ist oder nicht.
Fakten
Orange Is The New Black ist eine dieser Netflix Serien, welche wie House of Cards komplett auf einmal online gestellt wurde. Die erste Staffel, um die es im Folgenden geht, ist jetzt fast ein Jahr alt und umfasst 13 Folgen à 60 Minuten. Die zweite Staffel ist bereits abgedreht und wird im Juni veröffentlicht. Das folgende Review enthält, wie oben bereits angemerkt, keine direkten Spoiler, sondern nur allgemeine Aussagen und Gegebenheiten, die bereits in der ersten Folge festgelegt werden.
Orange Is The New Black ist eine klassische Dramedy Serie, also eine Mischung aus Comedy und Drama, wohingegen  der dramatische Teil weniger ernsthaft ist als beispielsweise in House of Cards – aber deswegen nicht weniger unterhaltend.
(c) Netflix
Die Hauptfigur der Serie ist Piper Chapman, gespielt von Taylor Schilling. Sie muss sich von ihrem Verlobten, gespielt von dem durch American Pie bekannten  Jason Biggs, verabschieden, da sie eine Gefängnisstrafe von 15 Monaten ab zu sitzen hat. Das pikante daran ist, dass die Strafe aus einer lesbischen Beziehung herrrührt, in der ihre damalige Partnerin als Geldkurier für Drogenbosse tätig war. Piper fand das luxuriöse Leben toll und machte bei einigen der illegalen Finanztransfers mit, weshalb sie nun ins Gefängnis muss. Das Problem – ohne jetzt zu weit vorzugreifen – ist, dass sie ihre frühere Drogenfreundin im Gefängnis wiedersieht.
Wenig überraschend dreht sich die Serie auch zu einem Großteil um die Vergangenheitsbewältigung. Wie geht Piper mit ihrer ehemaligen Freundin um, die sie verraten hat, oder etwa doch nicht? Belastet das Wiedersehen die angestrebte Hochzeit? Wie kommt sie mit den anderen Gefangenen und den Gepflogenheiten zurecht und was macht ihr Mann in der Freiheit ohne seine zukünftige Frau?
Dramaturgie und Wirkung
Das schöne an der Serie ist dieser Dreiklang aus Liebe, das harte Leben im Knast und die Geschichten der Mithäftlinge. Es wird oft mit Rückblicken gearbeitet, um die Schicksale der anderen Häftlinge darzustellen und die Charaktere auszumalen. Dabei wird wenig mit großen Überraschungen gearbeitet, sondern sich Zeit genommen die Geschichte zu erzählen. Die Serie muss  eben nicht in das Zwangskorsett der 45-Network-Minuten passen. Für den ein oder anderen mag das alles etwas zu seicht sein, aber ich hatte nie das Gefühl von Langeweile. Sofern man subtilen Humor und starke Charaktere mag, ist man bei der Serie richtig.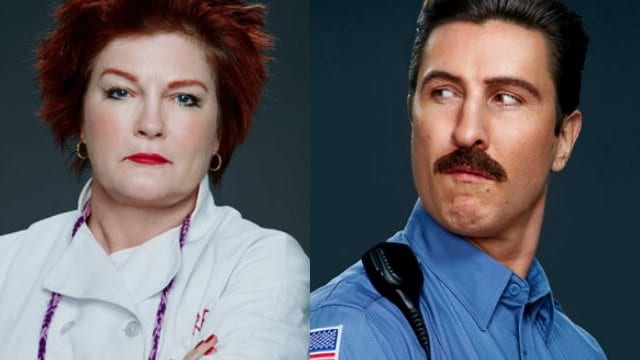 (c) Netflix

Kleines Highlight für mich: Kate Mulgrew (links im Bild), Captain in Star Trek Voyager, spielt eine griesgrämige russische Gefangene, die in der Küche tätig ist. Sie schafft es,  keinen Zweifel daran zu lassen, dass sie hier nicht die brave Sternenflotten Offizierin aus der 90er Sci Fi Serie ist und beweist, wie gut die Arbeit der Produzenten war, den Cast der Serie zusammen zu stellen. Dabei ist exemplarisch auch einer der Wärter zu nennen (rechts im Bild), der auch sehr gut aus einem der Coen Brothers Film entsprungen sein könnte. Ansonsten gibt es viele Nebenrollen, die Pipers Situation sehr schön untermalen und trotz humoristischer Momente eine spannende Fallhöhe aufbauen:  Piper hat etwas zu verlieren und all das, was sie im Gefängnis erlebt und tut, bleibt nicht ohne Konsequenzen.

Womit man sich aber etwas arrangieren muss, ist die teilweise heftige Naivität von Piper. Auch wenn das zum Charakter und dem Aufbau der Serie dazu gehört, war mir das teilweise etwas zu stark ausgeprägt.

Abgesehen davon hat die Serie bei mir immer wieder die Frage aufgeworfen, ob dies nun Drama oder Comedy sei.  Denn vorher habe ich mich gar nicht über Orange informiert. Genau diese Fragestellung und der Wandel zwischen diesen zwei Genres ist eines der Alleinstellungsmerkmale der Serie.

Dieser Beitrag hat mehrere Seiten:

-->