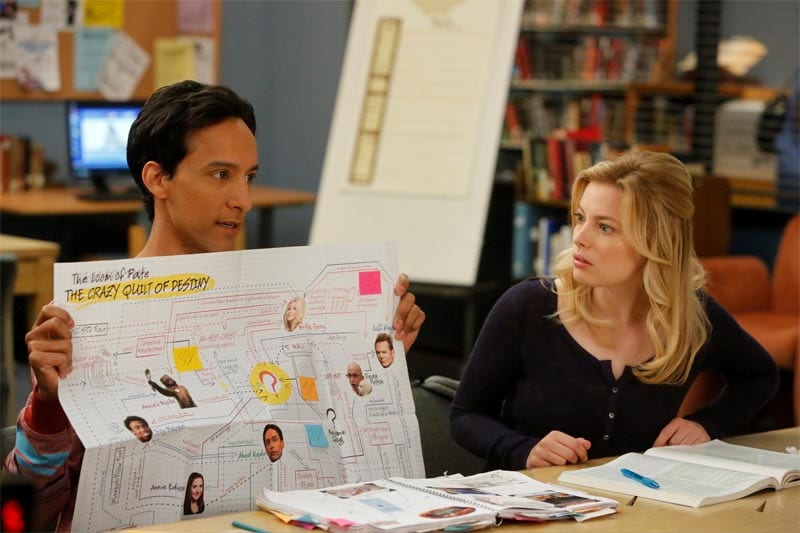 Für die Studiergruppe steht eine wichtige Geschichtsprüfung an. Schnell wird klar, dass die komplette Folge eine Prüfung in ganz eigener Geschichte wird. Denn Abed ist einer Theorie auf der Spur: ist es Schicksal, dass alle sechs der Gruppe zusammen gefunden haben? Haben sich ihre Wege gar zuvor bereits gekreuzt?
In bester Superhelden-Origins-Prequel-Manier geht Abed den Geschehnissen vor dem eigentlichen Community College nach. Mit Comichaften Übergängen werden die Vorgeschichten der Mitglieder im Jahr 2008 durchgegangen. Ein beliebter Quarterback Troy, eine Zahnspangen-tragende Annie, lilahaarfarbende Aktivistin Britta und ein erfolgreiche Noch-Anwalt Jeff. Und nebenbei nimmt der Hinterhalt von Chen-Schrägstrich-Kevin langsam Formen an. Und plötzlich droht die Jagd nach der ultimativen Verbindung der Gruppe zum Schlüssel zu werden, der sie spaltet.
"I wanted to make a prequel and did ruin everything" – Abed
Eine Folge die nicht unbedingt die besten Gags oder kreativsten Darstellungsmomente besitzt, dafür aber mit jeder Menge Hintergrundwissen und kleiner Anspielungen daher kommt. Bspw. erfahren wir die Entstehung von Magnitude's Catchphrase oder auch, dass Joghurt fast immer die Lösung ist.
Meine Meinung:
-->