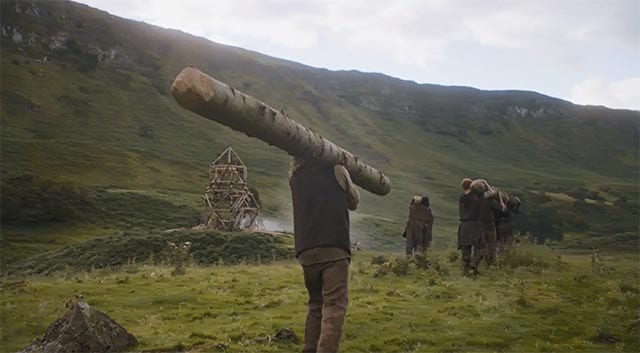 Ein Vorbau zum Episodenbeginn, ehe der eigentlich Vorspann kommt – wie ungewöhnlich. Das gibt es nur bei sehr einprägsam inszenierten Handlungs-Segmenten und man weiß direkt, da kommt was Großes. Oder "wer" Großes, wird doch erneut ein alter Bekannter eingeführt. Sandor – I knew it, dass he ist nicht dead!
"Für uns ungewohnt erhalten wir jedoch keinen klaren Todesmoment, auch wenn Sandor es wohl nicht die zehn Meilen weg schaffen sollte." (Ich)
Versucht sich in bester Dexter-Manier irgendwo weit weg handwerklich zur Ruhe zu setzen – aber nichts da! Er hat die Brotherhood-Party verpasst und wird jetzt wohl zunächst Rache und dann die Haupthandlung suchen.
"What kept you going?" – "Hate." (Ray & Sandor)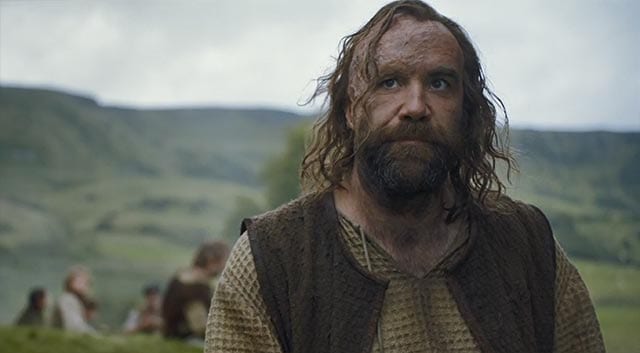 Margeary macht derweil einen auf Musterschülerin und erhält zur Belohnung etwas Eheberatung. Geduld statt Leidenschaft, soso. Diese ganze Glaubenssache habe ich ja ausgehalten und der High Sparrow wird mal wieder wunderbar von Jonathan Pryce gespielt, aber sich an die Queen of Thornes verüben? Das geht zu weit!
"Does it move or talk?!" (Queen of Thornes)
Dafür darf sie sich über das erste gezeichnete Emoji Winterfells freuen. 🌹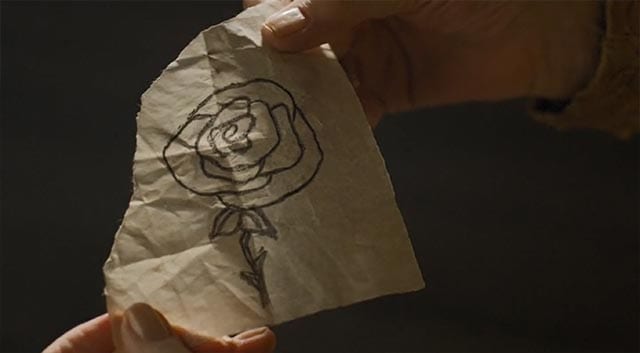 Endlich kommt auch Bewegung in die ganzen angedachten Armee-Wanderungen. Jaime und Bron führen die erste an. Hach ja, die beiden und ihre Dialoge – Bron ist einfach der Knaller!
"I have a bigger cock then anyone in the Unsullied army." – "You can be the right hand I lost." (Jaime & Bron)
"A Lannister always…" – "Don't say it! Don't fucking say it." (Jaime & Bron)
Jon zeigt, dass er über kurz oder lang Lord of Winterfell und Warden of the North werden dürfte. Snow 2016! Die Unterstützung des Riesen-Flügels ist ihm sicher. Lady Mormont, das kleinste Lord-Mädchen, macht einen sehr guten und toughen ersten Eindruck. Eine echte Führungspersönlichkeit, die viele Alt(eingesessen)e in die Tasche lispelt. Ihre "Armee" ist aber ähnlich klein geraten… Okay, mehr Smalltalk mache ich nicht, versprochen.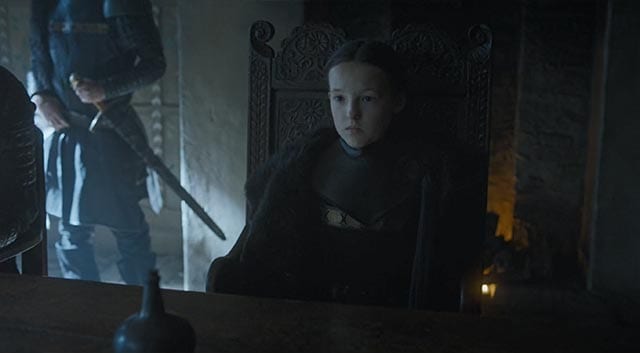 "The real war isn't between a few squabbeling houses – it's between the living and the dead." (Ser Davos)
Ganz so leicht wie erhofft ist es jedoch nicht, den Norden zu vereinen. Da hilft auch Sansas gestiegenes Selbstvertrauen nicht. Da schriebt sie lieber noch schnell was mit "army", "Winterfell" und "undead" an Jemanden, hat das mit dem Siegel aber noch nicht ganz verstanden. Aber schön, das Winterfell-Signil mal wieder sehen zu können. Und dazu noch in feinstem Blut-Rot – hach…!
"I served House Stark once. But House Stark is dead." (Lord Glover)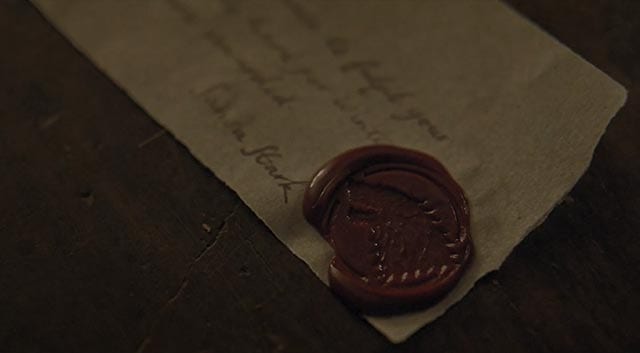 Die Kamerafahrt über die Grey-Schiffe war ganz nett, auch wenn die Stadt selbst dann doch recht künstlich aussah. Kann Theon sich selbst am Boden des Ale-Bechers finden? Vermutlich nicht. Aber Alfie Allen zeigt erneut, dass er viele Kollegen an die Wand starren kann. Bin gespannt, wie sie das unvermeidliche Entfalten des alten Ichs inszenieren werden.
Das Mädchen Arya hat wieder einen Namen und überraschend viele Stichwunden. Das kam unerwartet (obwohl man ja eigentlich geahnt hatte, dass dieses Aufeinandertreffen stattfinden wird)! Aber natürlich wurde das Attentat nicht tötlich durchgezogen… Die abgeklärte Ausgangslage für die Heimfahrt ist aber jedenfalls vorerst futsch.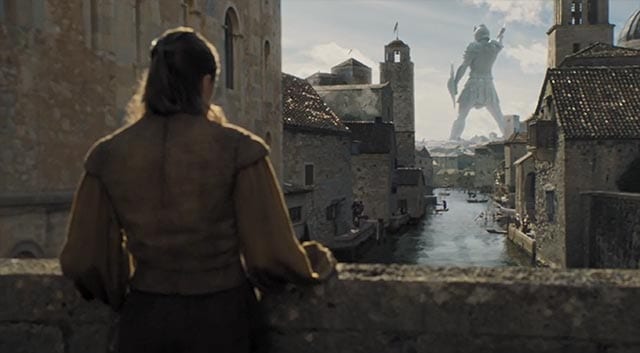 Und das gerade, als ich formulieren wollte, dass das vielleicht die stärkste Folge (zumindest seit Langem, wenn nicht überhaupt) ohne großen "Oh Gott!"-Moment ist. Der kam jetzt doch noch, wenn auch mit ordentlichen Abstrichen und mehr oder weniger ohne den ganz großen möglichen Cliffhanger-Moment.
Hat mir sehr gefallen die Folge. Kein Spektakel, aber konkrete und durchdachte Handlungssemente allerortens. Gute Dialoge, tolles Schauspiel, gutes Pacing, Witz ohne billig zu wirken, dosierte Action und viel Vorfreude-Schüren auf Kommendes. Erfreulich, dass es nach der eher auf hohem Niveau durchwachsenen letzten Staffel noch geht. Das hat sich sehr rund angefühlt, bis auf ein, zwei CGI-Dinge und die mittlerweile gewohnte Hauptstadt-Langeweile nahezu perfekt. Noch drei Folgen, die hoffentlich mit Hound-Kraft in die gleiche Kerbe schlagen!
Bilder: HBO