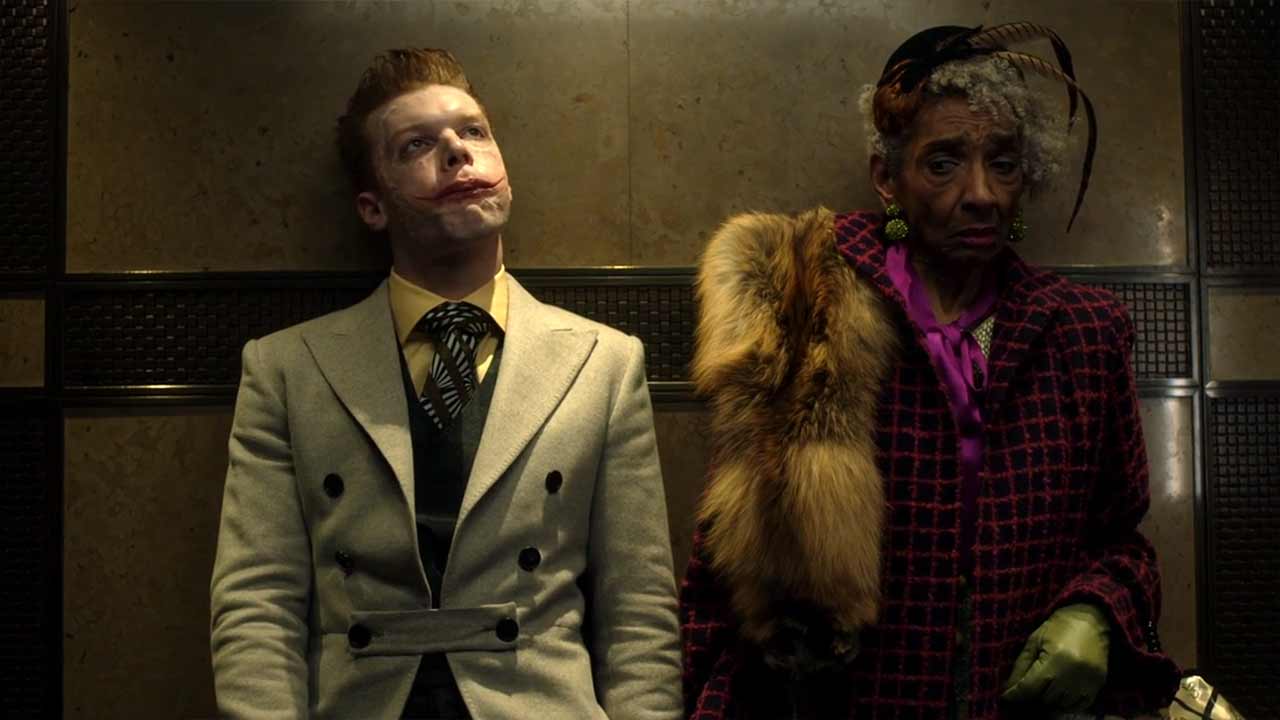 Heute dreht sich in "Gotham" alles um Xander Wilde. "Xander Wer"? Genau. So recht weiß das niemand, ist der Name auch erst diese Woche zum ersten Mal in der Serie aufgetaucht und entsprechend viel Geheimnistuerei wird bis zur Offenlegung betrieben. Jerome lässt die Information zum ehemaligen Schüler an der St. Ignasius extrahieren, um anschließend zum Brunch Meeting der "Legion of the Horribles" zu laden. Penguin hat sich zur Feier der Freiheit nochmal eine Flosse tiefer in den Gel-Pott gegriffen und es gibt ein Buffet der Wortspiele und Frohsinnigkeiten.
"Put your questions on ice until the end." (Jerome)
"I used to be a great whisteler…" (Jerome)
Beim anschließenden Besuch im Architekturbüro ist mir kleinem Kleinkarierten mal wieder ein Anschlussfehler aufgefallen. Jerome hält sein Gewehr zunächst über der Schulter, dann in der Hand, dann wieder über der Schulter. Klassiker.

Ebenso gibt es einen kurz später beim Riddler, der erst im Hintergrund bereit steht, dann aber nochmals auf die Bühne geht und seinen Hut hochhält. Gibt Schlimmeres – zum Beispiel am "Unglücksrad" drehen zu müssen. Und ja, ich würde die Sendung gucken (und habe immerhin die Sache mit "ton" in der Zeit erraten können!).
Aber ja, kommen wir zur eigentlich zentralen Aufdeckung: der gute alte Zwillingstrick! Den Namen Xander Wilde könnt ihr nämlich so schnell wieder vergessen, wie ihr ihn gelernt habt. Jeremiah heißt der Zwillingsbruder Jeromes, der den Schauspielspaß von Cameron Monaghan glatt mal verdoppeln dürfte.
Weniger spaßig fand ich da die "mich hypnotierst du nicht nochmal"-Taktik von Bullock, die an die billigen Verfolgungsszenen der alten "Batman"-Serie aus den 60ern erinnert hat. Die ach so fiesen und gerissenen Bösewichte fliehen wie kleine Mädchen – naja.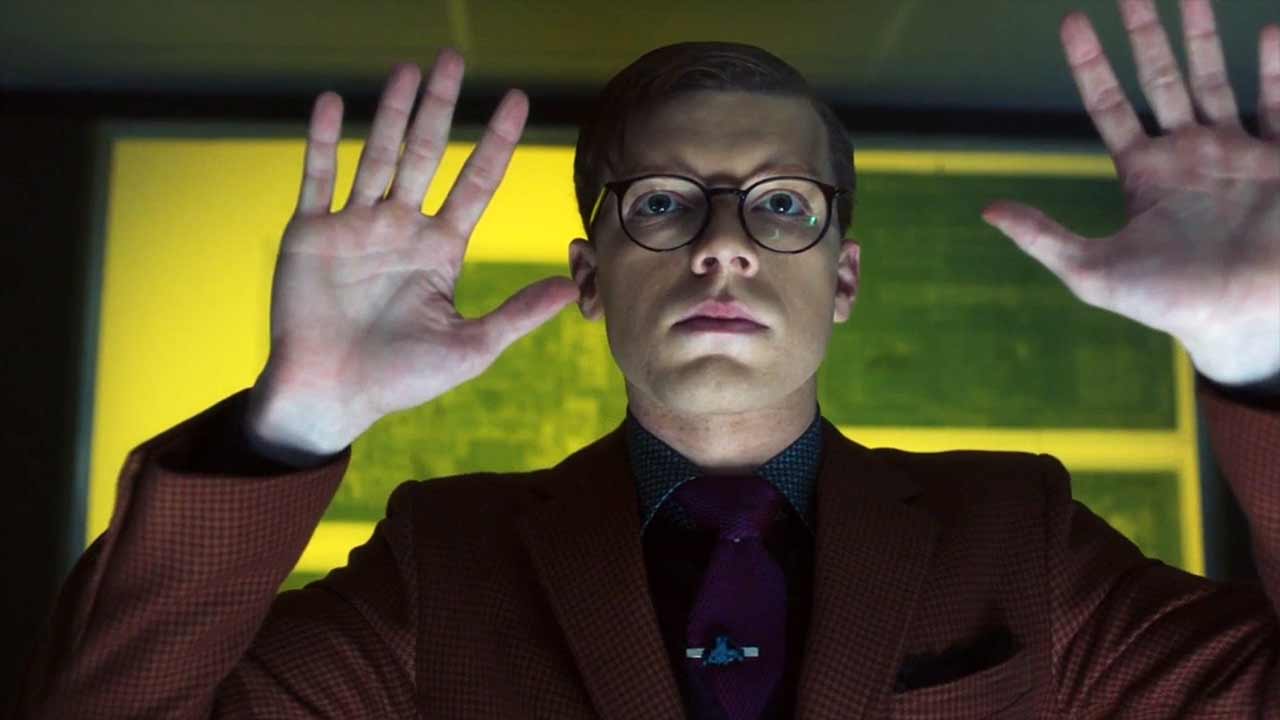 Lee spielt ein paar Kopftricks bei der Riddlerschen Quizshow, dass der letzte funktioniert ist allerdings etwas arg konstruiert und kindisch. Aber endlich mal wieder eine handfeste Liebesgeschichte, damit man die Serie als Paar weiterschauen kann. Wie romantisch. Nicht.
"Jerome told his brother his plan was to turn Gotham mad. How the hell is he gonna do that, Harvey?" – "I don't know. I thought it already was." (Jim & Harvey)
Die letzte Minute war dagegen schon deutlich interessanter. Ein mundwinkelerweiterndes Lachgas wurde testerprobt und dürfte noch zum Staffelfinale in der Stadt losgelassen werden. Ein erneuter Versuch, Chaos und manisches Gelächter zu verbreiten. Mal schauen, ob es diesmal über die zentrale Bahnstation hinausgehen wird.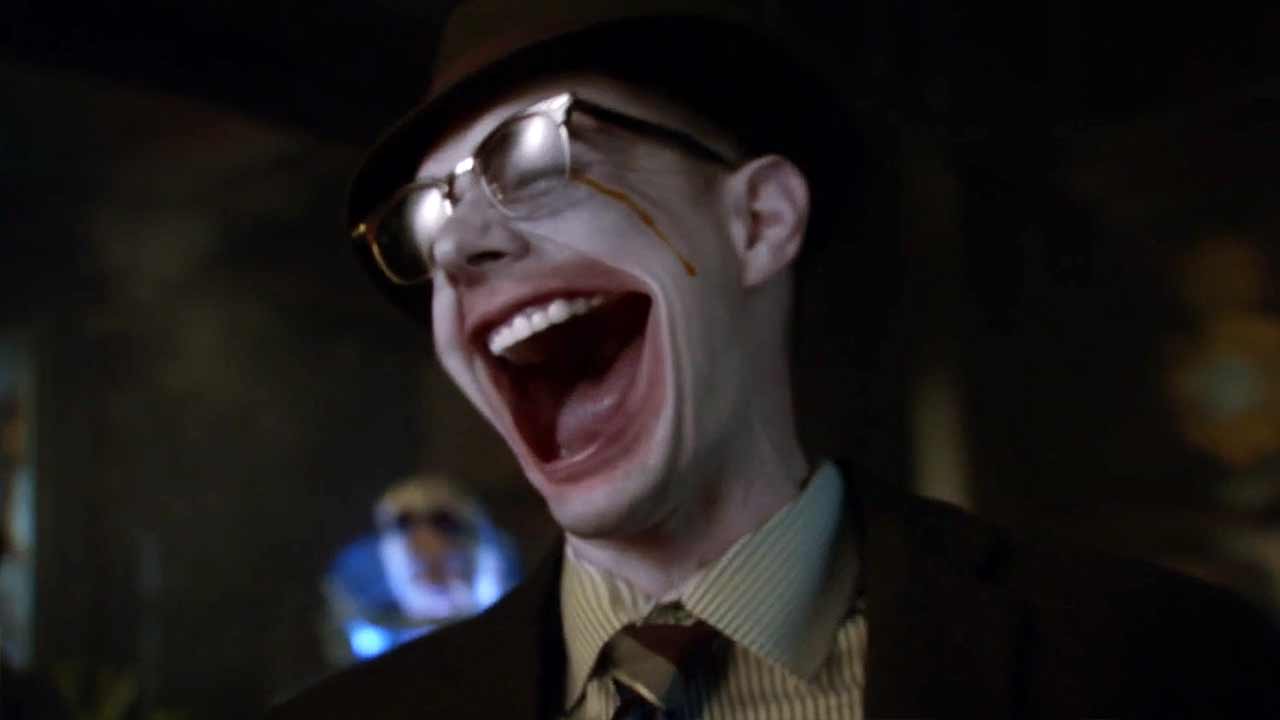 Das war leider nicht mehr ganz auf dem zuletzt hohen Niveau. Natürlich bleibt Jerome unterhaltsam, die Untergrund-Labyrinth-Wohnung im Stile eines Bond-Bösewichtes war auch irgendwie cool, aber mir haben ein paar Details nicht gefallen, allen voran die komplette Geschichte zwischen Ed und Lee. Aber schlecht war das noch lange nicht, die Kritik hat sich "Gotham" durch die zuletzt sehr starken Episoden erarbeitet. Von daher bin ich weiterhin frohen Mutes ob der Staffel-Zielgeraden. Ich übe derweil mein Pfeifen…

Bilder: FOX

-->