Hochkarätig besetzt ist am Freitag die erste Folge des Disney+ Star Originals "Rebel" (deutscher Titel "Rebellin") gestartet. Die Hauptrolle von Annie Flynn Ray Bello alias Rebel wird von keiner geringeren als der großartigen Katey Sagal gespielt. Ich muss schon gestehen, die Rolle als Rebel erinnert mich an Katey Sagal als Gemma Teller Morrow in "Sons of Anarchy". Sie besitzt ebenso viel Biss und diesen gewissen Charme, für das zu kämpfen, was sie will. Schon in den ersten drei Minuten der Pilotfolge hat Rebel eine Unterhaltung mit ihrer jüngsten Tochter, die perfekt ihren Charakter auf den Punkt zu bringen scheint.
Ziggy: "Hey Mom, die Presse ist da."
Rebel: "Ah perfektes Timing. Okay Ziggy Stardust, Mama muss in den Knast. Du weißt, was zu tun ist?"
Ziggy: "Na logisch weiß ich das!"
Rebel: "Nicht in diesem Ton, junge Dame. Letztes Mal hast du auch gesagt, du wüsstest, was zu tun ist. Und dann war ich einen ganzen Tag hinter Gittern. In Fresno! […] Und wehe du vertickst noch ein einziges Mal meinen Schmuck!"
Entschlossener Kampfgeist
Inspiriert von dem Leben von Erin Brockovich ist der Kampfgeist, den Rebel an den Tag legt, wohl eine ihrer stärksten Eigenschaften. Diese Stärke und diese Entschlossenheit beeindrucken mich und sind meiner Meinung nach wunderbar durch Katey Sagal verkörpert. Ich kann mir tatsächlich keine bessere Schauspielerin für diese Rolle vorstellen. Keine Schauspielerin, die so nervig und aufdringlich sein kann, ohne dabei Antipathie bei den Zuschauer:innen auszulösen. Annie setzt sich für die Leute ein, die sich eben nicht mehr für sich selbst einsetzen können. Und dafür geht sie auch gerne mal ins Gefängnis. Eine starke Frau und eine starke Persönlichkeit. Doch man merkt auch, dass das Leben mit ihr nicht einfach zu sein scheint. Drei Kinder und drei (Ex)-Ehemänner. Erstaunlicherweise versteht sie sich jedoch nach den Scheidungen noch relativ gut mit ihren Ex-Männern.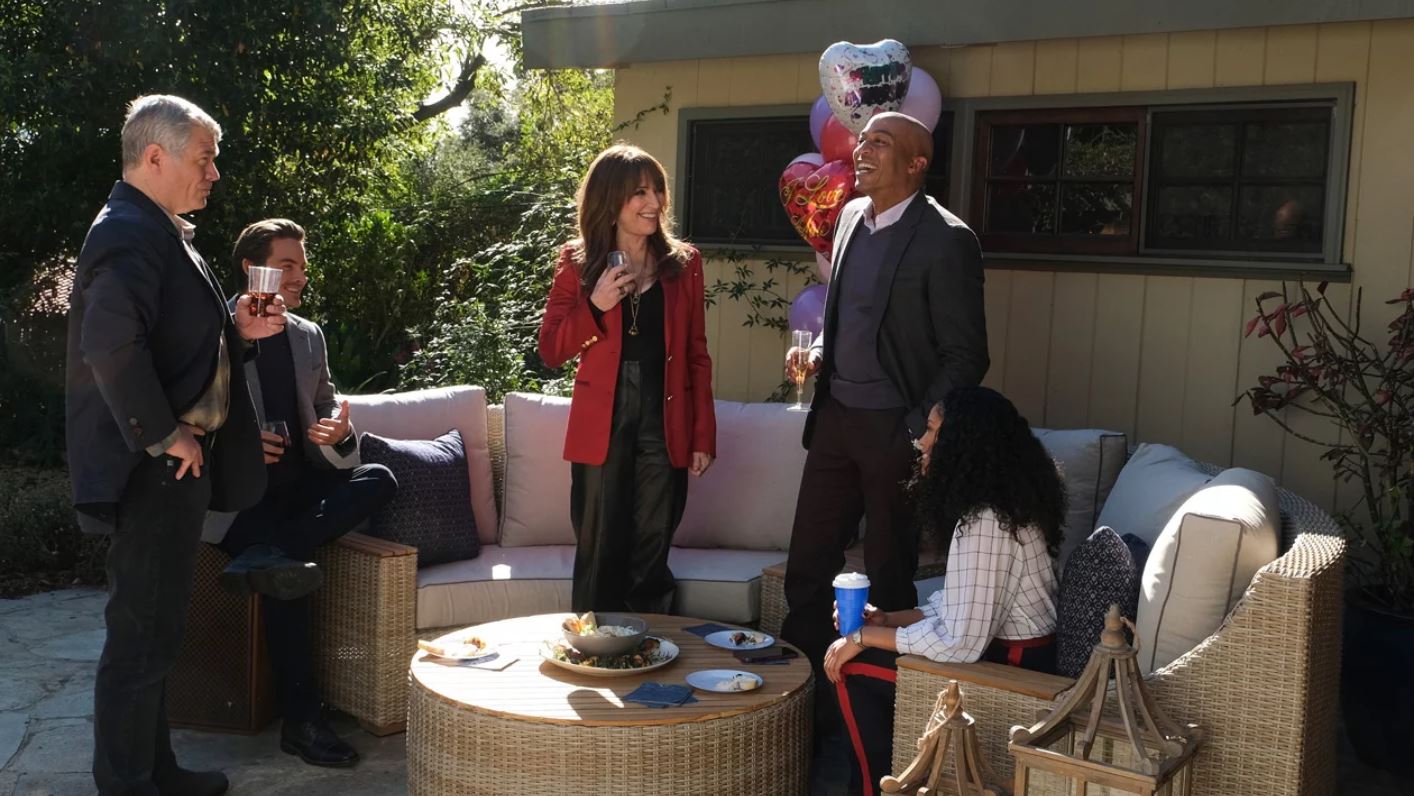 Ernste Themen und Humor
Auch wenn "Rebel" eher ernste Thematiken behandelt, so wird die Pilotfolge immer wieder durch Humor aufgelockert. Sei es Annie selbst, die Sprüche zum besten gibt oder aber etwa ihre Tochter, die ihre Mutter als "korrekte B*tch" bezeichnet. Aber auch ihr Sohn, ein Gynäkologe, ist um keinen Spruch verlegen. Das Gen scheint also entweder in der Familie zu liegen oder Annie alias Rebel gibt ihren Kindern diese Schlagfertigkeit mit auf den Weg.
Nate: "Na wieder schwanger, Mom?"
Annie: "Hast du etwa Lust meinen Gebärmutterhals zu untersuchen?"
Nate: "Nein danke!"
Annie: "Wer austeilt, muss auch einstecken können, Nate."
Bekannte Gesichter
Katey Sagal ist nicht das einzige bekannte Gesicht der Serie. Neben ihr spielt unter anderem Andy Garcia Rebels Arbeitgeber, den Anwalt Julian Cruz. John Corbett kennt man bereits aus Serien wie "Sex and the City" oder "Parenthood" und Tamala Jones dürfte Liebhaber:innen der Crime-Serie "Castle" bekannt vorkommen. Auch wenn ich bei Rebel gleich an Gemma denken musste und ich Tamala Jones immer noch mit der liebeswürdigen Pathologin Lanie Parish assoziiere, kann mich sich als Zuschauer:in doch gut auf die bekannten Gesichter und ihre neuen Rollen in der Serie einlassen. Aber das sollte ein:e gute:r Schauspieler:in ja auch können, nicht wahr?
Fazit
Also wenn ihr mich fragt, war das allgemein ein guter Serienauftakt. Ich habe die Charaktere liebgewonnen, habe neben ihren guten Seiten auch schon einen kurzen Blick auf ihre schlechten werfen können und wurde zudem auch noch bestens unterhalten. Denn ganz ehrlich, ich liebe Schlagfertigkeit und gepfefferten Humor. Okay und ich muss zugeben, ich fand es schon richtig toll wie Lana dem Mann, der seine Frau geschlagen hat, eine gepfeffert hat (um bei den Pfeffer Metaphern zu bleiben). Frauenpower! Ich hoffe, dass ich davon noch mehr zu sehen bekommen werde, aber dessen bin ich mir bei einer Serie, wie "Rebel" es ist, relativ sicher. Die Pilotfolge von "Rebel" bekommt daher eine ganz optimistische Bewertung von vier Kronen von mir.

Doch wo Sonne ist, gibt's Schatten. Denn leider haben weder die wunderbare Starpower, noch die echte Erin Brockovich hinter den Kulissen "Rebel" vor der Absetzung gerettet. Mich wundert es etwas, dass die Quoten in den USA so schlecht waren, denn ich kann der Serie definitiv etwas abgewinnen. Doch leider hat US-Sender ABC die Serie nach bereits einer Staffel mit fünf Episoden abgesetzt. Vielleicht übernimmt Disney die Produktion ja von den ABC Studios und führt die Serie fort, wenn sie auf dem Streamingdienst besseren Anklang findet. Die Hoffnung stirbt zuletzt, denn meiner Meinung nach kann es nicht genug Powerfrauen in Serien geben.

Bilder: Disney, ABC

-->