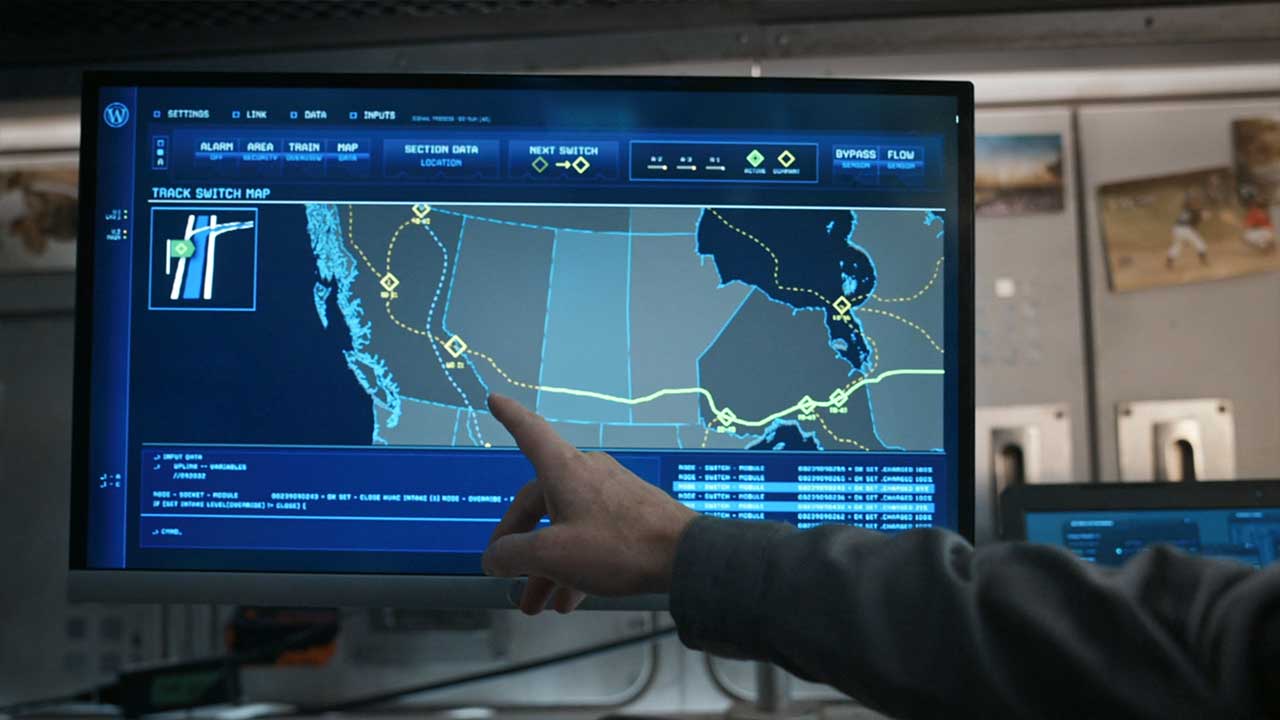 Im wechselnden "Wer darf die Anzahl der Waggons diese Woche sagen?"-Spielchen ist in dieser Folge Neu-Passagierin Asha an der Reihe. Die beweist einen grünen Daumen und darf fortan im Pflanzen-Waggon arbeiten. Dort hat sie allerdings ein paar Kartoffeln mitgehen lassen, wie es scheint, was aber auch eine komplett unnötige Information darstellt.
"When everything goes wrong, perhaps it's setting itself right." (Ashas Oma)
Wo wir bei unnötigen Dingen sind: Nach all den seltsam konstruierten Geschehnissen der letzten Wochen soll nun also der komplette Zug zusammengerückt sein, um endlich nach "New Eden" zu fahren. Ach ja, da war ja noch das Kalenderblatt… Aufgrund dessen meint Layton jetzt, er habe sich alles eingebildet – aber eine aus dem Nichts kommende "Vision" ist nichts Eingebildetes?! Es geht doch um Hoffnung, da ist es doch schon beinahe egal, wo die her kommt, würde ich meinen. Ein Hoffnung-bringendes Signal erreicht die Crew nach Anraten von Wilford hinsichtlich der möglichen Position Melanies. Das bringt selbst Oz zum Tanzen mit ein paar Gurken oder Chilischoten…
"That's great news!" – "Oz, she's my arch enemy!" (Oz & LJ)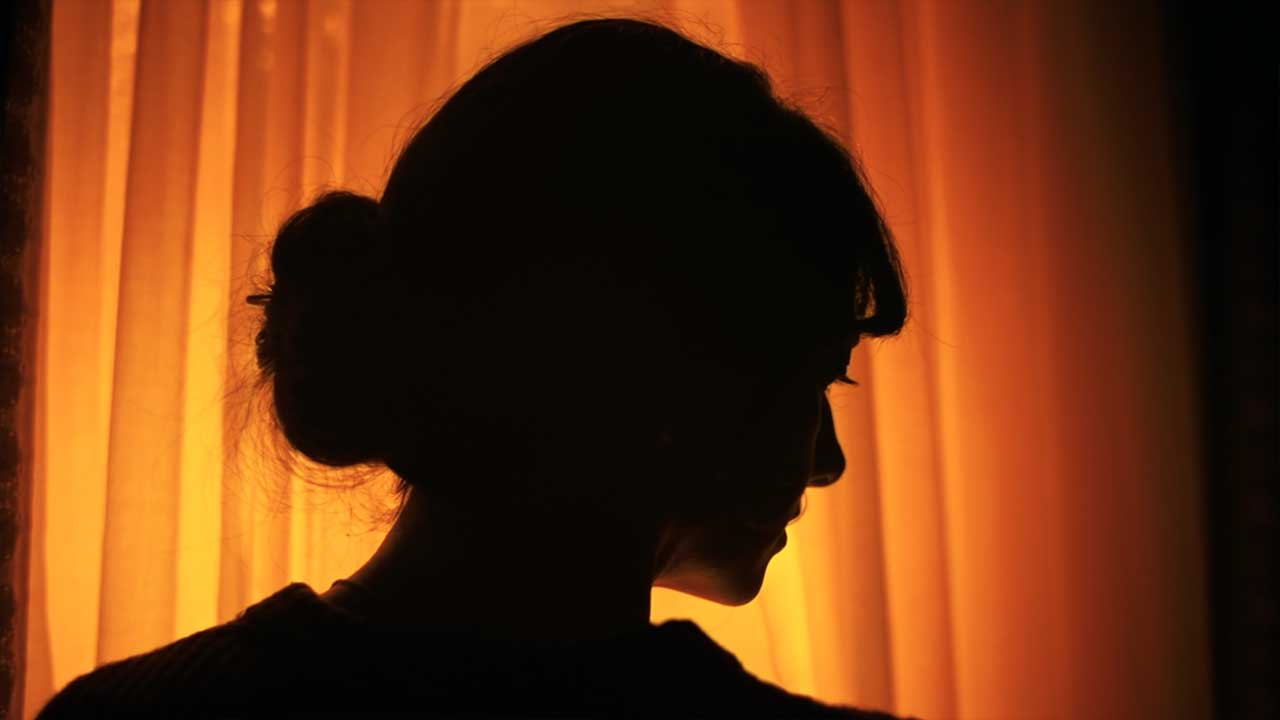 Aber Ashas Messgerät schlägt Alarm. Dass das, mitten im Schrank und weiter hinten im Zug, sensibler als die extra dazu entwickelten Sensoren an Bord des Zuges sind, wirkt zumindest mal diskutabel. Aber gut – eine giftige Gaswolke vulkanischen Ursprunges liegt direkt auf der Strecke. Die orange Gefahr bietet die Möglichkeit für ein schönes Spiel mit dem Licht. Das hat nicht nur für einige schön anzuschauende Shots gesorgt (wobei hier meiner Meinung nach mehr drin gewesen wäre!), sondern auch ganz gut aufgezeigt, wie weit hinten man im Zug gerade ist.
Bei Wilford ist mir das dann doch alles etwas zu schnell gegangen, wie er da vom Gemüse-Status in einen deutlich normaleren gelangt ist. Mal ganz von der ultra-schnellen geistigen Erholung abgesehen verwundert mich aber eher, dass man ihm lauter Äxte in seine Hausarrest-Zelle gepackt bzw. diese dort nicht entfernt hat…?!
"He's gotta be messing with us!" – "Right. But if it's true?" – "If it's true, he's still messing with us!" (Till, Ruth & Layton)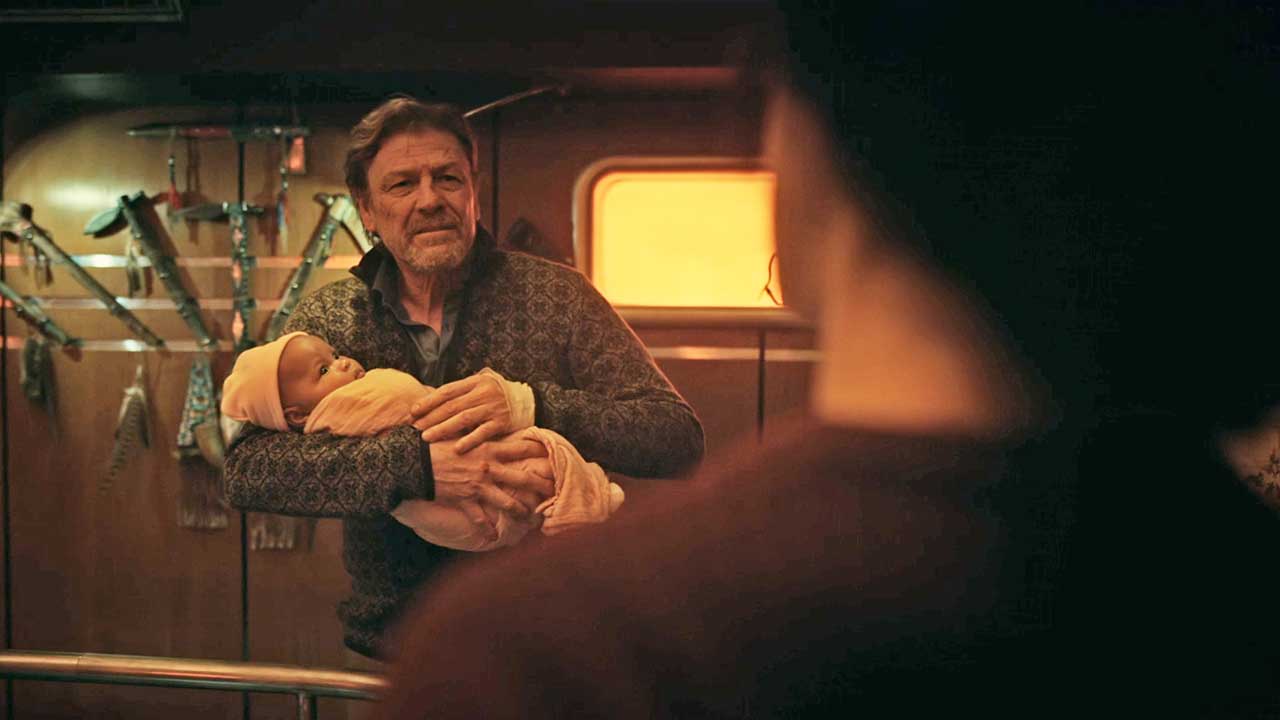 Nachdem wir lernen durften, dass Till nicht nur Brettspiele, sondern auch ein bisschen sich selbst hasst und welchen Reiz ausgestorbene Technologie dann doch noch ausüben kann, geht es dem eigentlichen Finale der Folge zu. In dem Moment als das Gasleck identifiziert wird, hat mir die musikalische Untermalung gar nicht gefallen. Da kam so eine seltsame Bassline aus dem Nichts, die auch nicht weiter verfolgt wurde, sondern mich lediglich kurz hat fragen lassen, ob das nun wirklich in der Folge vorkommt oder von irgendwelchen Nachbarn stammt…
"I'm supposed to help lead us off-train, how am I supposed to do that, if I shit my pants at a dog barking?!" – "Well, there's only two or three dogs left – so… change your pants." (Javi & Sykes)
Dass die Luke zu klein ist, um mit Anzügen durchzupassen, passt mal wieder in das Schema "Wir konstruieren uns unsere eigenen Probleme". Nun ist es also Asha, die sich opfert, was an sich aber auch ganz gut in die Rolle der Person passt, die mit ihrer Lüge nicht mehr so ganz leben kann. Dass sie allerdings komplett ohne Schutz derart lange durchhält, nachdem Sykes zuvor trotz Maske und weniger Aussetzung mit dem Gas binnen weniger Sekunden zusammengeklappt war, bleibt ein Rätsel. Aber hey, Ashas letzter Wunsch lautet also, dass doch bitte alle nach New Eden weiterfahren sollen und wem soll man schon einen letzten Wunsch abschlagen?!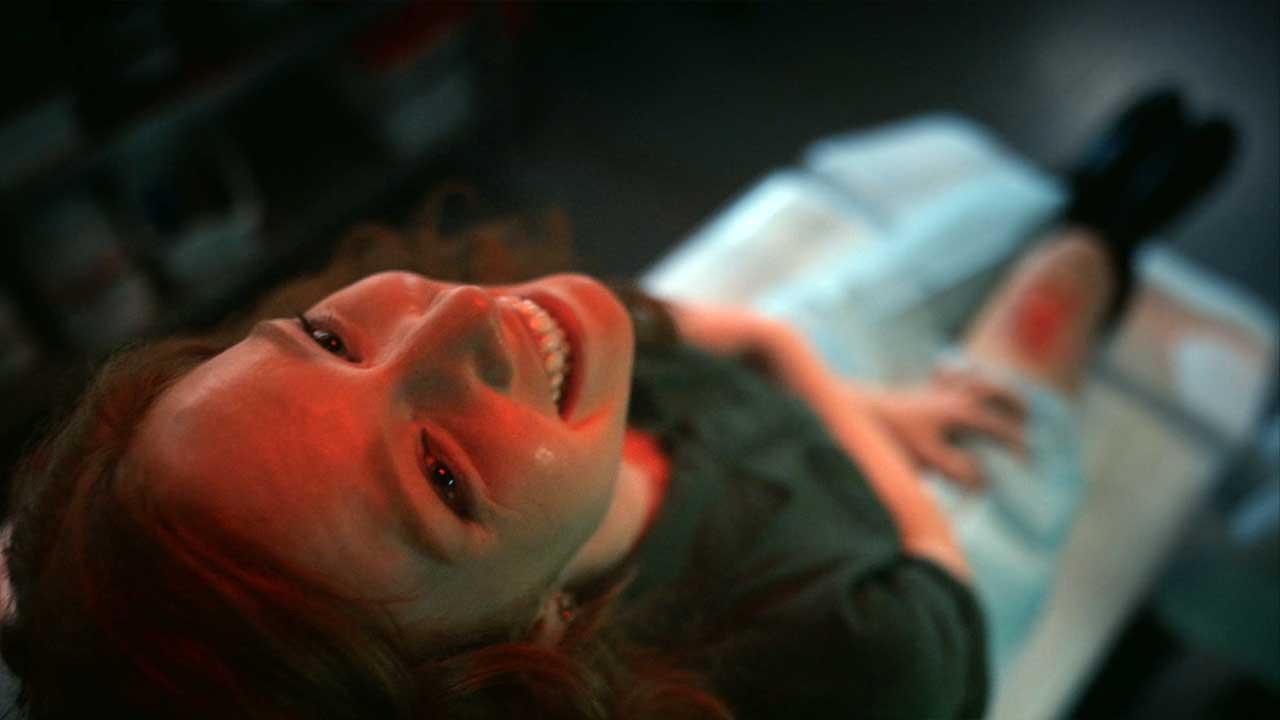 Es gab ja schon so einiges in den zweieinhalb Staffeln "Snowpiercer" zu sehen, aber die Szene mit LJ und dem abgezogenen Stück Oberschenkel-Haut war die erste, die mich zum Schütteln gebracht hat. Interessanter als diese ungewöhnlich schnell aufgekommene Art der Spende war dann aber vor allem die Hand eines stöhnenden Patienten, die Dr. Headwood fassen wollte. Um wen es sich dabei wohl handeln mag? Ist es der andere Arzt, den sie aufpeppelt?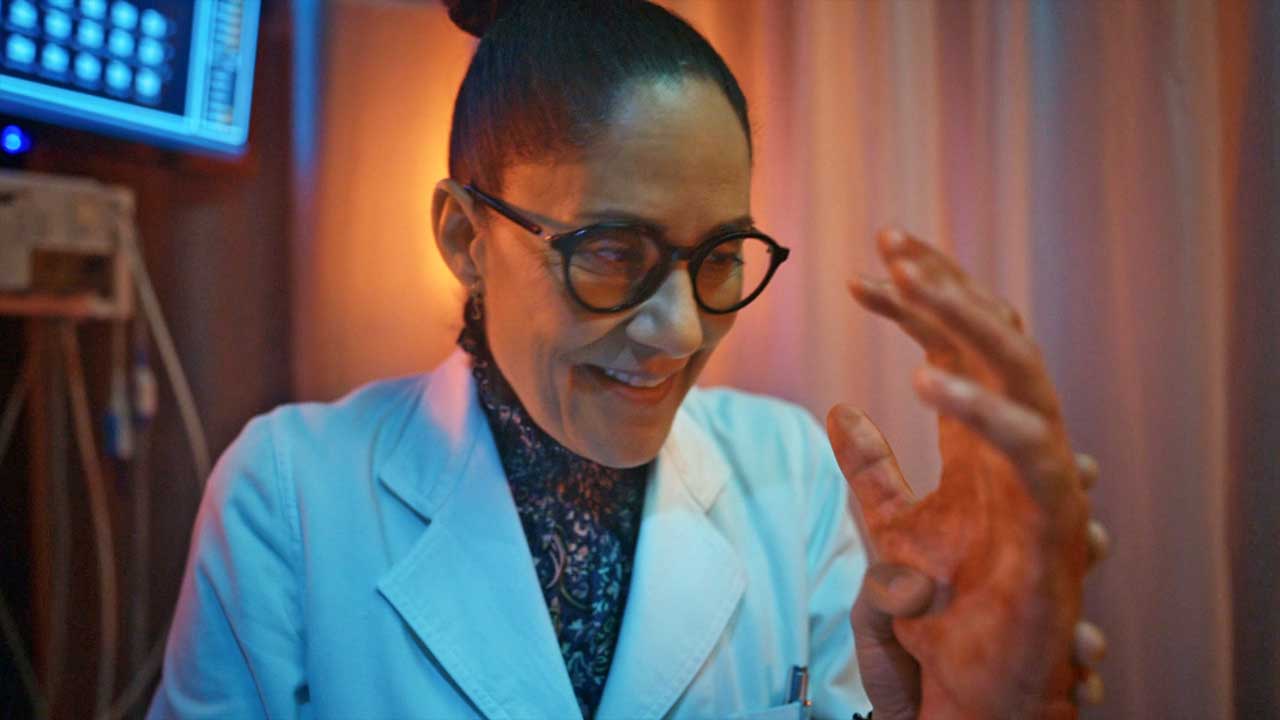 Die ganze Staffel hat sich ja bislang so angefühlt, als wolle man einfach nur erschweren, das angestrebte Reiseziel zu erreichen. Auch wenn das in dieser Folge zumindest mal glaubwürdiger geschieht, muss man sich doch die Frage stellen, weshalb man die eigentlich noch recht frische Figur Asha bereits derart früh opfert. Argumentativ hat das natürlich weitreichende Folgen im Zuge der ganzen New-Eden-Geschichte, aber so wirkt der Charakter noch instrumentalisierter.

Die Folge hatte aber auch ihre guten Momente, die allerdings nicht in Gänze ihr Potenzial haben ausschöpfen können. Die Ästhetik mit dem orangenen Rauch hat mir sehr gefallen, wurde jedoch lediglich für wenige Sekunden intensiver bemüht. Auch gab es einige gelungenen Dialog-Zeilen sowie ein paar interessante Twists gen Ende, aber insgesamt passt mir das Pacing nicht so ganz. Das wirkt nicht wirklich homogen, stets hetzt man von einer Entwicklung zur anderen, ohne dass wirklich Atmosphäre aufkommen kann. So schwanke ich zwischen drei und dreieinhalb Kronen, weil es letztlich aber doch spannend und kurzweilig war, bleibe ich mal bei der positiveren Wertung.

Bilder: TNT / Netflix

-->