In Episode 4 "Unbedingte Offenheit" erfahren wir zunächst in einem Rückblick wie Captain – Verzeihung – Admiral Picard seine letzten Tage als Sternenflotten Offizier verbrachte. Und zwar als netter Opa mit weißem Hut auf einem Planeten Namens Vashit. Die Bewohner dieses Planeten sind freundlich, gute Kämpfer und beherbergen auf Wunsch von Picard so viele romulanische Flüchtlinge wie nur möglich. Die Bilder von Picard in weißem Anzug und Hut, aber mit Sternenflotten Kommunikator sind irgendwie putzig. Warum er ohne Uniform unterwegs ist, verstehe ich nicht; es soll wohl die Stimmung untermalen.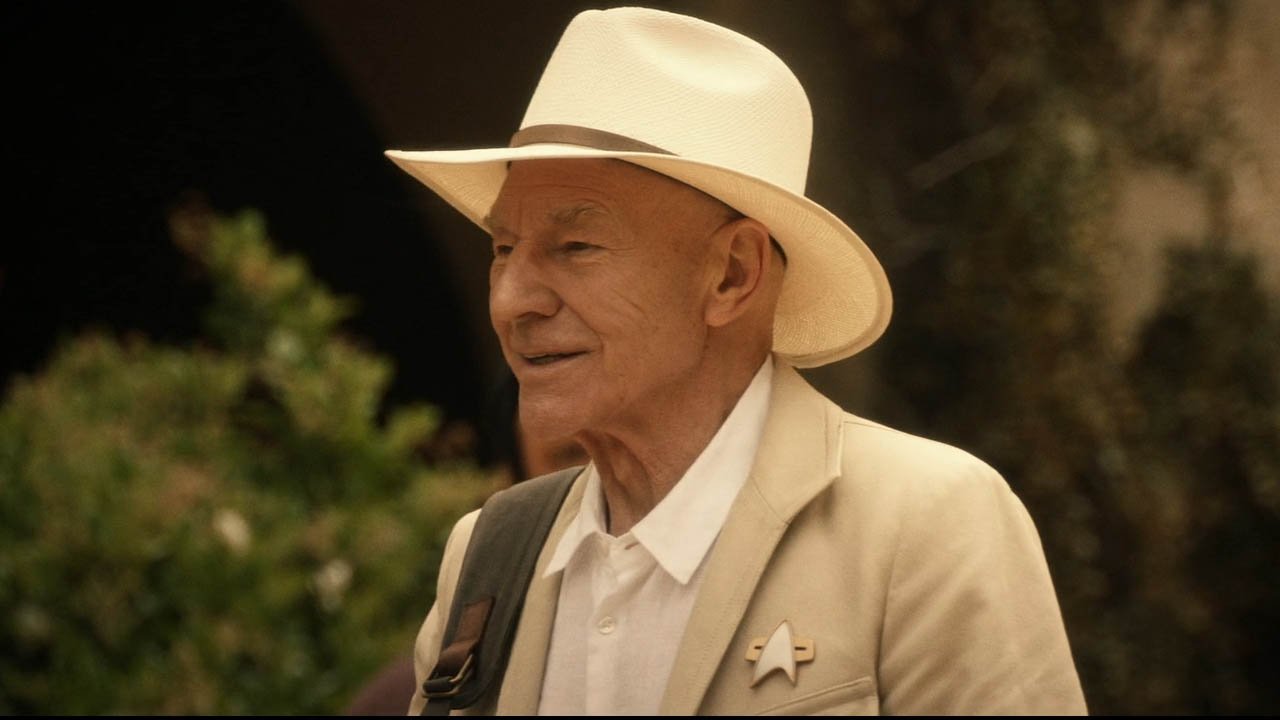 Für einen Admiral gelten keine Kleidungsvorschriften.
Später in der Folge wird er hierher zurückkehren. Die anfängliche Euphorie und freundliche Stimmung auf dem Planeten ist gekippt, also trägt Picard jetzt auch komplett schwarz und keinen weißen Urlaubsanzug mehr. Er ist nicht mehr beliebt, er gilt bei den Romulanern als Verräter, der seine Versprechen nicht gehalten hat. Schon interessant, er hat es also geschafft, es sich mit der Föderation und denen, die er retten wollte, zu verscherzen.
Schlecht finde ich die Ereignisse rund um Vashti nicht, aber etwas seltsam ist es schon. Denn Picard rekrutiert einen Schwertkämpfer. Zwar einen sehr guten Schwertkämpfer, aber es ist immer noch ein Kämpfer mit Schwert in der Zukunft. Und dieser Jemand sieht zudem aus wie eine Art chinesischer Kampfmönch. Noch seltsamer ist es, dass Picard auf dem kleinen Schiff, welches er durch Raffi auftreiben konnte, das Holodeck dafür nutzt, sein Weingut darzustellen. Warum? Hatte man bei dem Mega-Budget kein Geld mehr für eine futuristische Kulisse eines Quartiers und musste deshalb das Weingut recyceln? Schlimm ist das natürlich nicht, aber so wirklich verstehe ich das auch nicht, es liefert nichts zur Story.
Währenddessen ist Soji dabei, ihre Forschungen fortzusetzen – was auch immer sie erfahren möchte. Durch Narek ist klar, dass Soji nur eine von vielen sein soll, weswegen man (oder besser gesagt er) sie nicht umbringen will.
Der Fanservice in dieser Folge findet ganz am Ende statt. Ein kleiner, aber intensiver Kampf mit einem romanischen Bird of Prey aus der Kirk Ära UND das Auftauchen von Seven of Nine.
Puh, ich werde mit der Serie einfach nicht warm. Gerne lasse ich mich auf was Neues ein, aber sowas wie – entschuldigt, dass ich so kleinlich bin – der weiße Opa-Anzug von Picard, was soll das? Aber vielleicht wird Folge 5 besser und man muss sich um derartige Kleinigkeiten nicht mehr kümmern.