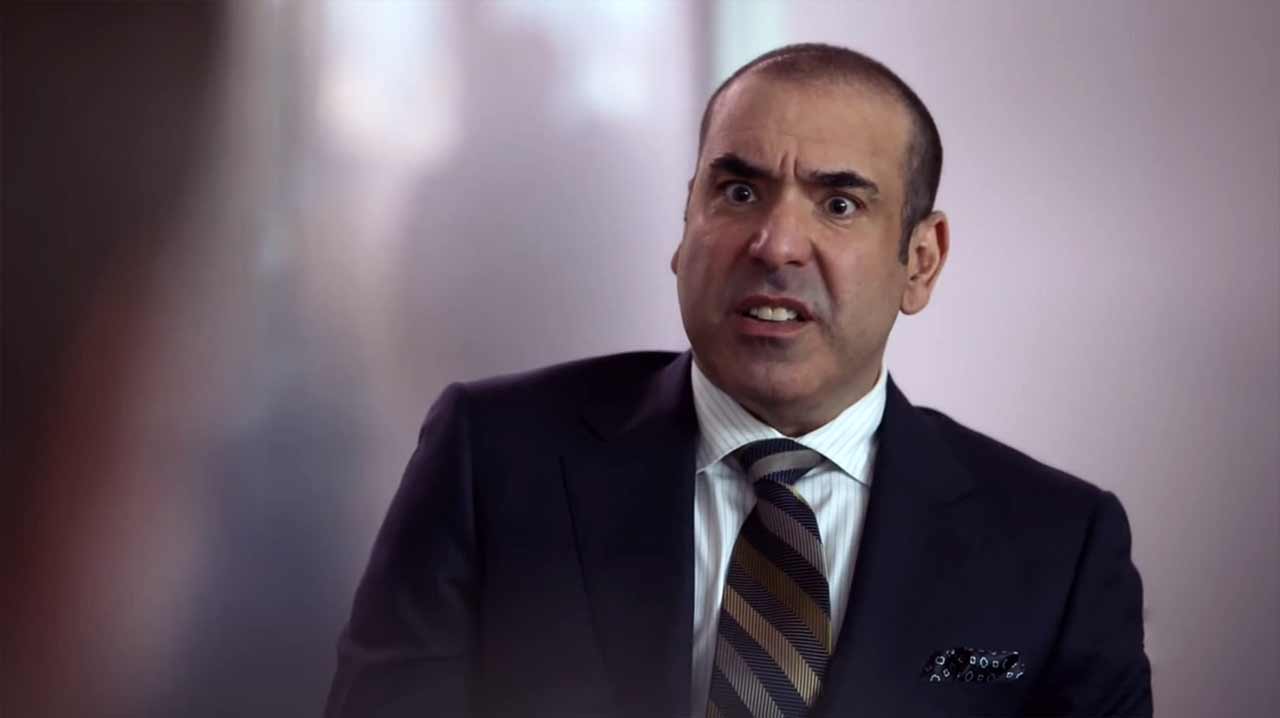 Aktuell habe ich das Gefühl, man bedient sich bei "Suits" nur noch an Grimassen, emotionaler Achterbahnfahrten und pubertärer bis anzüglicher Anspielungen Louis', anstatt wirklich großes inhaltliches Drama zu schüren. Jetzt ist plötzlich Sheila die Ungeduldige, die es (vermutlich in Anbetracht der wenigen ausstehenden Episoden) kaum erwarten kann, ein Kind zu bekommen, das sie vor wenigen Episoden noch als total abwegig erachtet hatte. Müssen die prenatalen Hormone sein, nehme ich an. Jedenfalls sollen sich beide hinsichtlich ihrer Fortpflanzungsfähigkeiten untersuchen lassen – also, rein biologisch, versteht sich.
"Louis, you are an A-slash-A+ lover, everyone knows that." – "There's a slash?!" (Sheila & Louis)
Das Gespräch mit Harvey dazu war zwar total dämlich, aber ich komme nicht umher, mich dabei ertappt zu haben, kurz einen Augenblick lang geschmunzelt zu haben. Harveys Verlegenheit war wunderbar greif- und vor allem nachvollziehbar. Der Arme.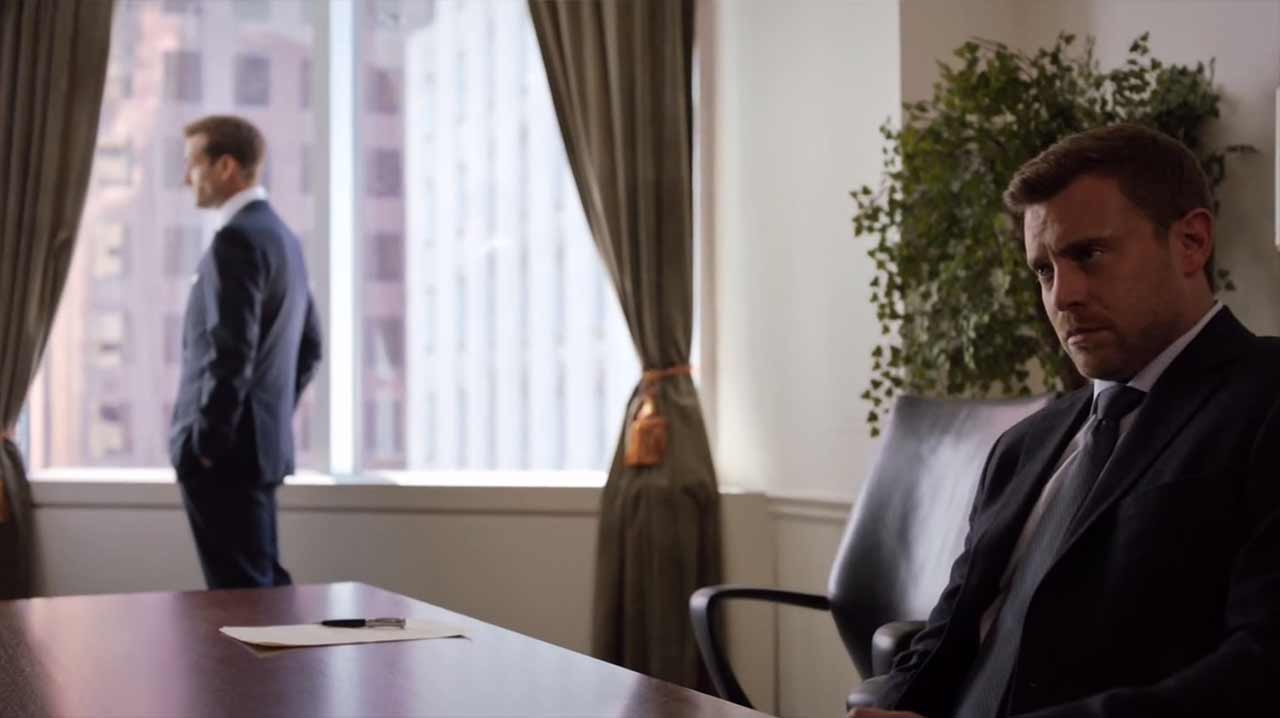 Als wäre ein intimes Gespräch mit Louis nicht bereits genug, wird Harvey auch noch von seinem verlogenen Bruder Marcus angerufen. Bei ihm stehen familiäre Neuigkeiten auf dem Plan: Scheidung, Fremdgehen, Sorgerechtsstreit, doch nicht Fremdgegangen, sondern Glücksspielsucht und Lügen, gerade total verrücktes Wetter und irgendwas mit Sport. Ihr kennt das ja. Nicht ganz in die Reihe passt, dass er hinten raus dann doch plötzlich Prinzipien zu haben scheint, die alles verkomplizieren, um dann doch zu einer Lösung zu führen. Das passt dann doch irgendwie zur Folge an sich, denn diese lautet: Familie. Die lauert diese Woche nämlich hinter so ziemlich jeder Szene…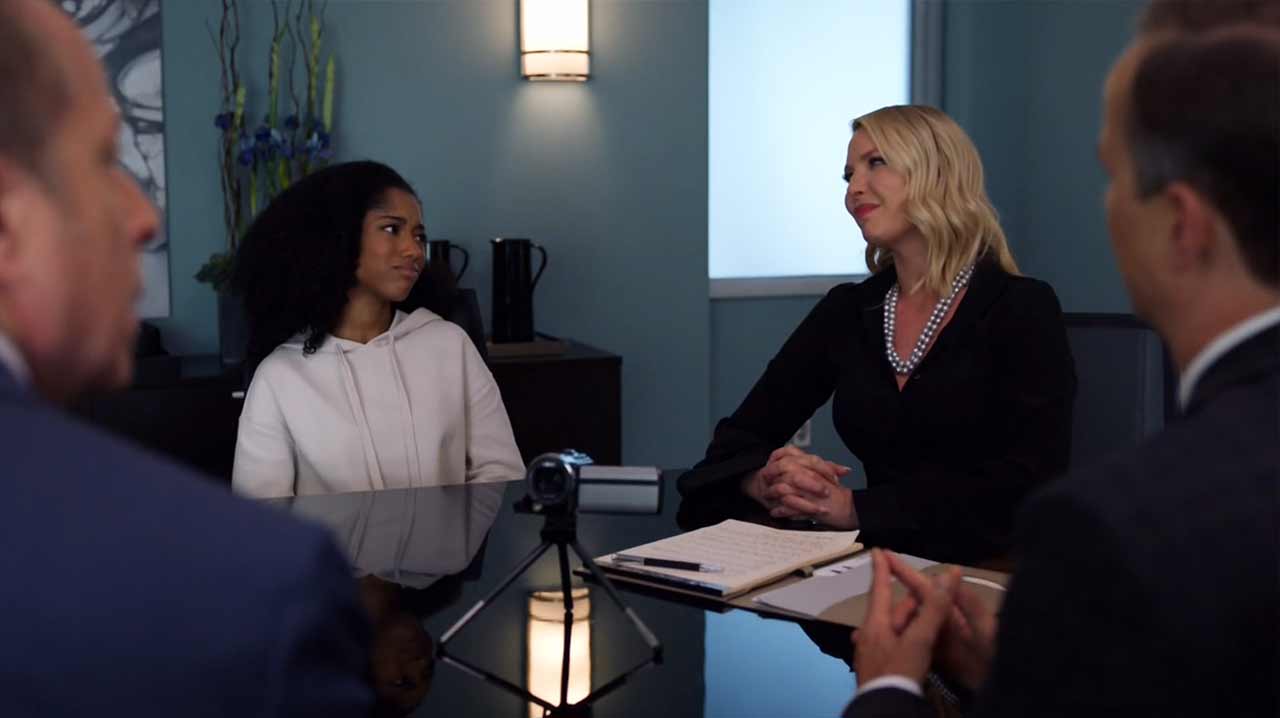 So auch bei Alex. Bei dem hatte mich letztens schon gewundert, dass er was von "ich habe Familie" gesagt hat, jetzt wundere ich mich noch mehr darüber, wie groß die ist. Also, nicht quantitativ, sondern alterstechnisch. Die "kleine" Joy ist bereits 15 und mitten in der wirklichen Drama-Phase des Lebens – der Pubertät. Leider ist Louis gerade nicht da, um pubertäre Witzchen mit ihr auszutauschen, dafür muss die coole Samantha aushelfen – mit Kinderarbeit. Wie schnell doch alle eine Familie werden.
Und gerade, wo man denkt, der angestrebte und notwendige Zusammenhalt in der neu zusammengesetzten Staffel Firma wäre geglückt und es kann endlich ans Eingemachte gehen, wird der Kampf um den Platz auf dem Firmennamensschild wieder eröffnet. Na super…
"I know it was a stressful day and I thought you deserve something with a little umbrella." – "You have no idea!" (Sheila & Louis)
Ach, und Louis' Wettkampfschwimmer-Bewertung? Erstklassig. Vermutlich dank hochwertig erogener Stimulation durch wahlweise "Wall Street Journal" oder den Immobilienteil der örtlichen Tageszeitung. Rrrrr! Aber als Ausgleich dieser geistigen Stärkung erhalten die kleinen Mini-Louise auch regelmäßige Entspannungspackungen im Schlammbad, was nicht wirklich zu schnellen Schwimmzeiten führt. Ergo steht Louis vor einer schweren Entscheidung: ein paar Wochen auf Mudding verzichten oder für vermutlich immer auf Nachwuchs?
Es wäre nicht Louis, wenn nicht auch die einfachste Entscheidung zu einer irrationalen Wankelmutigkeit werden könnte. Und so bekommt er eine Art post-traumatisches Syndrom von Leuten, die ihm imaginär zum "Mudding" beglückwünschen, obwohl vermutlich NIEMAND in der Kanzlei das Wort je in den Mund nehmen würde. Ein kleines Donna-Gretchen-Manöver später ist aber alles wieder super – wer hätte es gedacht?!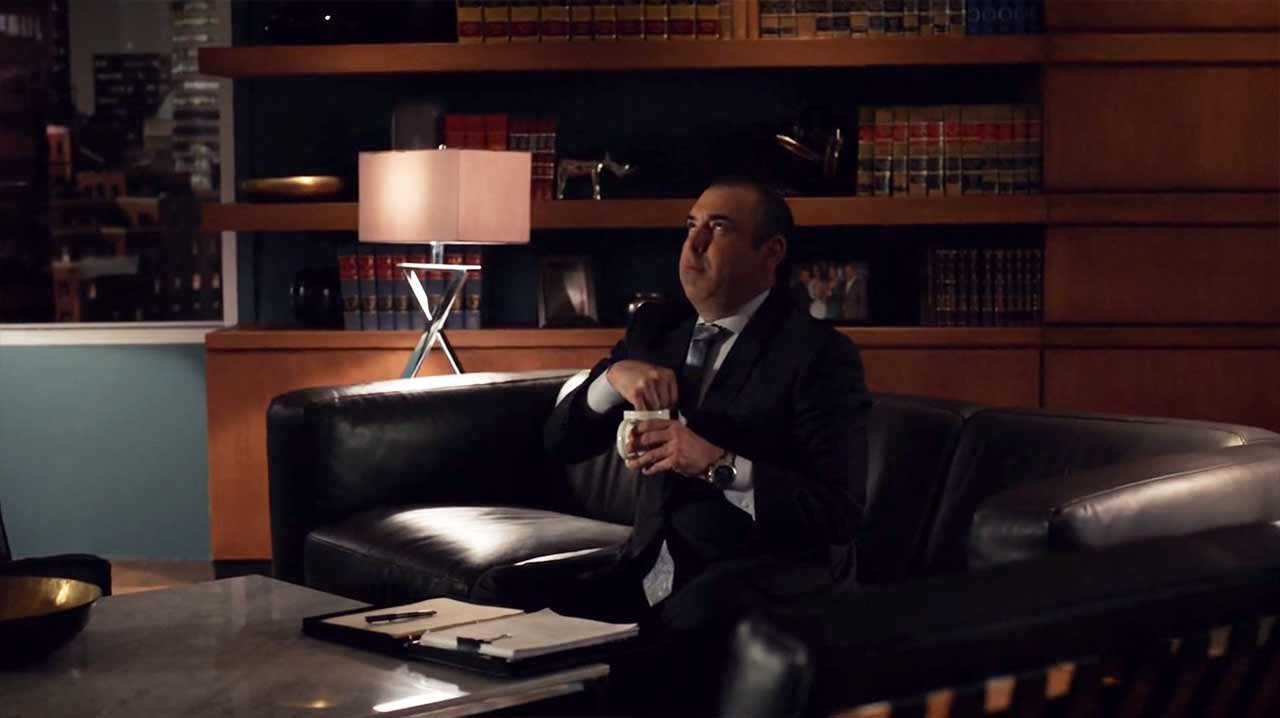 Eigentlich war das gar nicht so schlecht diese Woche. Erneut hat es sich zumindest kompakter und stringenter angefühlt, dazu waren die ganz großen und schnellen Twists angenehmerweise nicht dabei. Dennoch wird aktuell viel großes Drama aus sehr kleinen Dingen gezogen, was ein bisschen halbgar wirkt. So langsam fühle ich tatsächlich Angst aufkommen, dass die Macher zu lange im Schlammbad verbracht und etwas energielos sind, was das Schreiben einer wirklich großen Story anbelangt. Stattdessen wird schnell noch versucht, die privaten Belange aller Charaktere in Ordnung zu bringen, was natürlich auch irgendwo okay ist, aber für mich aktuell nicht den Reis der Serie ausmachen kann.

Wirklich reizend fand ich jedoch das schöne "Praise You"-Cover in der Piano Version von Hannah Grace, das ich euch abschließend noch einmal hier lasse. Soll es euch wunderbar entspannen, während ihr gerade im Schlammbad vor euch hin mümmelt. Good mudding!

Bilder: bravo

-->