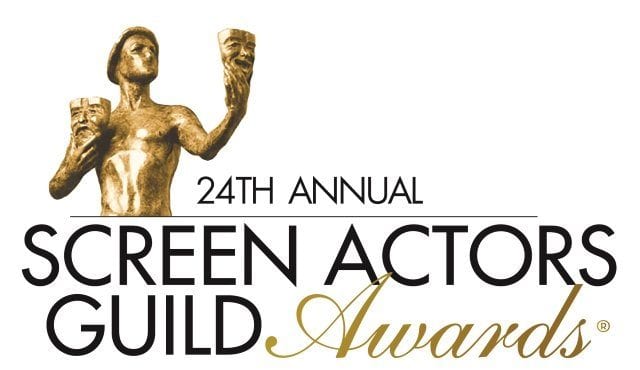 Heute Nacht wurden in Los Angeles die 24. SAG Awards – die Screen Actors Guild Awards – in den Kategorien Film und Fernsehen verliehen. Zum ersten Mal gab es einen Host der Show – die Schauspielerin Kristen Bell führte durch den Abend. Die Show blieb weitestgehend ohne Überraschungen.
Opening
Best Cast in a TV Drama Series
Game of Thrones
The Crown
Stranger Things
The Handmaid's Tale
This Is Us
Best Actress in a TV Drama Series
Millie Bobby Brown, Stranger Things
Claire Foy, The Crown
Laura Linney, Ozark
Elisabeth Moss, The Handmaid's Tale
Robin Wright, House of Cards
Bereits im letzten Jahr ging der Award in dieser Kategorie an Claire Foy für ihre Rolle in The Crown. Mal sehen, wie lange sie den Titel verteidigt.
Best Actor in a TV Drama Series
Jason Bateman, Ozark
Sterling K. Brown, This Is Us
Peter Dinklage, Game of Thrones
David Harbour, Stranger Things
Bob Odenkirk, Better Call Saul
Best Cast in a TV Comedy Series
black-ish
Curb Your Enthusiasm
GLOW
Orange Is the New Black
Veep
Best Actress in a TV Comedy Series
Uzo Aduba/OITNB
Julia Louis-Dreyfus, Veep
Jane Fonda, Grace and Frankie
Lily Tomlin, Grace and Frankie
Alison Brie, GLOW
Julia Louis-Dreyfus gewinnt diese Kategorie erneut.
Best Actor in a TV Comedy Series
Anthony Anderson, black-ish
Aziz Ansari, Master of None
Larry David, Curb Your Enthusiasm
Sean Hayes, Will & Grace
William H. Macy, Shameless
Marc Maron, GLOW
Auch William H. Macy verteidigt seinen Titel für ein weiteres Jahr.
Best Actress in a TV Movie or Miniseries
Nicole Kidman, Big Little Lies
Reese Witherspoon, Big Little Lies
Susan Sarandon, FEUD: Bette and Joan
Jessica Lange, FEUD: Bette and Joan
Laura Dern, Big Little Lies
Best Actor in a TV Movie or Miniseries
Benedict Cumberbatch, Sherlock
Jeff Daniels, Godless
Robert De Niro, The Wizard of Lies
Geoffrey Rush, Genius
Alexander Skarsgard, Big Little Lies
Alexander Skarsgard zieht an den anderen starken Schauspielern vorbei. Hut ab!
Best Stunt Ensemble
Game of Thrones
GLOW
Homeland
Stranger Things
The Walking Dead
Und auch Game of Thrones verteidigt den Stunt Ensemble Titel.
In den Film-Kategorien räumte Three Billboards Outside Ebbing, Missouri erfreulicherweise wieder richtig ab (bester Cast, beste Hauptdarstellerin und bester Nebendarsteller). Den Life Achievement Award erhielt Morgan Freeman. Die vollständige Liste der Nominierten und Gewinner findet ihr hier.