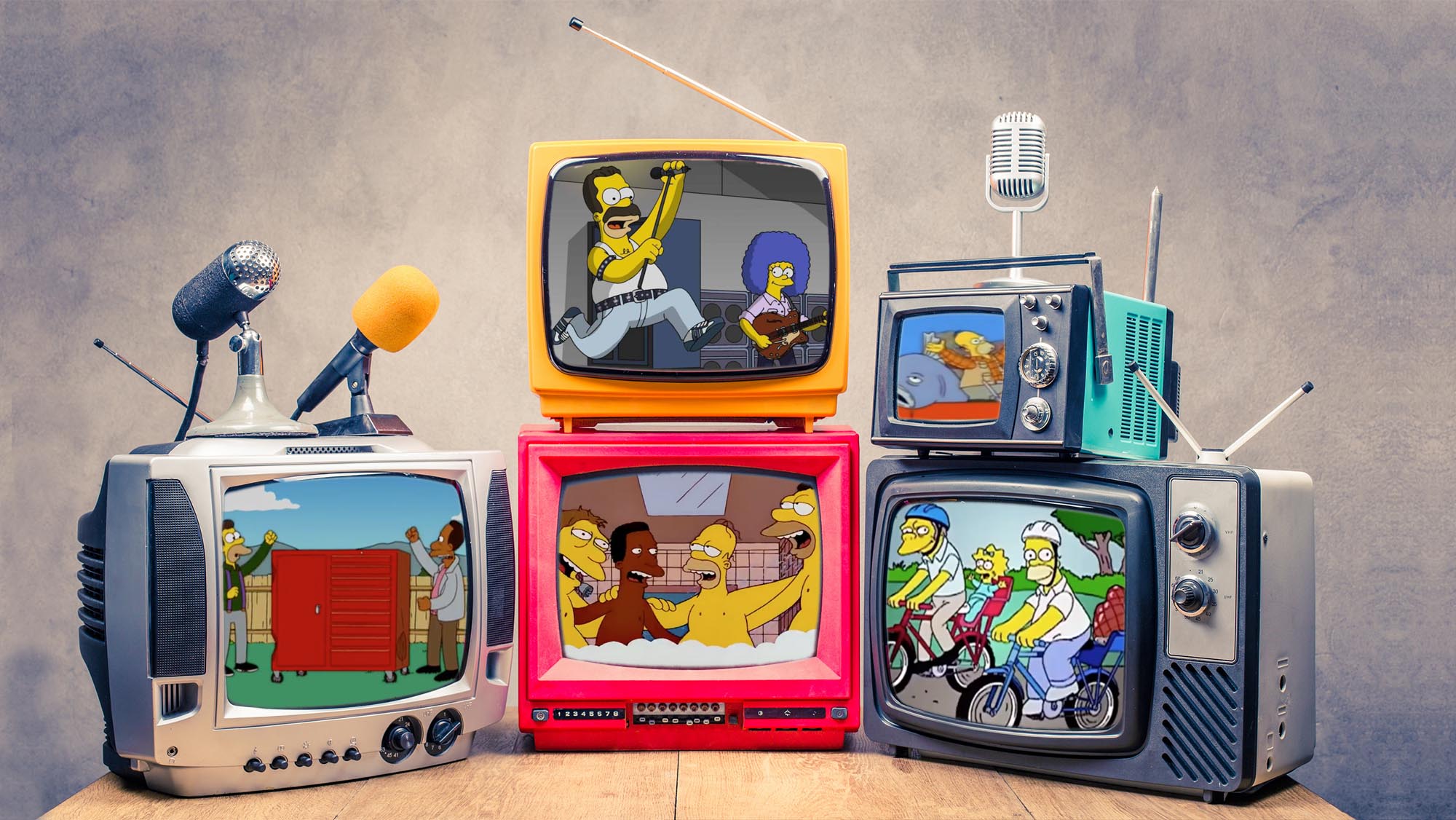 Erst am letzten Wochenende war die Band Queen wieder einmal Thema bei "The Simpsons": Dort wurde der legendäre Live Aid-Auftritt der britischen Band von den Simpsons nachgestellt. Doch es gibt eine lange Liste an Verbindungen zwischen Queen und "The Simpsons". Offensichtlich sind die Macher der Serie große Fans der Gruppe, denn über zahlreiche Staffeln hinweg sind Songs der Gruppe immer wieder einmal Thema, und zwar seit den allerersten Staffeln. Damit man einen Überblick bekommt, haben wir die fünf wichtigsten Auftritte hier zusammengefasst.
"The Simpsons" und Queens Live Aid-Auftritt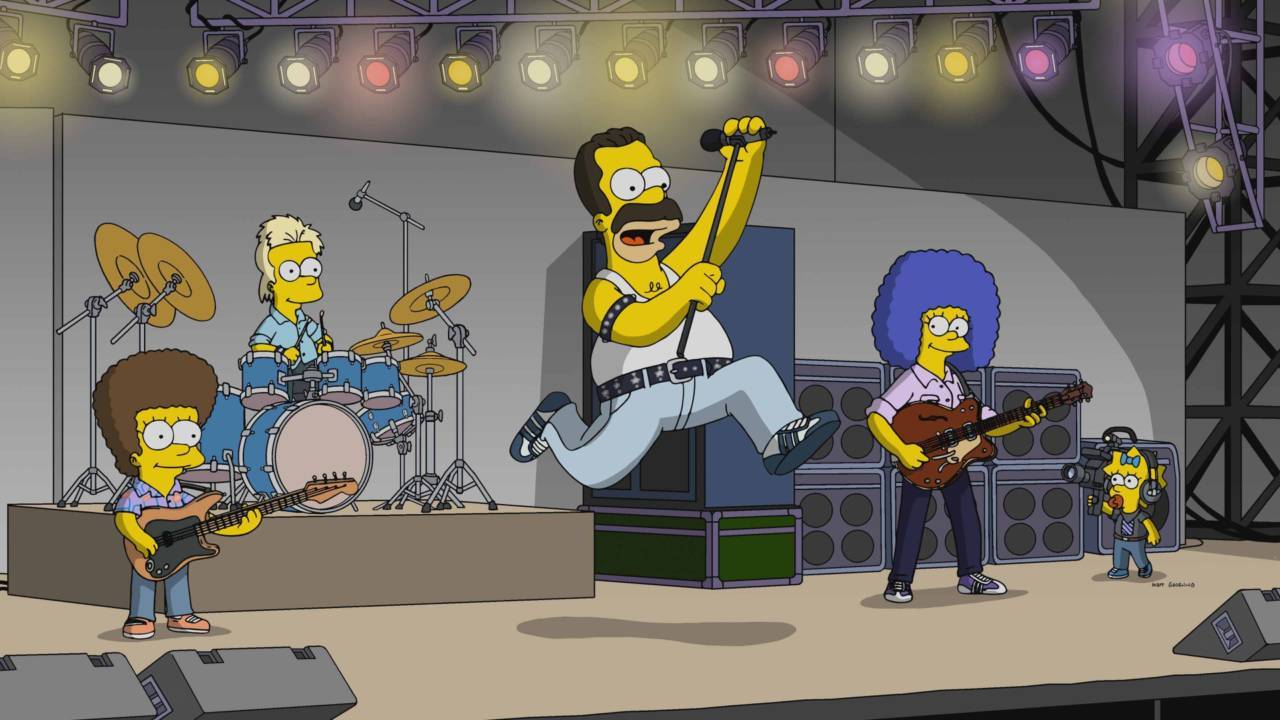 Fangen wir gleich mit Live Aid an. Die Queen-Szene sollte eigentlich in Folge 2 ("Go Big or Go Homer") der aktuellen 31. Staffel zu sehen sein, fiel aber dann kurzfristig raus und wurde in Folge 3 gezeigt, "The Fat Blue Line". Darin stellen die Simpsons eine Szene aus dem legendären Live Aid-Auftritt von Queen in London von 1985 nach. Homer ist Freddie Mercury. Er führt das Gesangswechselspiel mit dem Publikum durch, das immer Bestandteil der Queen-Liveauftritte war. Marge ist Brian May, Lisa der Bassist John Deacon, Bart schließlich Roger Taylor – gut besetzt, irgendwie. Die Szene dauert leider nur ein paar Sekunden und ist der Couch Gag der Folge.
Homer singt We are the Champions
Kommen wir direkt zum ältesten Stück Simpsons-Queen-Geschichte: In "The War of the Simpsons" aus Staffel 2 sind Homer und Marge Simpson bei einem Eheberatungswochenende. Homer ist jedoch mehr von dem Gerücht fasziniert, dass im nahegelegenen See ein seltener Fisch leben soll. Er fängt ihn und singt auf dem Rückweg "We Are the Champions".
We will rock you!
Natürlich ist auch der andere große Klassiker von Queen bei "The Simpsons" zu hören. "We will rock you" spielt 2006 eine Rolle: In der Folge "Please Homer, Don't Hammer 'Em" von 2006 strebt Marge an, als Handwerkerin zu arbeiten. Nur will sie kein Betrieb beschäftigen, so dass sie den Plan schmiedet, in einer überdimensionalen Werkzeugbox zu hocken, derweil Homer vordergründig die Arbeit durchführt. Als es nicht so läuft wie geplant und Marge ihren Unmut äußert, stimmt Homer "We will rock you" an. Homers Freunde gehen bei dem Beat allerdings etwas zu weit.
WWRY & WATC: Wild Barts Can't Be Broken
Einen wilden Ritt durch Springfield leisten sich Homer und seine Freunde in der Folge "Wild Barts Can't Be Broken" von 1999. Zwischendrin singen sie zuerst "We are the Champions", ehe es weiter geht mit "We will rock you".
You're my best friend
Ja, die Band ist auch selbst einmal in "The Simpsons" zu hören, und zwar 2003 in "Moe Baby Blues". Es geht um die besondere Beziehung zwischen Moe, Homer und Maggie. Die Folge schließt ab mit einigen ganz witzigen Fotos der Drei, begleitet von Queens großartigem Song.

Natürlich gibt es noch einige weitere Anspielungen auf Queen – die finden sich hier in diesem Beitrag in einem Video zusammengefasst.

-->