Alison Brie – was für eine interessante Frau. Und nein, damit meine ich natürlich nicht (nur) ihr charismatische Art und ihr ansehnliches Äußeres (sie ist ja seit 2017 eh mit Dave Franco liiert), sondern ihr Schauspiel und der damit verbundene, vielversprechende Start in eine sicherlich bedeutsame Karriere. Denn trotz ihrer noch recht jungen Jahre (wobei ich das vielleicht auch nur so formulieren möchte, da ihr Geburtstag nur 3,5 Jahre vor meinem stattfand…), hat sie bereits ein paar beachtliche Rollen in prominenten Fernsehserien spielen und sprechen dürfen, die vor allem eine hohe Wandelbarkeit offenbaren.
Werfen wir doch einmal einen Blick in die wichtigsten Stationen der bisherigen Schauspiel-Bahn von Alison Brie. Denn auch wenn ich sie bereits in "Mad Men" gesehen hatte, war mir Brie erst so richtig in "Community" aufgefallen – und zuvor gab es bereits die ein oder andere skurrile Rolle für sie…
Nina, die Friseurin in "Hannah Montana"
Aller Anfang ist seltsam, wobei Alison Brie doch tatsächlich (nach einem Kurzfilm) recht prominent im Bewegtbildbusiness Einstieg fand. In Folge S01E05 ("It's My Party and I'll Lie If I Want To") von der späteren Disney-Hit-Show "Hannah Montana" hat sie eine Friseurin gespielt, deren Figur nicht einmal einen Nachnamen hatte. Das war 2006 und leider habe ich nur diese miserable Aufnahme der TV-Premiere in Form dieses Gastauftrittes finden können:
Barbusige Barfrau in "Hot Sluts"
OMG… Stellt euch vor, "Coyote Ugly" trifft auf Grindhouse-Kino – mit Betonung auf "Ugly". Ich meine, alleine der Name "Hot Sluts"?! Okay, die Serie war ein Kurzformat fürs Web, aber bis auf die Tatsache, dass Brie eine zunächst zugeknöpfte Naive vom Land spielt, passt das mal so gar nicht in ihr heutzutage gepflegtes Bild einer Darstellerin. Uff. Hier übrigens der Trailer zum Format. Und kommt euch noch eine Dame darin bekannt vor? Ich löse nach dem Video auf.
Genau (solltet ihr es erraten haben): Niemand Geringeres als Angela Sarafyan spielt eine der leichtbekleideten Bar-Tänzerinnen, die wir Serienkenner heute vor allem als Clementine Pennyfeather in "Westworld" kennen.
Trudy Campbell in "Mad Men"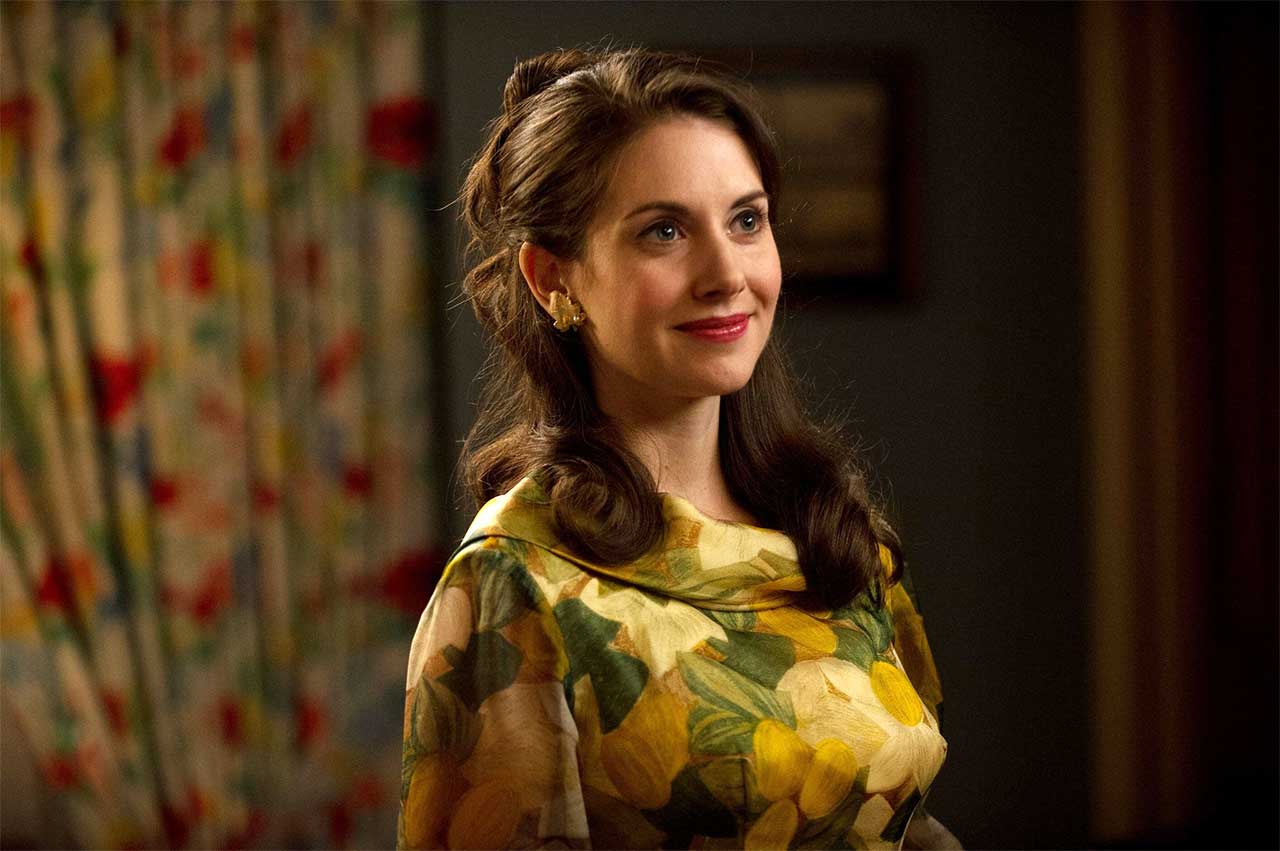 Das erste Mal, dass ich Alison Brie auf der nicht mehr ganz so matten Mattscheibe gesehen habe, war im August 2007, als sie in S01E04 ("New Amsterdam") von "Mad Men" zu sehen war. Doch auch wenn sie in insgesamt 38 Episoden der (meiner Meinung nach überschätzten) Erfolgsshow auftrat, war sie für mich dann doch zu unscheinbar und beiläufig, um den ganz großen Impact gehabt zu haben. Vom loyalen Hausfrauchen wurde sie zum etwas zickigen Ehekrach-Teil, aber irgendwo war alles immer nur Beiwerk, um eigentlich die Figur des Ehegatten Pete Campbell zu zeichnen.
Annie Edison in "Community"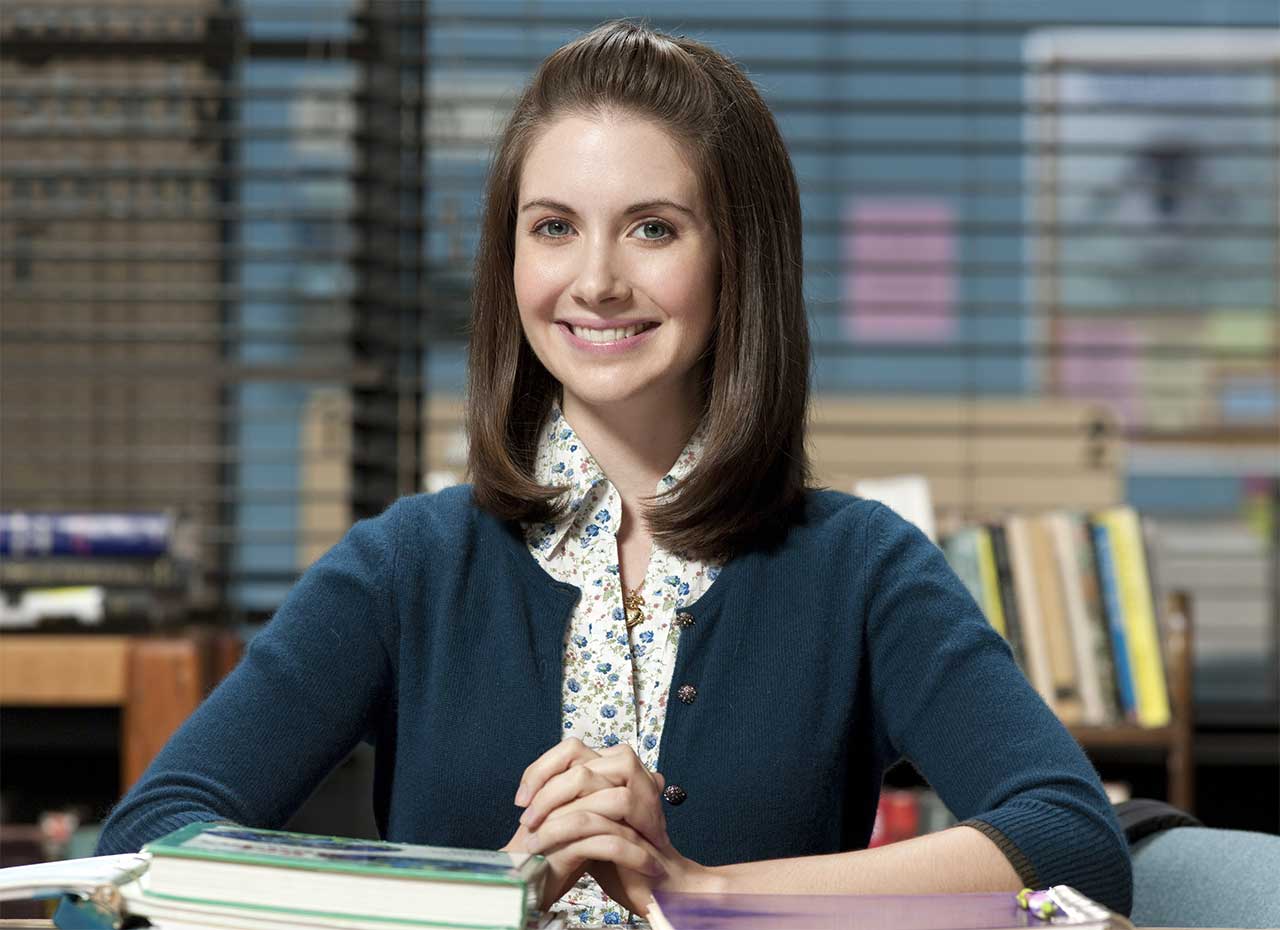 Wie sehr fiktive Seriencharaktere in das eigene Leben eingedrungen sind, bekommt man finde ich dann mit, sobald man die Schauspielernamen eben durch diese Rolle auswendig kennt. So war es bei mir mit Annie Edison, die wahrlich eine Steigerung des "Naivitätsfaktors" vorheriger Rollen darstellte. Die strebhafte Vorzeige-Studentin hat vor allem den "Mädchen von Nebenan"-Charme verkörpert, der aber vor allem im Verlaufe der immer experimenteller werdenden Staffeln häufiger aus ihrer Rolle ausbricht und so für humorvolle Elemente sorgt. Brie war im Hauptcast der sehr erfolgreichen Serie "Community" und somit in allen 110 ausgestrahlten Folgen zu sehen.
Diane Nguyen (und mehr) in "BoJack Horseman"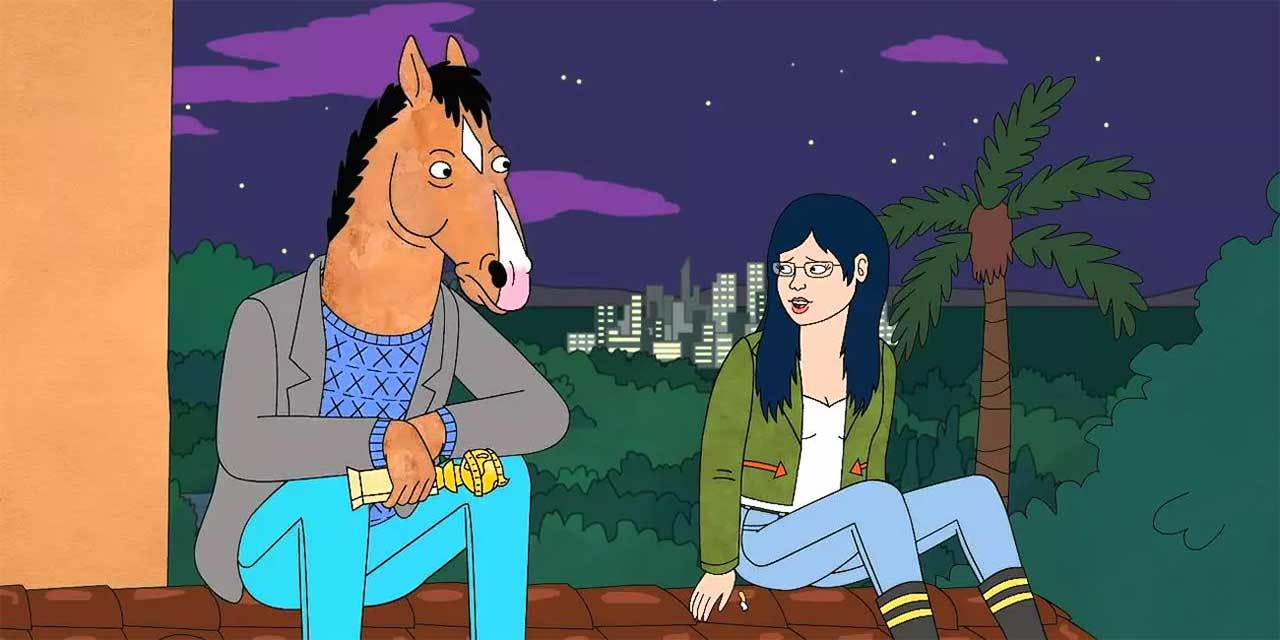 Fans und Kenner der Serie werden es eh wissen, aber vielleicht ja einige von euch nicht: Alison Brie ist Teil der Animations-Serie "BoJack Horseman" und spricht Diane Nguyen (sowie immer wieder ein paar andere, kleinere Rollen). Dabei imponiert mir vor allem, dass ich bei ihrer Sprechrolle kein einziges Mal an das "Junge Naivchen" denken musste, das Brie zuvor oftmals dargestellt hatte. Sie bricht hier erstmals so richtig aus dem zum Schema drohenden Rollenmodell aus und verkörpert (zumindest stimmlich) beinahe das Gegenteil: eine moderne, emanzipierte Frau, die aktivistisch vorgeht und ein starkes Rollenbild abgibt. Vielleicht spricht aus diesem Charakter auch ein bisschen Brie selbst, die eben ernst genommener werden möchte als Schauspielerin (wobei der Gedanke auf mich gerade ironisch wirkt, dass genau das in einer Zeichentrickserie der Fall sein soll, aber "BoJack" ist dahingehend ja sehr besonders).
Ruth Wilder in "GLOW"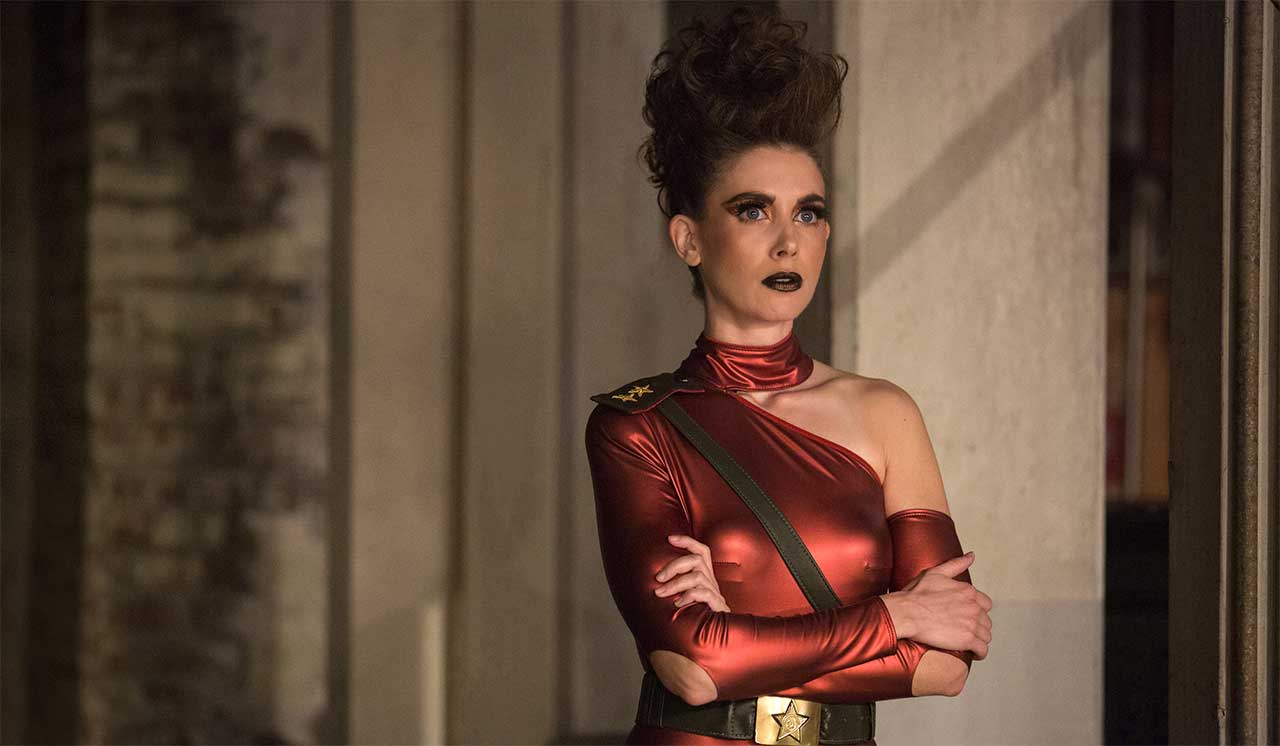 Den vermutlich durch die Netflix-Verbreitung bekanntesten Auftritt hat Alison Brie als Wrestlerin in "GLOW" aktuell. Ihr Figurennamen ist Programm, denn Ruth Wilder beginnt als eher zufällig und aus der Perspektivlosigkeit einer zu scheitern drohenden Schauspieler-"Karriere" in eine Wrestling-Show, doch von dort an wird sie und es um sie herum immer wilder. Vor allem mit ihrer Fiktiven Wrestling-Rolle "Zoya the Destroya" zeigt Brie eine nicht nur akzent-technisch andere Seite von sich. Mit dieser Rolle dürften ihr auch die Tore fernab der eher leichteren Rollen offen stehen. Mal schauen, wann sie dann Bond-Bösewicht sein wird…
Alison Brie Steckbrief
Name: Alison Brie Schermerhorn
Geboren: 29. Dezember 1982
Filmografie: IMDb-Seite
Social Media: Instagram | Twitter
Awards:
2009 – "Mad Men": Screen Actors Guild Awards – "Outstanding Performance by an Ensemble in a Drama Series" (Gewonnen)
2012 – "Community": Critics' Choice Television Awards – "Best Supporting Actress in a Comedy Series" (Nominiert)
2018 – "GLOW":
Critics' Choice Television Awards – "Best Actress in a Comedy Series" (Nominiert)
Satellite Awards – "Best Actress – Television Series Musical or Comedy" (Nominiert)
Golden Globe Awards – "Best Actress – Television Series Musical or Comedy" (Nominiert)
Screen Actors Guild Awards – "Outstanding Performance by a Female Actor in a Comedy Series" (Nominiert)
Screen Actors Guild Awards – "Outstanding Performance by an Ensemble in a Comedy Series" (Nominiert)
Bilder: amc, NBC/Yahoo! & Netflix.