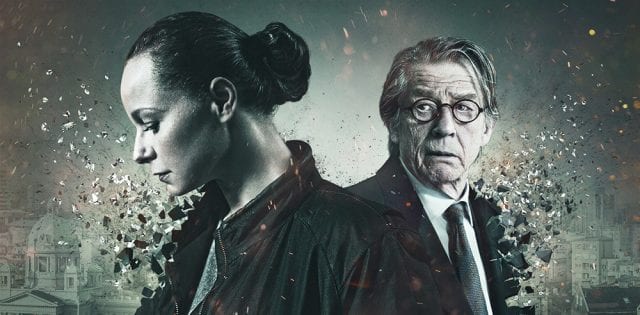 Mit The Last Panthers startet heute eine neue Eigenproduktion von Sky – dieses Mal in Kooperation mit Canal+. The Last Panthers ist eine europäische Produktion und spielt über sechs Folgen verteilt in verschiedenen europäischen Staaten. Es geht um einen gewagten Diamantenraub, der etwas außer Kontrolle gerät. Der Titelsong stammt von David Bowie – neues Material, das Teil seines Albums sein wird, das im Frühjahr erscheint. Der Song ist Resultat eines gemeinsamen Prozesses zwischen David Bowie und dem Regisseur der Mini-Serie, Johan Renck. Entstanden ist der Song erst während der Dreharbeiten zur Serie. Ich finde den Song – nach dem, was man in dem folgenden Trailer so hört, ziemlich gut – klingt endlich wieder mehr nach den älteren Sachen von David Bowie:
The Last Panthers | Opening Credits with new music from David Bowie
"Als ich David Bowie einen ersten groben Einblick in die ersten zwei Episoden der Serie gewährte, war er begeistert. Wir diskutierten anschließend neben dem Plot der Show auch der Story zugrundeliegende Fragen rund um Schuld und menschliche Makel. Wir sprachen über das düstere Herz Europas und die biblischen Aspekte der menschlichen Natur. Das erste Konzept für die Titelsequenz mit Bildern der Serie, übersät mit Trugbildern und Dämonen, überzeugte Bowie vollends und er schrieb den perfekten Track", schwärmt Johan Renck, der Serienfans durch seine Arbeiten für Breaking Bad und The Walking Dead bekannt sein dürfte.
Die Handlung beginnt in Frankreich mit einem Diamantenraub und führt auf den Balkan, wo eine undurchsichtige Allianz aus Gangstern und Bankern regiert, wie Sky die Serie anteasert. In den Hauptrollen sind die BAFTA-Gewinnerin Samantha Morton ("Minority Report"), der zweifache César-Gewinner Tahar Rahim ("Ein Prophet"), der kroatischen Schauspieler Goran Bogdan ("Gott, verhüte!") und Golden-Globe-Gewinner John Hurt ("Midnight Express") zu sehen. Hier gibt es eine ausführliche Vorschau im Trailer:
The Last Panthers | Extended Preview of New David Bowie Track "Blackstar"
Produziert wurde "The Last Panthers" von der französischen Haut et Court TV ("Les Revenants") und der britischen Warp Films ("This Is England"), der weltweite Vertrieb erfolgt über Sky Vision und Studio Canal. Regie führte Johan Renck (u.a. "Breaking Bad", "The Walking Dead" sowie Musikvideos von Madonna und Lana Del Rey). Gefilmt wurde in Marseille, Belgrad, Montenegro und London. Die Serie basiert auf einer Idee des französischen Journalisten Jerome Pierrat, das Drehbuch stammt von Jack Thorne ("A Long Way Down").
Die Serie ist jeden Donnerstag um 21 Uhr auf Sky Atlantic zu sehen, und auf den bekannten Sky-Online-Portalen.