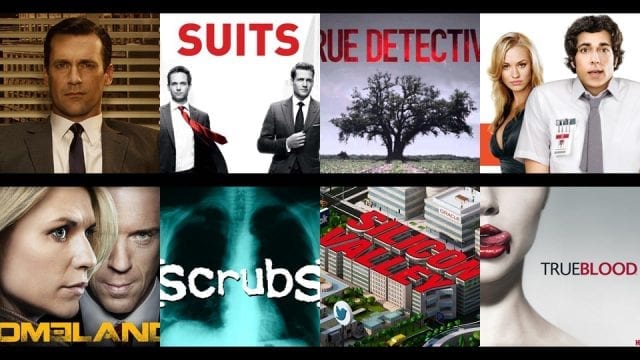 Nachdem Laura euch bereits ihre Top 10 TV-Intros gezeigt hat, möchte ich mich in eine ganz ähnliche Richtung begeben: Titelmelodien. Und nein, ich meine hier nicht die Themes oder Soundlogos von Serien, bzw. die Titelmelodien, die eigens für eine Serie komponiert worden sind, sondern echte Songs, die Musiker für sich selbst geschrieben haben. Oder, die zumindest länger als 30 Sekunden sind.
Und so eine richtige Top-X-Liste wird das auch nicht. Ich möchte euch einfach einige Originale vorstellen, die demonstrieren, welche Teile manchmal aus Songs für Intros entrissen werden und die mich immer wieder erfreuen, wenn ich sie im Radio oder so zu hören bekomme, mitwippe und meinen Freunden euphorisch mitteile "das ist doch der Song von SERIENTITEL!!!!". Damit die nun Bescheid wissen, hier ein paar Originale.
Insgesamt 22 Clips, alphabetisch nach den Serientiteln geordnet. Mein Favorit ist glaube ich der Track von Suits, zumal er nur eine B-Seite des eigentlichen Albums war.
Boardwalk Empire Titelsong
The Brian Jonestown Massacre – Straight Up and Down
Release: 1996
Album: Take It from the Man!
Chuck Titelsong
Cake – Short Skirt, Long Jacket
Release: 2001
Album: Comfort Eagle
CSI Miami Titelsong
The Who – Won't Get Fooled Again
Release: 1971
Album: Who's Next
Dr. House Titelsong
Massive Attack – Teardrops
Release: 1998
Album: Mezzanine
Entourage Titelsong
Jane's Addiction – Superhero
Release: 2003
Album: Strays
Gilmore Girls Titelsong
Carole King – Where You Lead, I Will follow
Release: 1971
Album: Barbra Joan Streisand
(die hat den Song rausgebracht)
Grey's Anatomy Titelsong
Psapp – Cosy in the Rocket
Release: 2005
Album: Grey's Anatomy
Homeland Titelsong
Tomasz Stańko – Terminal 7
Release: 2009
Album: Dark Eyes
How I Met Your Mother Titelsong
The Solids (Bay & Carter) – Hey Beautiful
Lie To Me Titelsong
Ryan Star – Brand New Day
Release: 2010
Album: 11:59
Weil das verdammt viele zu ladende YouTube-Clips sind, habe ich es mal aufgeteilt. Auf der nächsten Seite (u.a.): Mad Men, Suits und True Detective.
Dieser Beitrag hat mehrere Seiten: