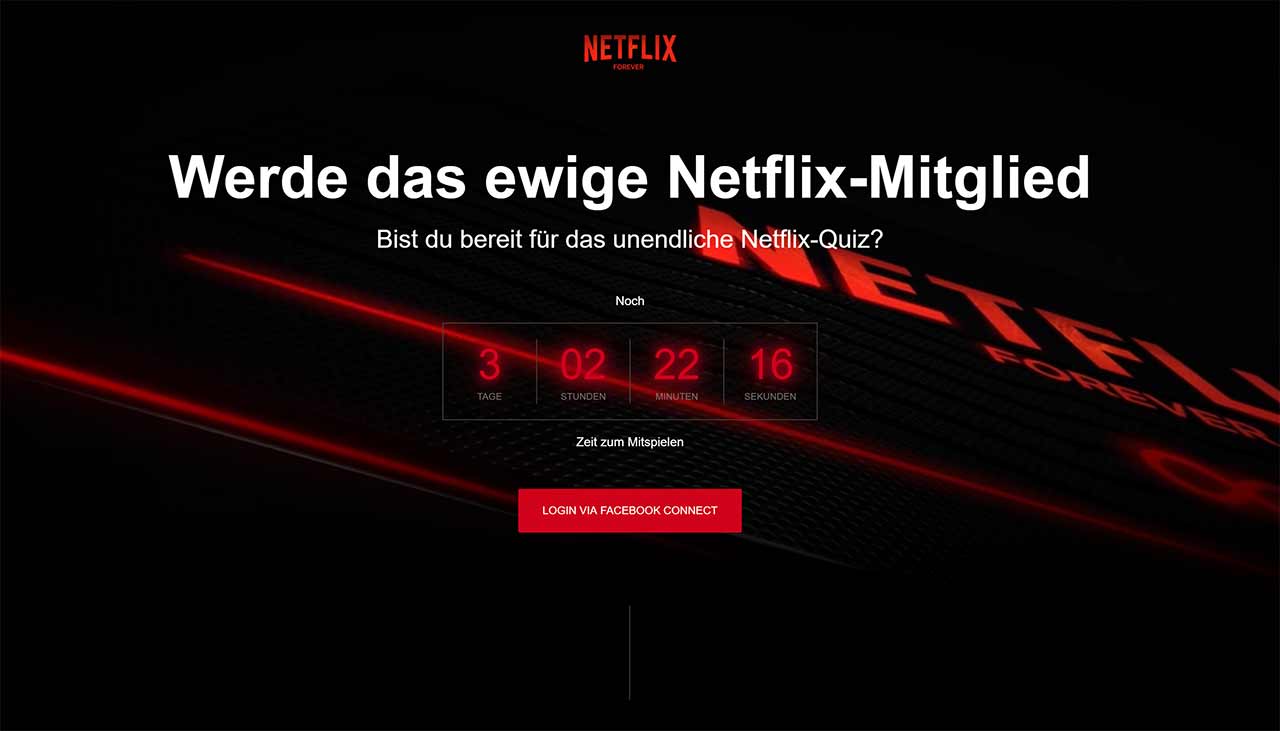 Das Handy klingelt, ich krame es aus der Hosentasche, schaue aufs Display und "döht" – Zeit vorbei. Dabei wusste ich doch dass "The Crown" von (als ob ich hier die Lösung verstecke!) handelt. Aber die zehn Sekunden sind gnadenlos herunter- und vor allem abgelaufen. Das war es für mich. Meine Chance auf eines von drei lebenslangen Netflix-Abos ist dahin, denn jeder hat nur genau eine.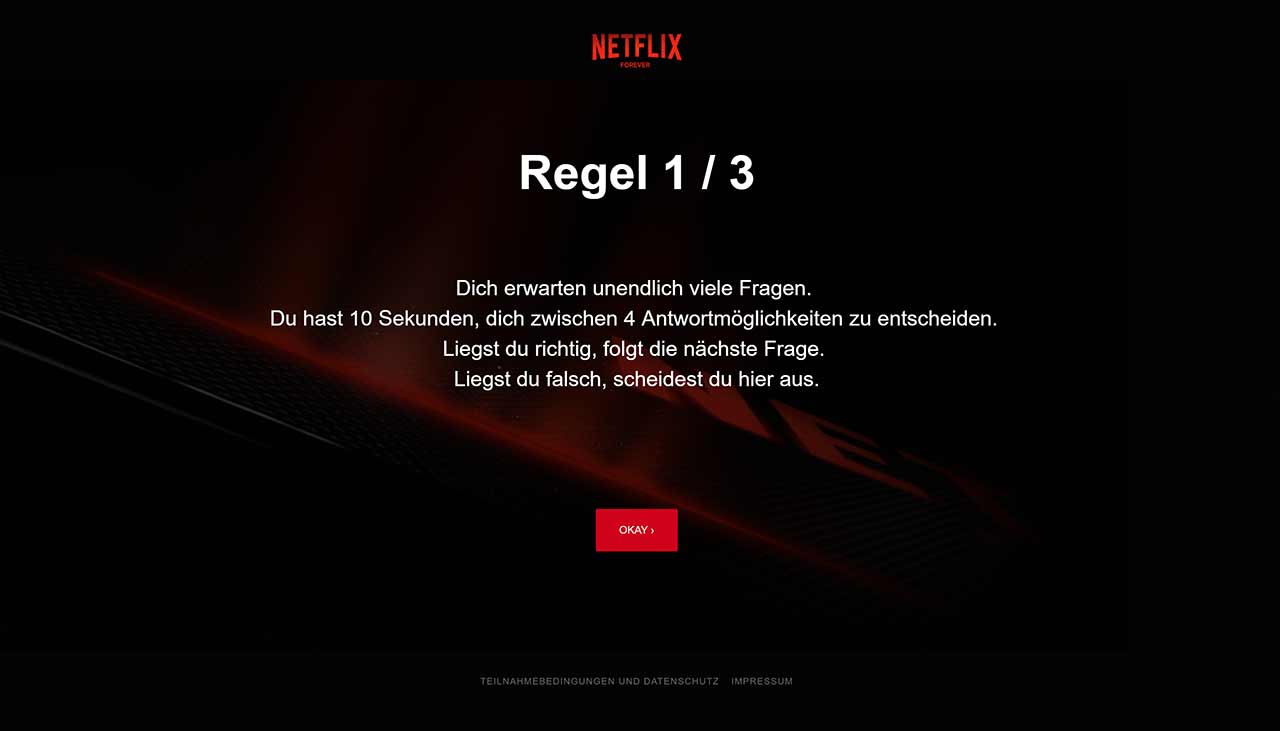 "Netflix Forever" lässt euch binnen 84 Stunden (noch bis Sonntagabend, 20 Uhr) gegen das Streaming-Deutschland antreten. Gehört ihr am Ende des Countdowns zu den dreien, die die meisten Fragen aus dem unendlichen Pool richtig beantworten konnten, erhaltet ihr ein lebenslanges Abo. Dabei sind die Fragen wild gemischt und gerade zu Beginn einfacher als den Fernseher anzuschalten. Der aktuell Führende hat 132 Punkte (= richtige Fragen beantwortet), der Dritte 119. Allerdings dürft ihr nur ein einziges Mal mitmachen, denn euer Facebook-Account steht Pate zur Anmeldung.
"Unendlich viele Fragen. Eine Chance. Wer die meisten Fragen schafft, gewinnt."
Mit meinem Flüchtigkeitsfehler bin ich überraschenderweise dann doch in die Top 10 der aktuell rund 72.000 Teilnehmer gerutscht. Da geht noch viel mehr! Vielleicht sollte ich meinem Lieblingsmädchen beim Beantworten behilflich sein…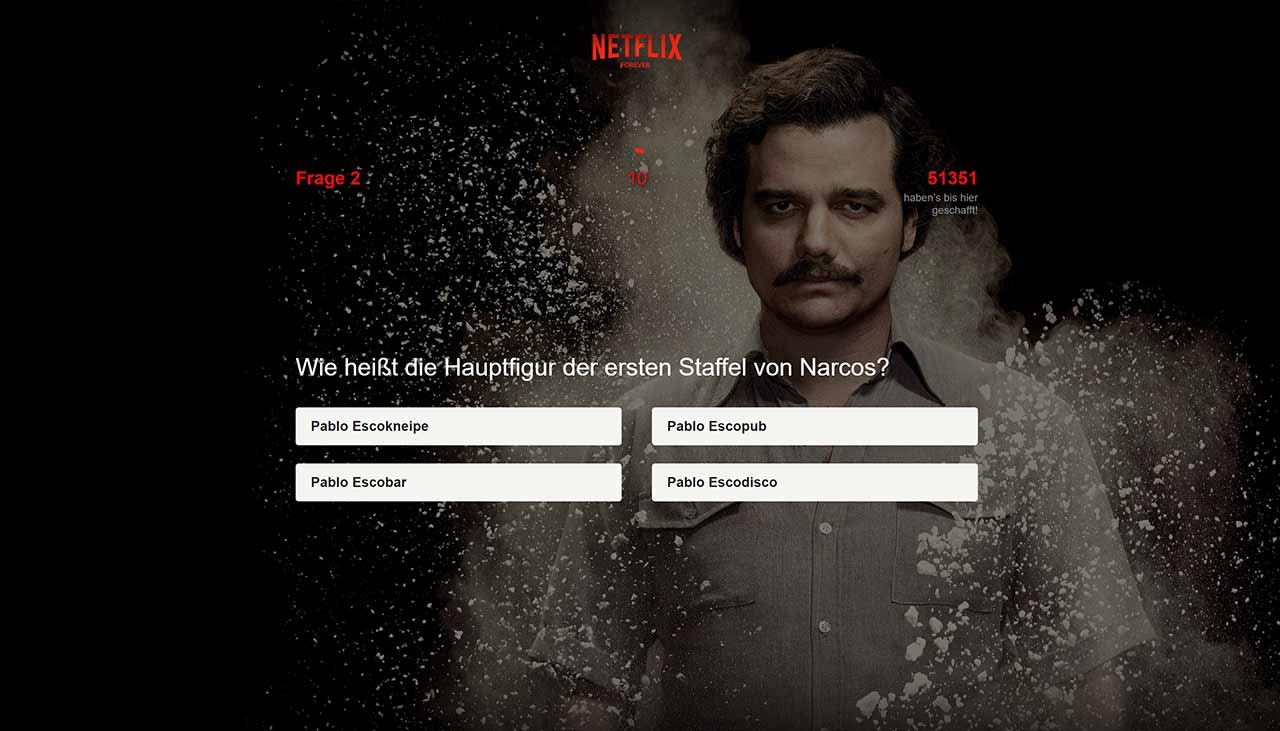 Ihr wollt mitmachen und euer Netflix-Serienwissen testen? Habt ein bisschen (mehr) Ahnung von "Stranger Things", "Rick and Morty" oder "House of Cards"? Das geht auf Netflix-Forever.de.
Wer regelmäßig auf seriesly AWESOME unterwegs ist, sollte die ersten 30 Fragen problemlos schaffen…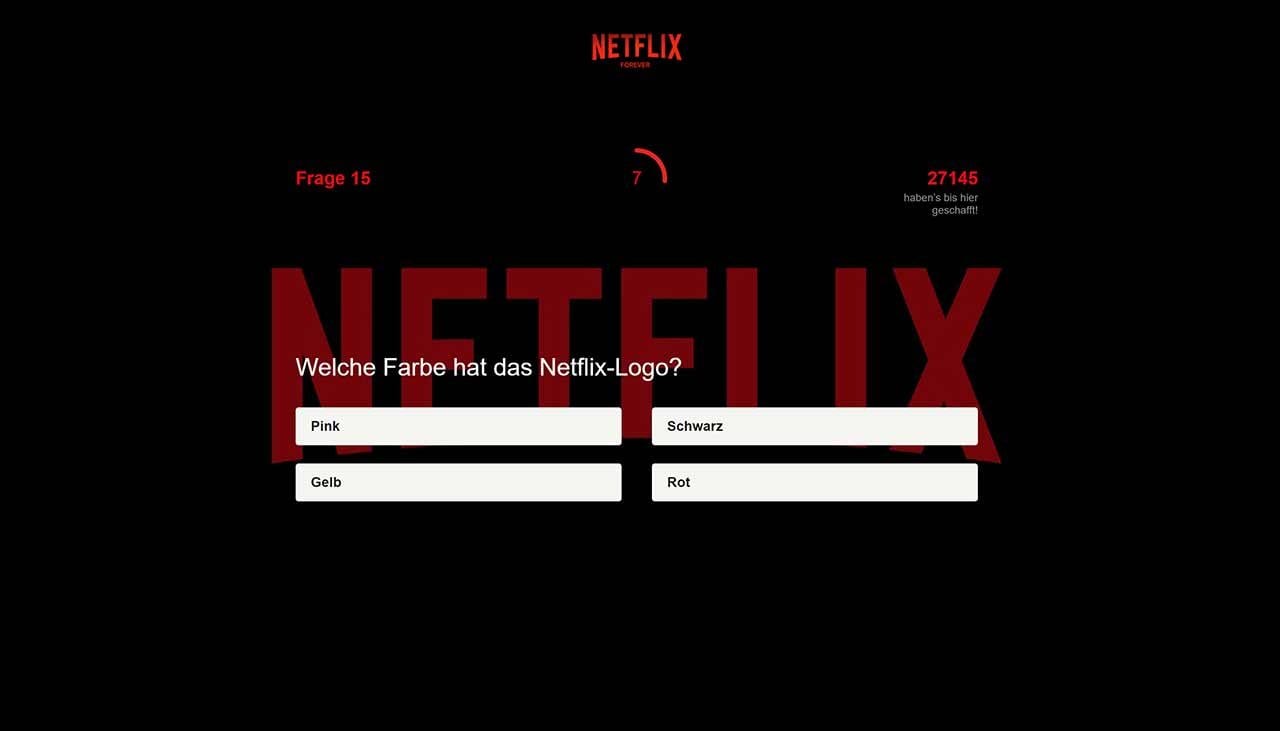 via: AMY&PINK

-->