Beim Verfassen des Septemberrückblicks fiel mir auf, dass wir noch nie was zu Treme hatten. Das muss ich nachholen.
Ich fall' mal gleich mit der Tür ins Haus. Mein Votum:
Und warum?
Die Serie stammt von David Simon (Homicide, The Wire und, aktuell,  Show Me a Hero) und Eric Overmyer, der bei Homicide auch schon mit dabei war. Es geht um den politischen, gesellschaftlichen, aber auch kulturellen Zustand von New Orleans nach dem Hurricane Katrina. Treme (oder auch Tremé) ist übrigens der Name eines der ältesten Stadtteile von New Orleans, ein Zentrum afroamerikanischer und kreolischer Kultur.
Treme Trailer #3 (Long Version)
Mit von der Partie sind John Goodman und Steve Zahn, aber auch einige alte Bekannte: Wendell Pierce (Bunk Moreland aus The Wire) spielt den Jazz-Trompeter Antoine Batiste auf der Suche nach dem ultimativen Gig (und einem regelmäßigen Einkommen), Clarke Peters (ebenfalls The Wire) stellt Albert "Big Chief" Lambreaux dar. Mit der gleichen Hingabe wie er in The Wire Stülchen getischlert hat, stickt er hier Indianerkostüme, die er zum Mardi Gras ausführt (bei dem Brustbild hat sein Sohn geholfen).
Die HBO-Serie schildert die Schwierigkeiten beim Wiederaufbau der durch den Sturm zerstörten Stadt aus Sicht unterschiedlicher Protagonistinnen wie der Barbesitzerin LaDonna Batiste-Williams (Khandi Alexander), der Anwältin Toni Benette (Melissa Leo) oder der Köchin und Restaurantbesitzerin Janette Desautel (Kim Dickens) sowie Protagonisten wie den Universitätsprofessor und Blogger Creighton Bernette (dargestellt von Goodmann, im wahren Leben Ashley Morris), den Radiomoderator Davis McAlary (Zahn) und vieler Musikerinnen und Musiker. Es geht um kommunalpolitische Themen wie Wiederaufbau und Infrastruktur, es geht um Gerechtigkeit, Wiedergutmachung und Verbrechen, aber auch um Kultur – insbesondere Musik – und gutes Essen.
Treme Theme Song/Intro Song
Wie alles von David Simon ist die Serie extrem realistisch: Eric Overmeyer wuchs selbst in New Orleans auf und führte im Vorfeld der Serie lange Gespräche mit den Bewohnerinnen und Bewohnern der Stadt, die von Katrina betroffen waren. Deren Schilderungen wurden zum Teil 1:1 in die Serie integriert, so z. B. die Kühllaster, die, voll mit Leichen, monatelang auf einem großen Parkplatz der Stadt abgestellt waren. Viele Laien spielen sich selbst, insbesondere die Musikerinnen und Musiker. Eine Authentizität, die von einigen Kritikern getadelt wurde. Ich fand's gut und in New Orleans selbst wurde die Serie auch mit großer Begeisterung aufgenommen.
At times it comes off less like a character drama than an avant-garde adaptation of Wikipedia's "List of Musicians from New Orleans."
Mein Votum: Reinschauen und selber entscheiden.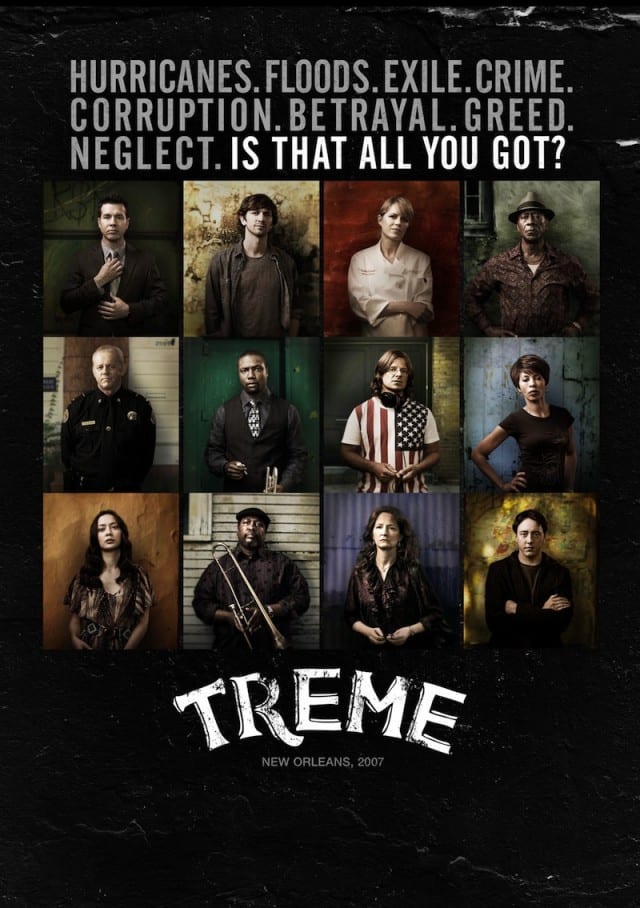 -->