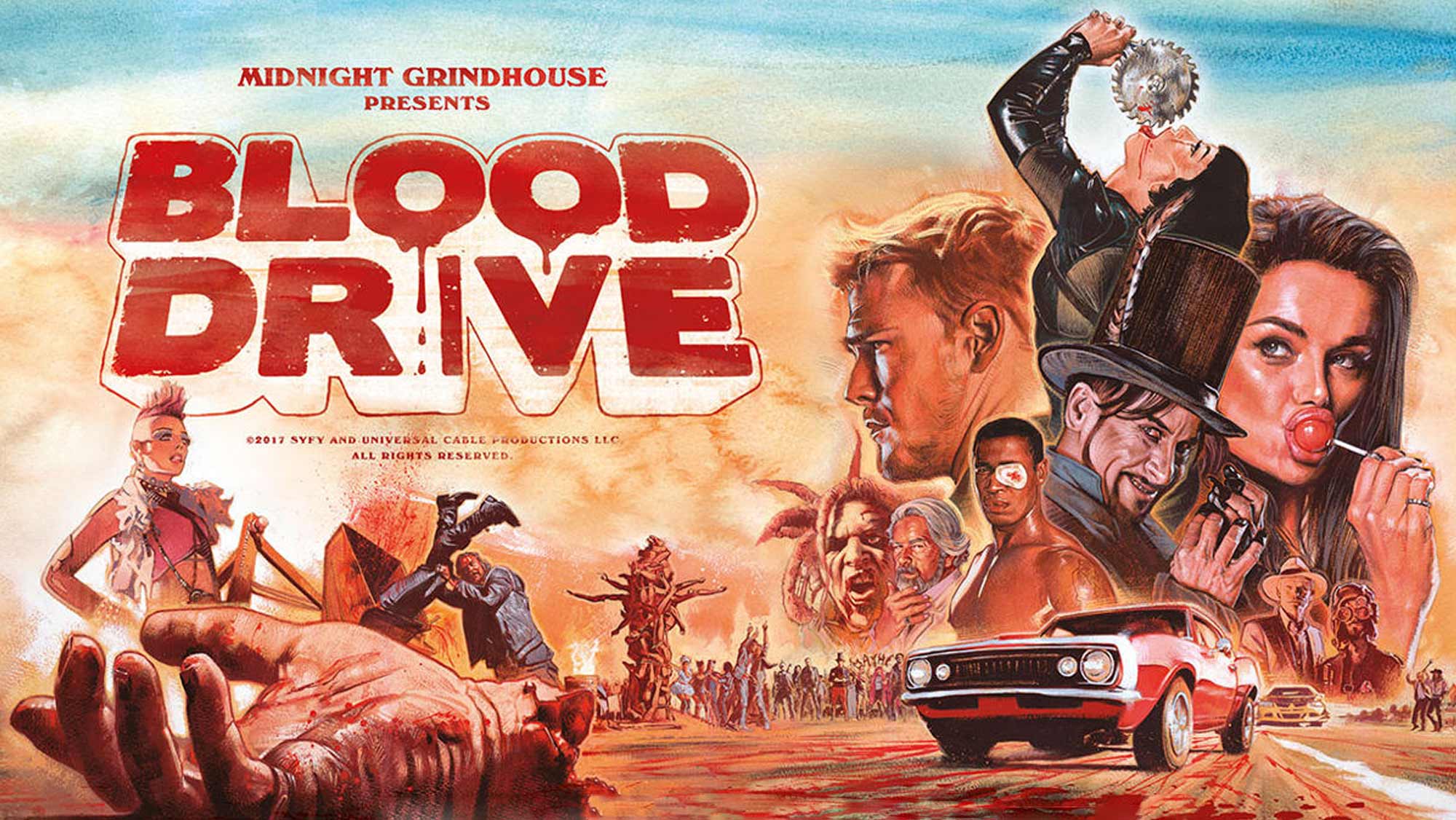 Mitte des Jahres hatten wir euch die Trailer zur neuen SyFy-Sendung "Blood Drive" gezeigt, jetzt hat die erste Staffel die Ziellinie überquert – Zeit für eine kleine Kritik. Denn ja, das ans Grindhouse-Kino angelehnte Format ist absolut trashig und splatterig, aber es bietet dem Zuschauer, der sich von dem nicht abschrecken lässt dann doch erfreulich viel mehr als Boobs and Blood.
Nicht nur Blutmotoren
13 Episoden der von James Roland erschaffenden Serie fuhren über den Bildschirm. Hat man vorab in der Promo als zentralen Bestandteil vor allem ein "Todesrennen" mit "mit Blut statt Benzin fahrenden Autos" gehört, die walzende Motoren haben, die Menschen auf blutspritzende Art und Weise (was eigentlich ja total verschwenderisch ist…) in Treibstoff umwandeln, hat "Blood Drive" deutlich mehr zu bieten. Denn schnell wird klar, dass es neben futuristisch-postapokalyptisch anmutender Szenerie auch allerlei anderes zu entdecken gibt.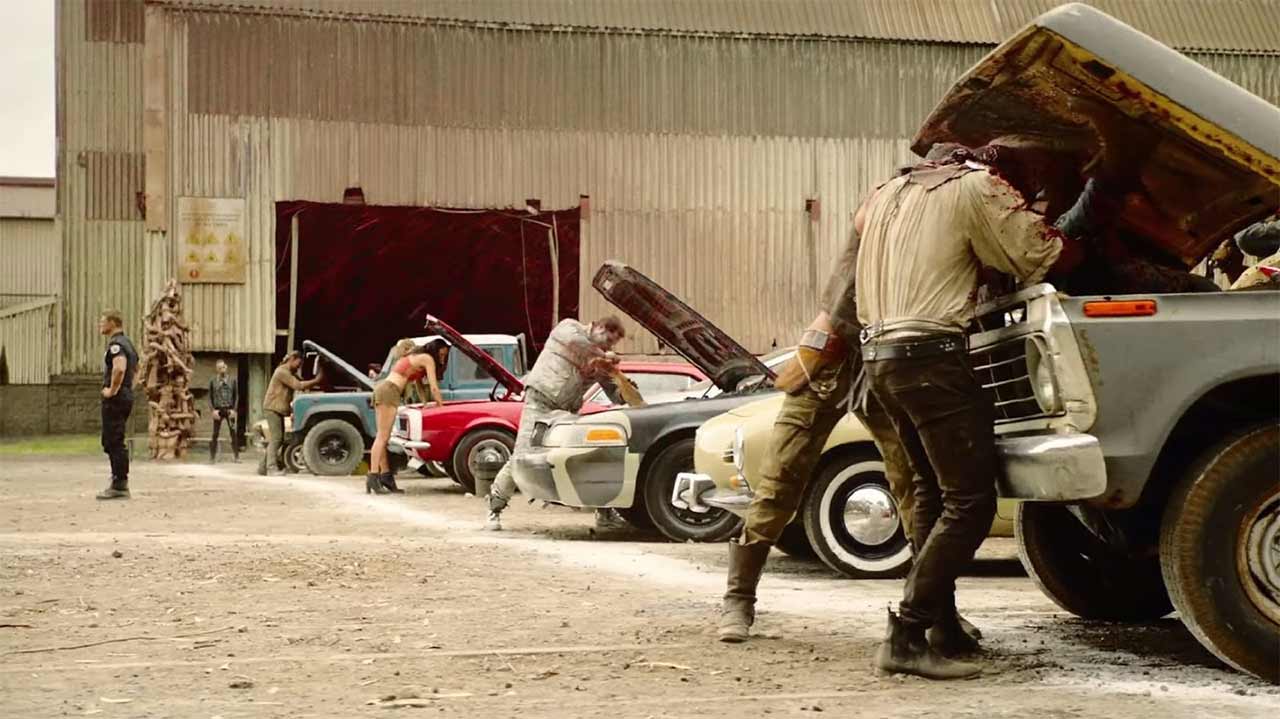 So widmen sich viele der Einzelepisoden separaten Teilgeschichten, die Referenzen zu etlichen Klassikern der Splatter- oder Horror-Popkultur bereithalten. So bekommt jede Folge ihren ganz eigenen Charme, der zwar nicht immer super gefällig ist, aber so stets frisch und überraschend bleibt. Jede Woche ist "Blood Drive" ein bisschen anders und nach und nach entfernt man sich vom Straßenrennen-Thema, hin zu einem wilden Kampf gegen das böse große System.
Die Charaktere
Dabei gibt es nicht nur lange Damenbeine, sondern auch blanke Waschbrettbäuche auf muskelbepackter Männerseite zu sehen. "Sexismus goes both ways", könnte man sagen. Fast alle Figuren sind dabei zwar die zu erwarten platten Abziehbilder von Klischees auf zwei Beinen, aber das ist größtenteils gar nicht schlimm. So bietet sich Raum fürs Extreme, für das Fantasievolle und Obskure. Viele der kreativ ausgestalteten Nebenfiguren machen Spaß, der Hauptcast versucht sich hier und da auch an so etwas wie "Charakterentwicklung", "Backstory" und "emotionale Erfahrungsreisen", aber das ist mehr so lala bis oberflächlich gestaltet.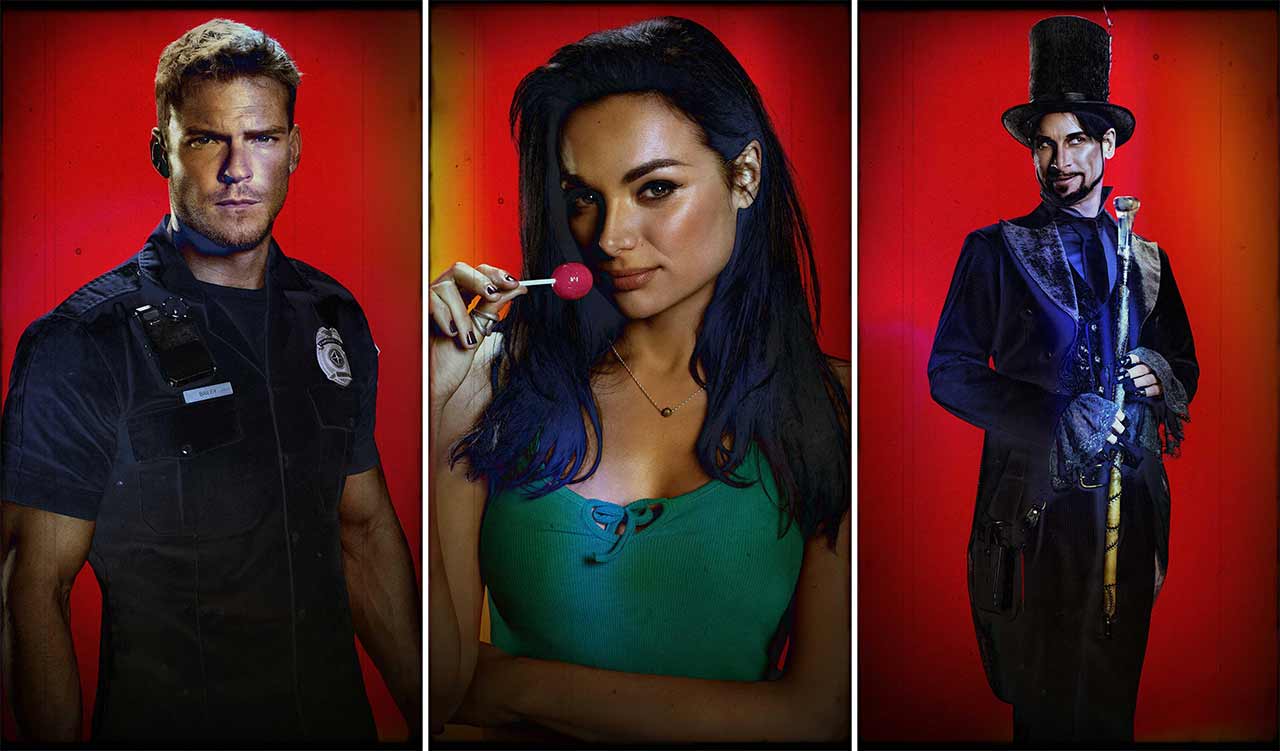 Der Cast ist soweit okay bis gut, reißt aber auch keine Bäume aus. Am ehesten kann Marama Corlett in ihrer Rolle als Aki mit ihren unmenschlichen Bewegungen punkten. Einziger wirklicher Star in Sachen Darbietung ist für mich Colin Cunningham als Julian Slink.
"What ARE you?" – "I told you, I exist for one reason and one reason alone. I am the the Master of Mayhem, Captain of Chaos, God of the Stage. What do you say we wrap this up, hmmm? Or if you prefer, we can both watch your Barbie doll die." (Grace & Slink)
Julian Slink ist für mich einer der zentralen Besonderheiten der Show. Ein wunderbar obskurer Charakter, der mich mit seinem Stimmenspiel und der ausgefallenen (aber stilvollen!) Garderobe eingefangen hat. Ein wahrer Showmaster – im doppelten Sinne.
Die Metaebene
Wirklich stark wird die Show nämlich, wenn sich dem Zuschauer nicht nur allerlei Referenzen offenbaren, sondern auch die offenkundige Metaebene. So ist Slink in der Show "Blood Drive" für die TV-Sendung "Blood Drive" zuständig. Ein simpler aber effektiver Twist, der allerlei selbstreferenziellen Humor zulässt – I love it! Das bleibt sogar einigermaßen abwechslungsreich, obwohl es quasi über zwei Drittel der Staffel ausgespielt wird.
Okay, das Ende (ohne zu viel zu verraten) ist nicht ganz meins geworden. Da wurde klar, dass man die Logik nicht gänzlich beachtet hat und der "große Twist" in einer der letzten Folgen war nur gerade so zu ertragen, weil er derart abstrus ist, dass man schon wieder den Zylinder davor ziehen müsste. Dann erinnert man sich wieder daran, dass man eine trashige Fun-Show schaut und alles ist wieder gut.
Und genau das ist "Blood Drive" halt – ein Spaß-bereitender Science-Fiction-Zirkus, der mit einer fantasievollen Aufmachung, durchaus einigen sehr kreativen Aufnahmetechniken und beinahe schönen Shots aufwarten kann, bei der man den Kopf ausschaltet und sich mit "Guilty Pleasure" überträufeln lässt – in Regenbogenfarben. Da wird comichaft ins Maßlose übertrieben, es gibt mysteriöse Ungereimtheiten, die alles ermöglichen und halt auch verdammt. Viel. Blut.
Wer allgemein Fan von Grindhouse-Filmen ist, macht hier nicht allzu viel verkehrt. Wer mal eine Abwechslung zu all dem knochentrockenen Drama da draußen sucht, kann mit "Blood Drive" eine kleine Perle entdecken, die beim nächsten Serienplausch eben nicht jeder in der Runde kennt. Und wenn man dann sagt, dass da mehr Leute überraschend sterben, als bei "Game of Thrones", hat man vielleicht auch etwas Aufmerksamkeit. Mist, hätte ich den Beitrag mal damit begonnen…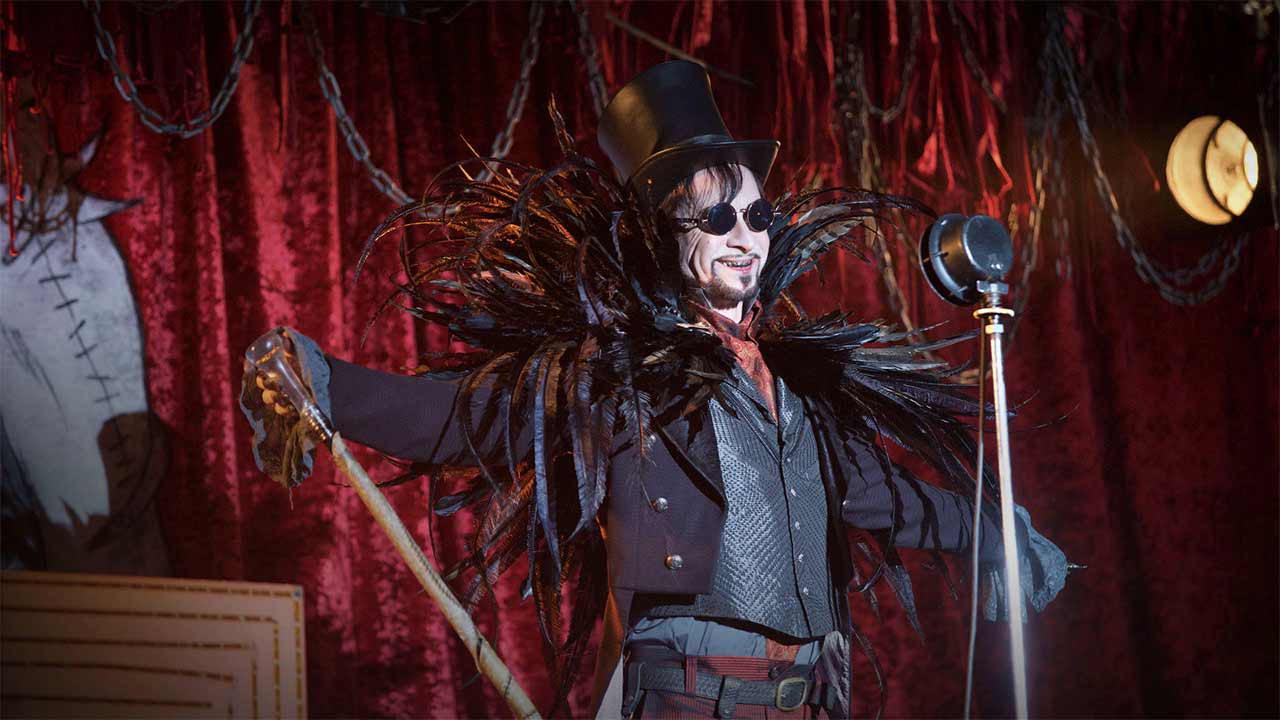 Anschauen könnt ihr die Serie zum Beispiel (käuflich) bei Amazon (Partnerlink), Maxdome, iTunes und Co. – noch ist kein Flatratestreaming bei einem Anbieter vorgesehen.