Die Comedy-Serie The Grinder hat es bei FOX in die neue Serien-Saison geschafft. Der erste Trailer hatte mich sofort überzeugt. Zugegeben nur deswegen, weil Fred Savage darin vor kommt. Das ist der kleine (nervige) Junge aus Wunderbare Jahre, der zu sich selbst immer aus dem Off spricht und dabei minutenlang in die Gegend schaut. Ein typischer Kinderstar, der danach nicht mehr an diesen Erfolg anknüpfen konnte.
Fred spielt in The Grinder einen Anwalt namens Stewart Sanderson, dessen Bruder ein Fernsehstar der gleichnamigen fiktiven Anwaltsserie The Grinder ist. Nach dem Ende seiner Serie weiß  Dean nichts mit sich anzufangen und zieht bei seinem Bruder Stewart ein. Das Problem von Stewart, er kennt sich mit dem Gesetz bestens aus, kann aber nicht frei sprechen oder überzeugen. Es kommt wie es kommen muss, der Grinder arbeitet mit seinem Bruder zusammen; der eine ist das hübsche und überzeugende Gesicht, der andere liefert die passenden juristischen Argumente.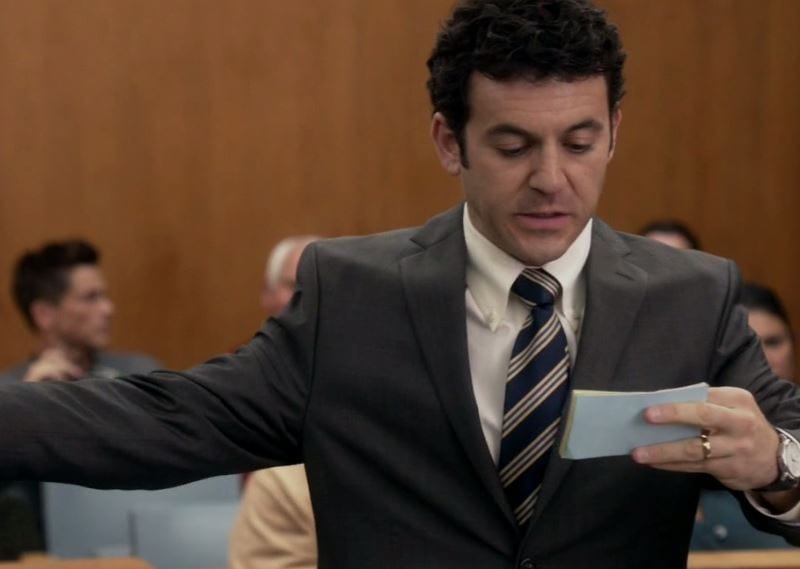 Stewart (Fred Savage) ist zwar intelligent und die Gesetze, kann aber andere nicht überzeugen.
Klischees am laufenden Band
Nüchtern betrachtet bedient die Serie ein Klischee nach dem anderen. Stewart als tüchtiger Nerd, der aber nie populär oder beliebt war. Daneben der bekannte und gutaussehende Fernsehstar, der naiv durch das Leben geht und glaubt, die Welt funktioniere wie eine (seine) Seifenoper. Was das Ganze aber so bekömmlich macht ist, dass die Serie diese Klischees in den Vordergrund stellt und zelebriert. Der Grinder zitiert in jeder noch so erdenklichen Szene seine berühmten Sätze aus der Serie wie beispielsweise "was wenn nicht?", wenn eigentlich alles gesagt wurde und der Fall sonnenklar erscheint.
"What if it's not?"
Eine Serie über eine Serie in einer Serie
Dass diese Klischees funktionieren, ist der engen Anlehnung an die fiktive Serie des Grinders zu verdanken. In der zweiten Folge bemerkt Stewart beispielsweise, dass er dem Neinsager der Serie entspricht, der nüchtern die Fakten betrachtet und vor Alleingängen und unnötigen Risiken warnt. Seine Frau stellt dann aber fest, dass der Grinder nur mit diesem Charakter funktioniert hat – eine Analogie zur tatsächlichen Serie, in der es genauso ist.
Aber auch abseits der Metaebene werden durch die fiktive Serie immer wieder Aspekte aus der Fernsehlandschaft diskutiert, in Folge 1 geht es beispielsweise um das große Serienfinale des Grinders. Oder in Folge 2 diskutiert der Sohn von Stewart, wie stark der Pilot des fiktiven Grinders war und möchte unbedingt die zweite Folge schauen.
Kurzweilig und sehr unterhaltsam
Nichts in der Serie ist innovativ oder neu, aber das tut der Unterhaltung keinen Abbruch. Mich haben die ersten zwei Folgen auf jeden Fall begeistert. Fred Savage spielt sich in gewisser Weise selbst, als jemand dem das Charisma fehlt und der immer im Schatten anderer steht. In dieser Konstellation ist das aber ein Vorteil für ihn, denn sein Charakter soll genau das transportieren und Fred nutzt diese Steilvorlage. Aber auch sein Serienbruder Rob Lowe spielt den naiven Schönling großartig, der seine Anwaltsserie im Geiste nie verlassen hat und sich dementsprechend verhält.

Langfristig muss man sich zwar schon fragen, ob sich dieser Aufbau  lange tragen wird und die Charaktere sich nicht abnutzen. Das sollte aber nicht den gelungenen Auftakt schmälern, außerdem haben es andere Serien mit sehr festgefahrenen Charakteren und Settings wie beispielsweise 30 Rock auch geschafft, über mehrere Staffeln hinweg zu überzeugen. Ich würde mich freuen, wenn The Grinder überlebt und wir eine volle erste Staffel sehen.

-->