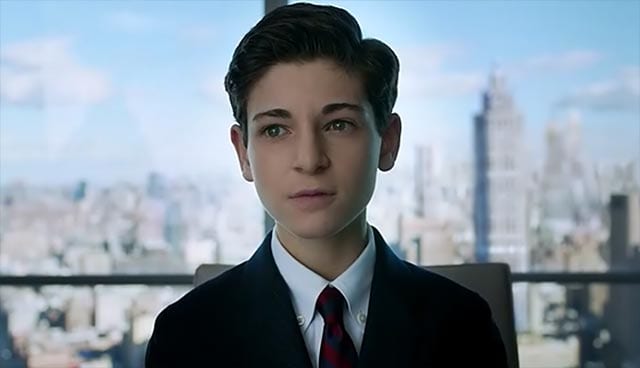 Eigentlich wäre das heute das Staffel-Finale gewesen. Doch weil Gotham so dufte ist, hat man die erste Season von 16 auf 22 Folgen ausgebaut. Und die zweite Staffel ist bereits bestellt. Das wird gefeiert mit Kabarett und Zirkus – komische Unterhaltungs-Darbietungen, wo man hinschaut. Wobei, ich sage lieber nicht, dass ich den Gesang scheußlich fand…
"Excuse me. One moment, please. I'm the new 'shot caller' here. My name is Fish Mooney. And with all dur respect, for you and I to have a good working relationship, there's some things that need to change…" (Fish)
Fish sollte Motivations-Seminare für Börsenmakler anbieten. Oder Wochenmarkt-Schreierin werden. Wir erhalten eine wunderbare Demonstration, wie sie es zu ihrer einstigen Macht-Position geschafft hat. Ich warte nur die ganze Zeit drauf, dass die anfangen zu Michael Jacksons "Bad" zu tanzen. Und darauf, dass Victor seine eigene Show bekommt – ich liebe den Kerl!
"There are plenty of things in this world that can't be explained by rational science." – "Yeah, people who enjoy folk dancing, for example." (Dr. Thompkins & Jim)
A pro pos Liebe – da wäre ja noch Jim. Der ist neu verliebt und alt verliebt. Freundin und Job passen scheinbar ganz gut zusammen und bringt Jim dazu, Detektivarbeit von einem anderen Stern abzuliefern. Das beeindruckt nicht nur Hector Salamanca, sondern auch einen grimmig dreinschauenden Milchbubi. Why so serious? Wenn es um Liebesleben geht, ist Bullock aber auch kein schlechter Detektiv.
Neben dem Gaststar-Auftritt von Mark Margolis gab es auch einen von Barbara. Die Ex ist auf einmal wieder da, möchte auf einmal Jim zurück und muss auf einmal feststellen, dass niemand sie mag und wir alle Morena Baccarin viel lieber haben.
Und dann wäre da noch Bruce mit seiner ersten Vorstandssitzung. Kleiner Kerl, große Worte. Hach, sie werden so schnell erwachsen…
Solides Werk an allen Seiten. Die Zirkusbande hatte seinen Charme, kam aber leider deutlich zu kurz. Die Barbara-Geschichte nervt als Lückenfüller, dafür bekommen wir mit, wie Penguin einen neuen alten Kollegen bekommt und allgemein etwas seinen Kredit verspielt. Da dürfte noch Bewegung rein kommen, genau wie bei Fishs Außenaufenthalt. Schön, dass noch ein paar Folgen folgen.