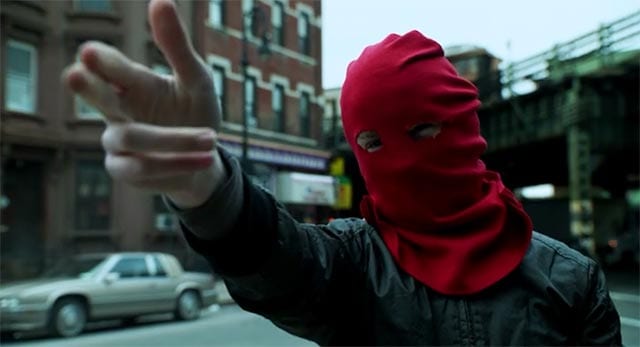 Diese Woche in "Verbrechen in Gotham": ein Bankräuber mit Profil und Entertainer-Qualitäten. Wunderbar einfach erkennbar an der roten Sturmhaube. Doch Rotkäppchens Kollegen sind zum einen Ärsche und zum anderen leider etwas öfter auf den Kopf gefallen als Red Hood #1. Schade drum, der hat Spaß gemacht. 10 Minuten. Das Wechselspiel unter der roten Haube bot aber durchaus Unterhaltung, nur schade, dass der Stotterer nicht auch noch eine Ansage in der Bank machen durfte.
"This town is truly going to the dogs…" (Penguin)
Reggie ist da. Wer ist Reggie? Nein, kein Baldwin-Bruder (wird von David O'Hara gespielt), sondern ein alter Special Ops-Kumpane vom "kaltblütigen Kriegshund" Alfred. Reggie lehrt Bruce alternative Kampf-Methoden und Alf das Fürchten. Arsch! Bruce braucht unbedingt eine Versicherung gegen emotionale Schäden in Folge von Stech-Attacken.
"I don't know about you, but I no longer want to be the sidekick." (Butch)
Butch macht sich tatsächlich nützlich. Oder will nur Penguins Vertrauen erobern. Sei es drum, die zwei letzten Gäste im Club bekommen nun Alkohol. Fish dürfte das aktuell nicht stören, die hat andere Dinge im Blick. Fischaugen sind ja eine Delikatesse. Irgendwo. DAS kam jedenfalls überraschend.
Bliebe da noch das neue Model-Loft. Barbara will den Grundstein für ein sexy Latex-Katzenkostüm legen, aber so ganz will es noch nicht gelingen, Cat davon zu überzeugen. Lass sie doch erst einmal erwachsen werden, verdammt nochmal.
Durchschnitt. Leider. Ganz gefälliger Fall, der aber weder sonderlich kreativ noch vorausdeutend war – bis auf eben den Jungen und die Maske am Ende. Dass die Polizei DAS berühmt-berüchtigte Textilstück einfach so am Rand eines Tatorts herum liegen lässt, macht so viel Sinn wie ein blinder Wachmann mit Waffe. Naja, Wayne interessiert's?! Ach ja, die interessiert plötzlich doch so einiges. Die Verstrickung war durchaus ein interessanter Dreh. So wird aus dem grauen Unternehmen, das irgendwo in der Luft schwebt, plötzlich ein zumindest finanziell mächtiger Gegenspieler im eigenen Haus. Gotham kommt wirklich vor die Hunde…