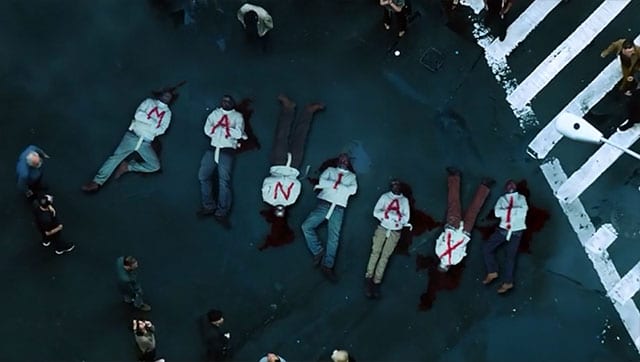 Nach dem Super-Auftakt zur Staffel folgt direkt das zweite Kapitel der "Rise of the Villains"-Kampagne.
"Monsters are coming, Mr. Mayor." (Galavan)
Eindrucksvoll mit Theo Galagan an der Spitze, der wunderbares Potenzial als Gegenspieler offenbart. Das Spiel mit "Kofferkopf" hat mir gefallen, ebenso waren die "Good evening"-Proben sehr unterhaltsam.
"You're going to be on TV. You have to present yourselves with style and vigour!" (Galavan)
Die Maniax hätten aber doch genug menschliche "Buchstaben" da gehabt, um sich selbst richtig zu schreiben… Tz, tz, tz. Der Einstieg in das Joker-Gehabe von Jerome ist jedenfalls herrlich, inklusive irre klingender Lache und breitem Grinsen.
"I'm the boss." (Jerome)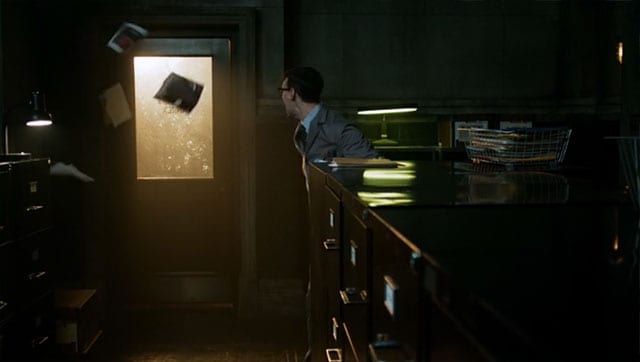 Was mich allerdings wurmt, sind mal wieder ein paar Timing- und Logik-Sachen. Die haben doch nicht wirklich ALLE Polizisten IN ihrer eigenen Wache mit einer Hand voll Leute umbringen / in Schach halten können?! Nenene… Das passt nicht. Das sind keine Übermenschen, sondern Irre in Polizei-Verkleidungen. Da kann man es nur mit Aaron nehmen und "Ou" (oder zu Deutsch: "Au!") sagen. Oder auch: Gebt mir ein "O" – O-kay, lassen wir das…
"There's nothing more contagious than laughter!" (Jerome)
Das Feuerzeug geht nicht – genau wie Alfred. Der konnte einem aber eine Weile lang so richtig leid tun. Der hoffnungsfrohe Blick eines loyalen Hundes der Gattung Buttler beim Umdrehen – Hach…! Dass dann aber am Ende Bruce geschwind zu Jim rennt, ist der zweite komische Zug der Folge. Eigenartig und unnötig.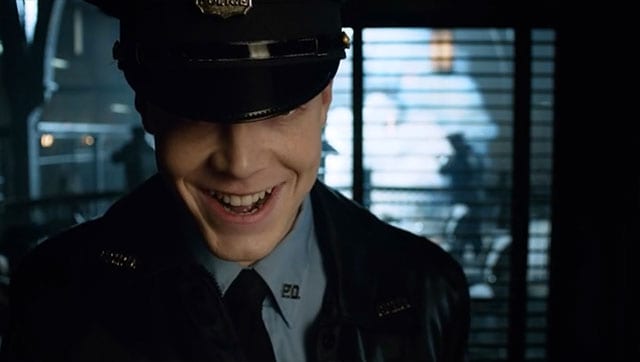 Erneut eine gelungene Inszenierung der aufkommenden Bösewichte. Hier und da mit etwas Fehlern in der Aufmachung, aber alles in allem sehr unterhaltsam und comichaft geradeaus. Allerdings minimieren sich die Maniax von Woche zu Woche – mal schauen, wie viele am Ende übrig bleiben. Die Charaktere und deren offensichtliche Entwicklungspotenziale lassen einige Schicksale ja zumindest mal erahnen.

Ist Jim jetzt eigentlich bereits Comissioner? Wurde er bewusst heraus gelockt, damit er das Attentat überlebt? Soll mit ihm "gespielt" werden? Fragen über Fragen – Antworten kommen bestimmt. Bis dahin übe ich meine verrückte Lache…

Bilder: FOX

-->