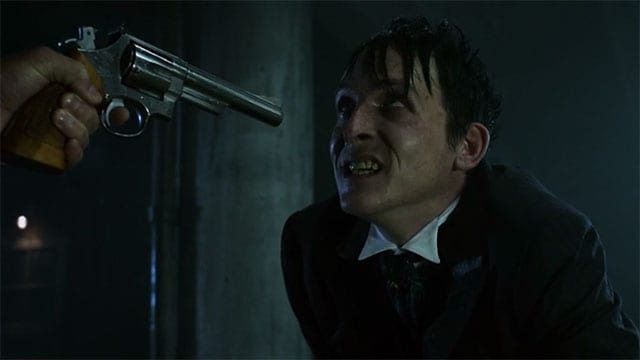 Ich übernehme dann mal wieder von Tobias, der mich letzte Woche/Episode bestens vertreten hat. Und dabei ganz nebenbei mit Indian Hill einen der vielleicht bedeutendsten Momente der Staffel erwischt hat. Auch wenn mich wundert, dass so eine "Geheimgeschichte" dick ein "powered by Wayne" drunter stehen hat… Naja.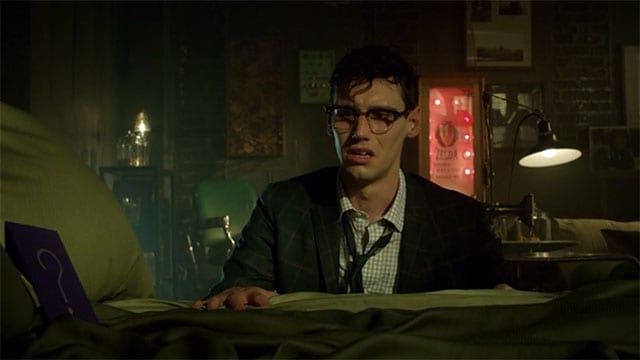 Kommen wir zur aktuellen Folge. Die hat tatsächlich für einige Figuren bedeutsame Momente des Rätselns über sich selbst parat gehalten. Vor allem für Rätselfreund Nygma. Nach der größten "ich würde dich NIE verletzen!"-Lüge aller Zeiten knackt es in Nygmas Psyche erneut. Kein Wunder, der Tod war selten dämlich, da wird man schon mal irre(r). Und des gibt ihn: den ersten Fragezeichen-Umschlag! Nygma rätselt mit sich selbst – sehr charmant gelöst.
"You stole my dead girlfriend from me!" (Nygma)
Der Snack-Automaten-Moment war vielleicht etwas drüber, demonstriert aber gut den Irrheits-Grad Nygmas (der insgesamt übrigens sehr passend von Cory Michael Smith verkörpert wird, wie ich finde!). Er könnte bereits recht zeitnah durchdrehen und zumindest vorerst untertauchen. Ich bezweifle jedenfalls, dass er in der Manier längere Dauer "Undercover" bleiben wird.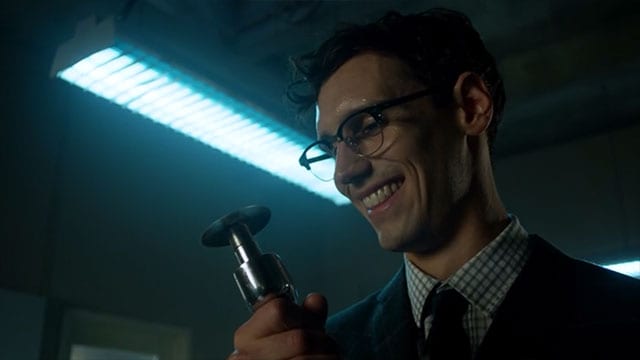 Wo wir gerade bei "Irre" sind: Victor!
"Anyone who leaves now, leaves alive. Anyone who stays, dies. You have 60 seconds to do the math." (Victor)
Hach, ich liebe den Kerl! Er kann aber auch ein "Nein" akzeptieren, wobei schwerkalibrig aus einem Haus ins Nichts schießen ist eher keine bedachte Polizeiarbeit. Trifft schon niemanden, keine Bange! Flüchtende kann man ja auch nicht mit einer Shotgun treffen, solange eine dünne Metallstange den Weg versperrt?! Nenene…. Das bleibt mir ganz persönlich ein Rätsel.
"Nobody is telling the truth. This is Gotham." (Bullock)
Aber gut, weiter. Wäre da noch der ebenso nicht ganz selbstsichere und gescheite Penguin. Dem ist gerade die ganze Welt ein Rätsel. Während er sein Muttertier verliert, muss Tabitha eines ihrer Spielzeuge schweren Herzens abgeben. Mama Cobblepot nimmt es aber sehr gefasst auf und kann gerade noch ihre wichtigen letzten Worte gen Kamera sagen. Geglücktes Timing.
"I gave you an order – shoot them both in the head!" (Penguin)
Dafür bekamen wir dann aber immerhin die Pinguin-Armee zu sehen – die fand ich super! Eigentlich total plump, aber egal. Ebenso schön war es, Harvey "Two-Face" Dent mal wieder zu sehen, wenn auch eher passiv-nebenbei. Fast so sehr wie Bruce in die ersten Rätsel der Liebe taumelt, Selina ebenso und Jim sich als nächstes Opfer positioniert.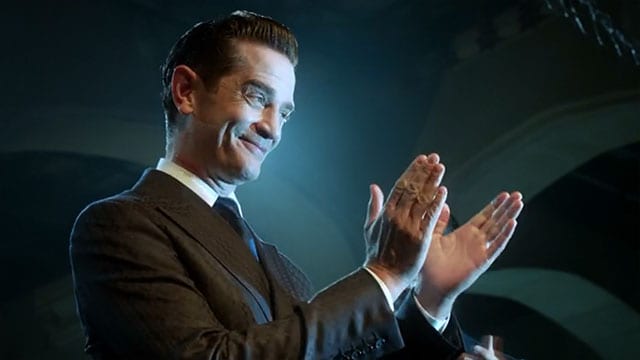 Die Folge war inhaltlich okay, wirklich raus gerissen haben es einzelne Momente und die Bedeutung für einige Figuren. Jim kam mir dann doch etwas zu plötzlich und schnell auf den Gedanken der Galavan-Show und wie alles letztendlich gehandhabt bzw. angegangen wird, ist eher fraglich. Aber da werden sich die Macher schon etwas denken. Wie beim etwas unglücklich inszenierten x-ten Entkommen Penguins. Aber geschenkt. Am Ende sehen wir viele Charaktere in neuen Fahrwässern und mit eindeutigen Zielen. Könnte spannend werden, wie sich der Galavan-Jim-Twist nun ausspielen wird.

Bilder: FOX

-->