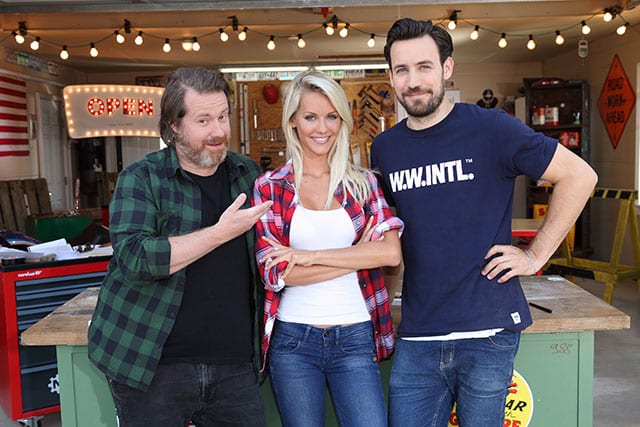 Letzten Monat hatte ich euch Hör mal, wer da hämmert als Klassiker der Woche präsentiert. Die dortige Show in der Show bekommt jetzt eine deutsche Variante, die nicht nur vom Namen an selbige erinnert.
Seit gestern läuft "Hammerzeit" auf RTL Nitro. Jeden Donnerstag um 21:10 Uhr präsentieren Jan Köppen und André Schubert (der nur ganz aus Versehen ein Flanellhemd anhat und Bart trägt) männliche Heimwerker-Tipps, -Tricks und -Projekte.
"Hier sollen Männerträume wahr gemacht werden und self-made Handwerker angespornt werden auch ihre kleinerer oder größeren Träume zu verwirklichen! Auch soll mit "Hammerzeit" an die Missgeschicke angeknüpft werden, die man selbst vielleicht schon einmal beim handwerklichen Selbstversuch erlebt hat…"
Dabei werden sie unterstützt von "Playmate of the World 2014" Daniela Sudau, die in bester Heidi-Manier nicht nur Dinge angibt, sondern auch anfasst (z.B. in der eigenen Rubrik "Sexy Life Hacks"). Aber auch wenn das recht offensichtlich eine – nennen wir es mal – Hommage auf die Tim Taylorsche Heimwerker-Kingness ist – genau so etwas hat uns gefehlt! Ich sehe überall nur amerikanische Formate, die schlecht synchronisiert daher kommen und wenig deutschen Baumarkt-Charme versprühen. Die Trailer und der Auftakt waren durchaus unterhaltsam, schade, dass es vorerst nur vier Folgen gibt. Dafür geht die Show aufs Ganze und lässt Jörg Draeger kommentieren – auch eine Best of-Show am Ende. Harharhar!
Die erste Folge (und auch die weiteren) könnt ihr bei RTLNOWNITRO auch im Nachgang schauen.
Mit freundlicher Unterstützung von RTL Nitro.