Es geht um besondere Beziehungen in "The Trash and the Snake". Da sind zum einen Ava und Kahterine, die sich im Hotel Samuelson über den Weg laufen – nicht ganz unbeabsichtigt von Katherines Seite, wie wir später erfahren. Katherine überrascht Ava im Hotelzimmer und verwickelt sie in ein Gespräch. Ava gibt an, nur kurz für eine Zigarette draußen gewesen zu sein, was Katherine erstmal unkommentiert lässt, am Ende aber nochmal aufgreift, indem sie sagt:
Als Sie vorhin rausgegangen sind, haben Sie ihre Zigaretten vergessen.
Ertappt. Ertappt, Part II folgt kurze Zeit später: Katherine spricht Ava auf Albert Fekus an, der Ava im Gefängnis ja eine Falle gestellt hatte, dann aber seine Beschuldigungen zurückgezogen hatte. Wie wir wissen, aus dem Grunde, damit Ava als verdeckte Informantin arbeiten kann. Katherine weiß das nicht, ahnt es aber wohl.
Auf dem zweiten Handlungsstrang sind Wynn Duffy und Boyd unterwegs, die gemeinsam versuchen, den Safe aus der Bank zu knacken – bzw. knacken zu lassen. Dazu schauen sie bei Wiz vorbei, der ein echter Profi sein soll. Er hat sogar den gleichen Safe in einer Halle stehen und will ihm mit C11 an den Kragen gehen – alles andere würde nicht funktionieren:
Du kannst hier 'ne Atombombe zünden und das Ding steht da wie neu. Ihr braucht C11 – den Scheiß gibt's nur bei mir.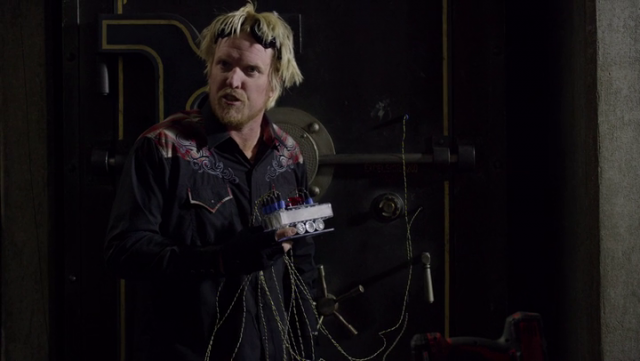 Wiz ist ein ziemlich abgedrehter Typ… ach, das muss man ja nicht extra erwähnen, wir sind ja bei Justified.
Auf jeden Fall bastelt er gerade an dem Zünder, als ein Handy klingelt. "Ich habe Euch doch gesagt – keine Handys!", sagt er noch, bis er merkt, dass es sein eigenes ist. In der nächsten Sekunde ist Wiz dank des C11 dann auch von uns gegangen. Zwar menschlich dramatisch, aber wirklich sehr humoristisch inszeniert.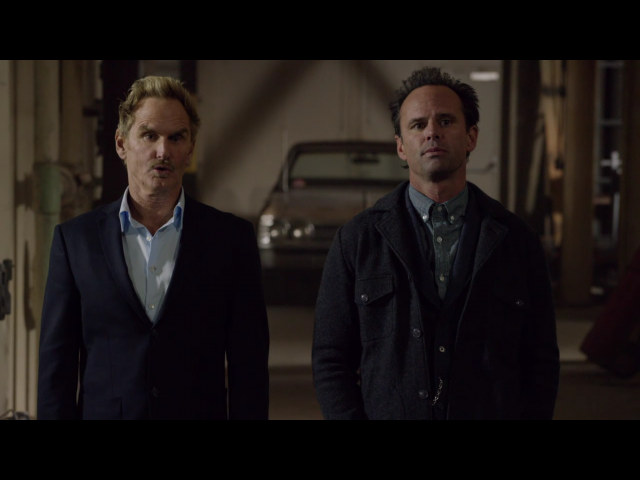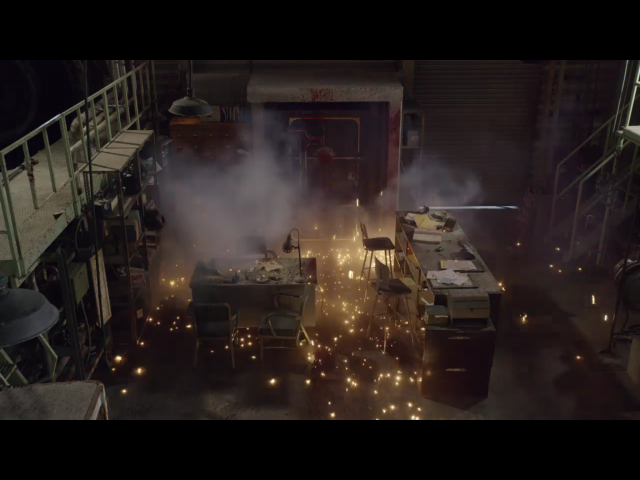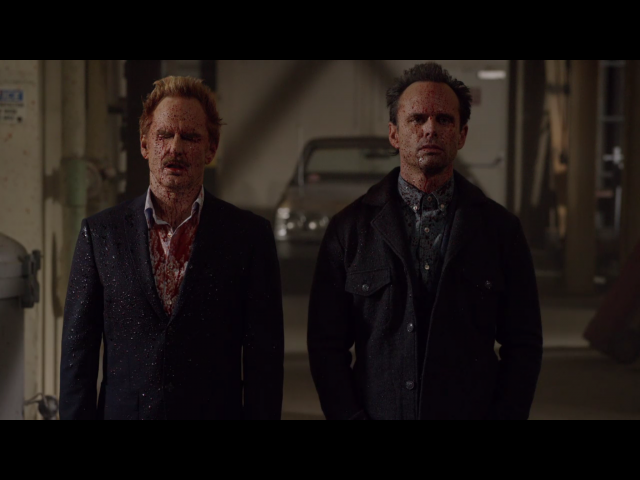 Der dritte Strang bringt uns endlich drei alte Bekannte zurück: Dickie Bennett, Loretta McCready und Art Mullen. Raylan besucht Dickie im Gefängnis und fragt nach seinem Land. Der sagt, dass er es Loretta verkauft hätte. Bei seinem Besuch bei Loretta trifft Raylan auf Avery und Ty, die versuchen, Loretta das Land abzukaufen – was Raylan und Tim verhindern können – in einem gewohnten witzigen Dialog, wie man es aus Justified eben kennt. Mit ein Grund, warum ich Justified so mag. Raylan spricht sich noch mit Art aus, der ihm empfiehlt, sich auf Boyd zu konzentrieren und Avery nicht zu beachten.
Insgesamt eine Folge, die alles ein bisschen sortiert. Die Handlung geht weiter voran. Die Folge hatte einige witzige Momente und lebte von den Konfrontationen zwischen den Personen. Ich fand vor allem die Explosionsszene einen Knaller (höhö), aber am meisten hat's mich natürlich gefreut, dass Dickie Bennett nochmal auftaucht – eine meiner Lieblingsfiguren in Justified, von denen es ja immer weniger gibt, nachdem zu Beginn der Staffel schon Dewey Crowe das Zeitliche segnete.