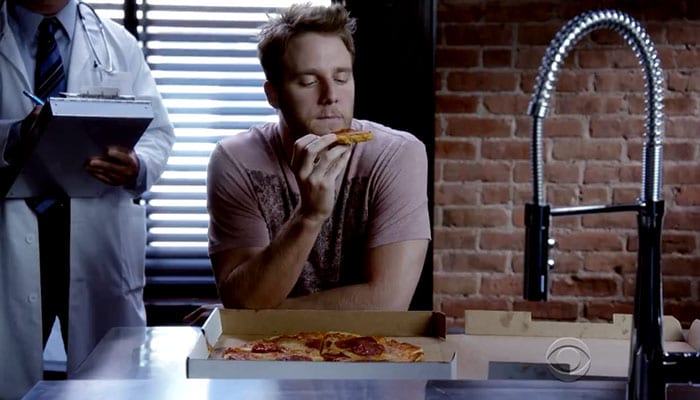 Brian Finch ist nun also beim FBI. Er findet, dass das super klingt und würde sich auch gerne so fühlen. Doch leider sieht sein Alltag bei den Feds anders aus als er es sich vorstellt. Wie ein Raubtier, das man zur Studie in ein Käfig einsperrt – denn während Finch NZT intus hat, darf er sein bewachtes "Büro" nicht verlassen.
Stattdessen lautet die erste Aufgabe, die man ihm aufträgt: Persisch lernen. Da dies so gut wie erledigt ist, macht Finch sich mit erhöhter Funktionsfähigkeit auf eigene Faust an dem aktuellen Fall von Harris und Boyle. Das Opfer heißt Stephen Fisher, ein Journalist, der sich durch seine Arbeit viele Feinde gemacht hatte. Zu Finchs Erstaunen ist Fisher trotz einer beachtlichen Reputation etwa im gleichen Alter wie er selbst.
"When I was 26, I built a potato gun." (Brian Finch)
Momentan ist der Humor so ziemlich das, was die Serie trägt. Der Rest dagegen packt mich nach wie vor noch nicht. Dafür gewöhne ich mich so langsam an die Hauptfigur, wobei ihr Darsteller mich mit seiner unterhaltsamen Art überzeugt hat doch vielfältiger zu sein als bisher geglaubt.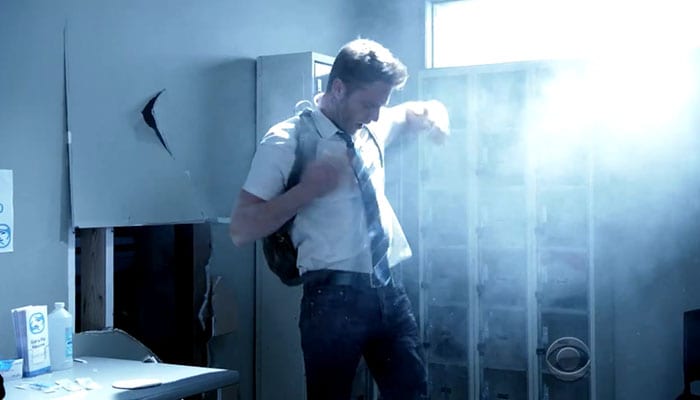 Durch sein rebellisches Verhalten sorgt Finch schnell für Ärger bei seinen Vorgesetzten, denn für seine Recherche bricht er ganz gerne mal aus den Gemäuern des FBI aus. Unterwegs setzt er seine Fähigkeiten jedoch nicht nur für die Arbeit ein sondern nutzt diese auch für Menschen, die er trifft indem er als freiwilliger Sozialtherapeut auftritt und ihnen Tipps fürs Leben gibt. Note to myself: So einen hätte ich auch gern.
Die Art und Weise, wie er sich bei seiner Kollegin Harris gegenüber für sein Verhalten rechtfertigt ist, ist durchweg amüsant. Dabei lässt Jake McDorman seine Serienpartnerin Jennifer Carpenter ebenfalls gut aussehen – ohne, dass diese selbst viel dazu beitragen muss.
"You have one minute." – "Can I have two?" (Harris & Finch)
Gemeinsam mit Harris gelingt es Finch schon in seinen ersten Arbeitstagen sowohl den Verursacher von Fishers Anschlag zu fassen als auch jemanden, der eine neu gezüchtete Virenart dazu einsetzt um gezielt biologische Anschläge auszuüben. Im letzteren Fall schlägt die Humorkeule abermals zu – besonders dann als Finch mehrmals Harris dazu auffordert mit ihm einzuschlagen: großartig!
"What's up, dude? Remember when you weren't going to jail five minutes ago? That was dope." (Finch)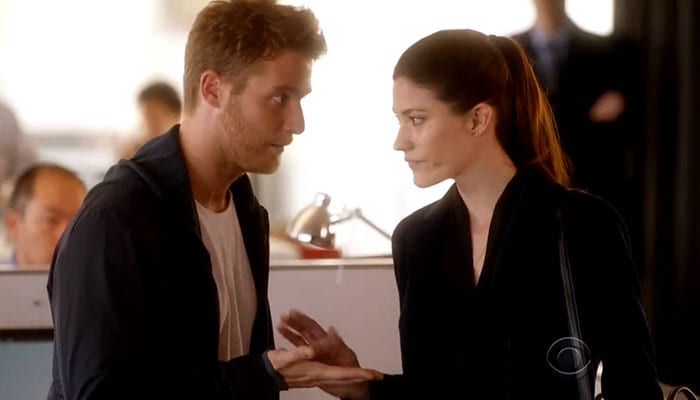 Die Zusammenarbeit scheint zu fruchten. Doch seine mit dem Job verbundene Geheimhaltung und die sich daraus resultierende Tatsache, seine eigene Familie ständig anlügen zu müssen, geht Finch offensichtlich nahe. Vor allem seinem Vater gegenüber tut er sich sehr schwer.
"How are you doing?" – "I'm fine. I mean, I'm … I'm good. I mean, what do you mean?" (Dennis & Brian Finch)
Als Harris mit der Idee kommt, dass Finch seinen eigenen alten Herrn als Anwalt anstellen sollte um von der gesetzlichen Schweigepflicht befreit zu sein, scheint sein Problem damit erledigt. Doch dann stellt sich heraus, dass die neu angestellte Krankenschwester, die man Finch Sr. bereitstellt, dieselbe Person ist, die ihm das Mittel gegen die Nebenwirkungen von NZT erreicht hat als er das erste Mal persönlich auf Eddie Morra trifft.

Sofort fallen einem Morras warnende Worte ein, was passiert, sollte Finch auch nur ein Wort über ihre Konversation verlieren. Erschreckend muss Finch feststellen, wie sehr er von seinem anderen Arbeitgeber überwacht wird. Die Frage, die sich mir nun stellt: Gilt das ihm auferlegte Redeverbot nur für das Gegenmittel oder darf Finch auch niemandem gegenüber sich über seine Einnahme von NZT äußern?

In dieser Episode lässt sich eine Steigerung ohne Weiteres erkennen. Wenn das Ganze sich jedoch nicht als "Monk 2.0" abstempeln lassen will, muss noch einiges kommen. Momentan sieht es eher so aus, dass die Serie mehr Comedy ist als alles andere – was an sich nicht komplett verkehrt ist, aber eben nicht das, was der Titel vermuten lässt und auch nicht das, was anfänglich schon erwartet wurde und zu diesem Zeitpunkt immer noch (zu Recht) erwartet wird.

Fotos: CBS

-->