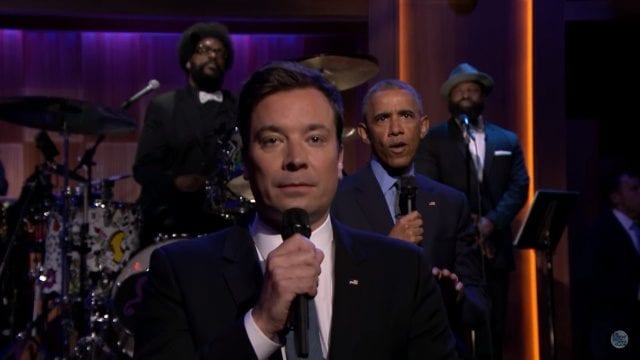 Nachrichten können manchmal echt ziemlich öde sein – gerade, wenn es um Politik und Wirtschaft geht. Da ist es doch viel schöner, wenn man die News einfach singt. Das dachte sich auch Jimmy Fallon und führte das Segment "Slow Jam the News" in seine Tonight Show ein. So hatten im Laufe der vergangenen Jahre schon Mitt Romney, Chris Christie und Jeb Bush das Vergnügen mit Fallon und der Band The Roots ein bisschen herumzuträllern.
Doch dieses Mal ist der Gast des Abends kein geringerer als US-Präsident Barack Obama. Locker flockig und unter tosendem Applaus tritt der adrette Mann hinter dem Vorhang hervor und bekundet, dass auch er durch die News jammen möchte. Nachfolgend spricht er nicht nur über seine Zeit als Präsident der Vereinigten Staaten, auch Donald Trump bekommt ordentlich sein Fett weg.
Hach, der Obama. Er ist einfach unheimlich sympathisch. Und während Fallon und Rapper "Black Thought" sich ganz schön zusammenreißen müssen, nicht loszulachen, bleibt Obama souverän wie immer. Und dann äußert er sich auch noch zu seiner neuen Lieblingsserie Orange Is NOT The New Black. Großartig.
via: TVLine Bild: NBC