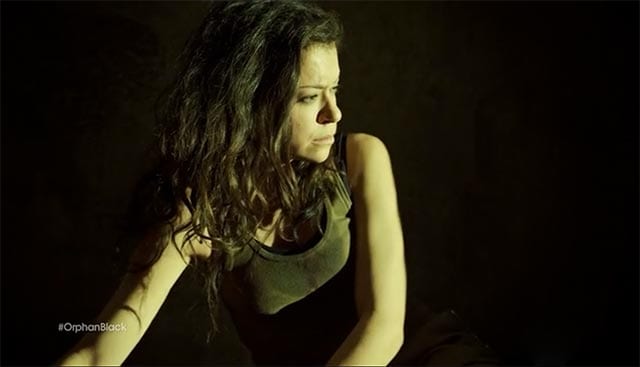 Es geht doch! Eine der bisher besten Folgen der aktuellen Staffel gab es diese Woche zu sehen. Und das, obwohl es surreale Traumsequenzen gab, die etwas am Ziel vorbei geschossen sind. Dafür gab es mal wieder die allgegenwärtige Frage: Könnte Paul etwa doch ein Guter sein, den wir zunächst für einen Schlechten gehalten haben, den wir zunächst für einen Guten gehalten haben, den wir zunächst für einen Schlechten gehalten haben, den wir zunächst für einen Niemand gehalten haben? Vermutlich ja. Aber ist ja eigentlich auch egal, denn Kira ist endlich mal wieder zu sehen!!
Ach ja, und dann wäre da noch dieses Geld… Let it rain dollar notes! Zwar erinnert die "Soccermom wird zur Pillendreherin"-Situation arg an ein Breaking Bad in plump und pinkem Plastik. Aber ein lockerer Gegensatz zur schweren Hauptstory ist durchaus willkommen. Nur seltsam, dass sie so gar nicht mehr mit der eigentlichen Klon-Story verwoben wird.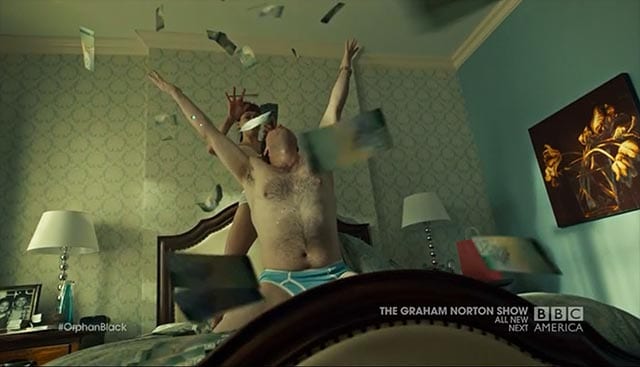 In der Wüsten-Station laufen die Kaiser Chiefs auf Dauerschleife. "Rudy, Rudy, Rudy, Rudyyy – A-ha ha-ha a-haaaaaaaa!". Doch niemand freut sich so recht, das Narbengesicht wieder zu sehen. A pro pos "sehen":
"Now nut up and lead me to the cyclops!" (Felix)
Sehr gefallen hat mir der Move mit dem "Dead Man Trigger" bei der Handgranate. Auch wenn natürlich der "Ha, hier bekommt ihr, was ihr verdient, Bitches!"-Blick von Paul absolut utopisch und bescheuert war. Aber naja, sei's drum.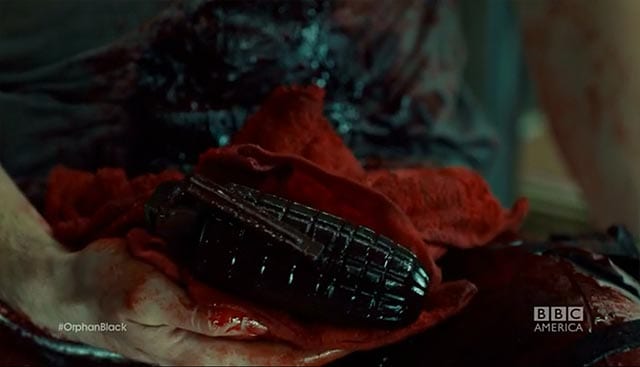 Helena schluckt derweil ihre innere Stimme einfach herunter und schon wird sie wieder loyal ihren "sestras" gegenüber. Vermutlich recht eiweißhaltig, so ein Skorpion…
"Come, sestra – people miss us." (Helena)
Die Traum-Passagen waren mir zwar etwas zu viel, dazu geht mir die eifersüchtige Delphine enorm auf den Zeiger. Mal da, mal weg, mal da. Man hat das Gefühl, dass Dyad komplett still steht zwischen den Folgen. Ein bisschen Herumgeforsche von Cosima und Nerd-Guy, aber eigentlich ist das Riesen-Imperium aktuell damit beschäftigt, abstrakte Kunst zu malen. Furchterregend. Wieso?
"Stop asking 'why' – start asking 'who'." (Traum-Beth)
Okay, dann eben "wer"? Wer ist der wirkliche Gegenspieler? Wer soll jetzt noch für totale Brisanz sorgen? "Mother" ist eigentlich eine arme Wurst, sonst wäre sie nicht so leicht in Gewahrsam gekommen. Auch Rudy ist kein Übermensch. Ist es etwa Pauls Kontakt, der gar nicht wirklich Verstärkung gebracht hat? Noch vier Folgen, so recht weiß ich gerade nicht, wo das hinführen soll. Aber solange es jede Folge so unterhaltsam und konsequent bleibt wie diese – gerne!

-->