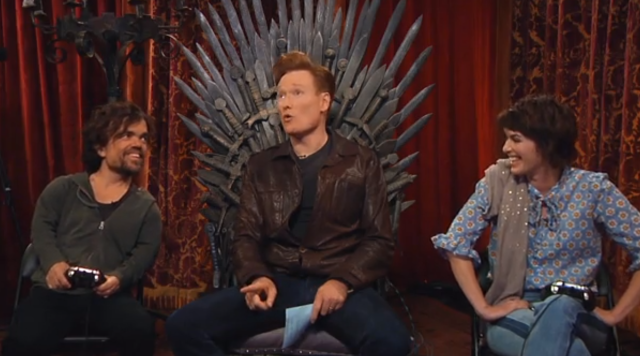 Conan O'Brien hatte vor kurzem hohen Besuch: Lena Headey alias "King's Mother" Cersei Lannister und Peter Dinklage alias die ehemalige Hand des Königs Tyrion Lannister – beide aus der "epischen Serie" Game of Thrones – waren zu Gast und durften mit Conan eine Runde "Clueless Gamer" spielen. Und dafür wurde das Shooter-Game "Overwatch" gewählt, das am 24. Mai erstveröffentlicht wurde.
"Today we've got a big one, I'm told. The highly anticipated 'Overwatch'. This is huge. This is an epic game. So I got two of the stars of the most epic show on television, Game of Thrones, to play with me. Please welcome my best friends as of four minutes ago, Peter and Lena." (Conan)
Nach einer kurzen Einführung zur hochwertigen Nachbildung des Iron Thrones, einem Exkurs über japanische Toiletten und Peter Dinklages Assoziationen mit dem extravaganten Set sehen wir dann auch, wie die drei tatsächlich gegeneinander spielen – am Controller und als Avatare. Und am Ende winkt dem Gewinner ein ganz besonderer Preis.
via: Team Coco Bild: TBS