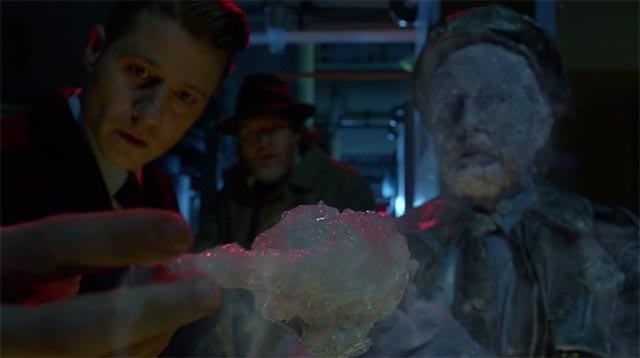 Beim Auftakt merkt man die Bemühung, alles comichaft zu inszenieren. Verwinkelte Kameraperspektiven, manigfaltige Lichteffekte, hoher Kontrast, schneller Schnitt und starke Einzelbildmotive. Und jede Menge Gefrorenes.
"Damn!" (Bullock)
Bruce fühlt sich im neugewonnenen "zweiten Leben" sehr lebendig und denkt über Dinge wie Ehrlichkeit nach. Insgesamt ein sehr gut geschriebener Dialog.
"You're a schoolboy, not a homocide detective." – "I believe people can be two things at once, don't you think so?" (Lee & Bruce)
Dazu bekommt er vom "King of snobby England" eine Lektion was das Nicht-Töten angeht. Bereits jetzt kann er von Cat nicht mehr überrascht werden – schöner Moment und insgesamt schön zu sehen, wie er sie langsam "überflügelt". Und: Es geht voran, auch in Sachen Rachetat.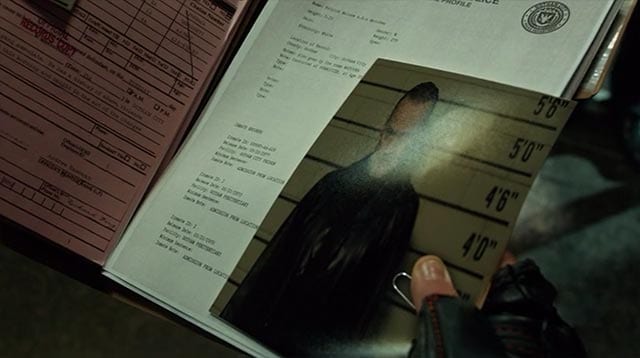 Prof. Strange spielt der seltsame Polizei-Plan ("uns fällt binnen zwei Minuten nichts Besseres ein, also machen wir das!") in die blutverschmierten Hände. Dabei hat er eigentlich alle voll damit zu tun, aus Insassen weiche Birnen oder Supermonster zu machen. Oder nebenbei coole Superbösewichte zu finden.
"Goose!" – "No… I am a… Penguin." (Penguin)
Und dann muss er auch noch die ganze Zeit über das utopisch gute Kamera-Sicherheitssystem betrachten… Ähnlich unglaublich sind die Fortschritte, die Mr. Freeze binnen weniger Stunden/Tage in Sachen Technik, Outfit und Produktforschung getätigt hat. Und hatte die Polizei nur vier Leute bei der "großen Falle" vor Ort?! Wirkt etwas lächerlich. Und dass die ganzen Fehlversuche artig in Griffweite liegen – naaaja…. Dafür hat er seine Liebste wenigstens nicht direkt in die Frischekammer gelegt sondern erst noch etwas antauen lassen, damit er seinen Fehler mitbekommt. Und wo wir gerade beim Meckern sind: Wieso gab es keinen Freeze-Frame am Ende?! Vertane Gelegenheit.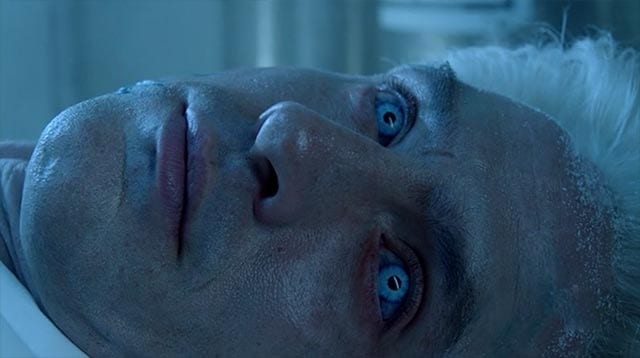 "Death is not an ending. Death is a new beginning." (Prof. Strange)
Der Professor erinnert mich von seiner Art her übrigens etwas an Dr. Hiroshi Hatake aus Helix. Jedenfalls wunderbar creepy und toll im Zusammenspiel mit der toughen Mrs. Peabody. Mal schauen, wen er uns alles in absehbarer Zeit "zurückholen" wird…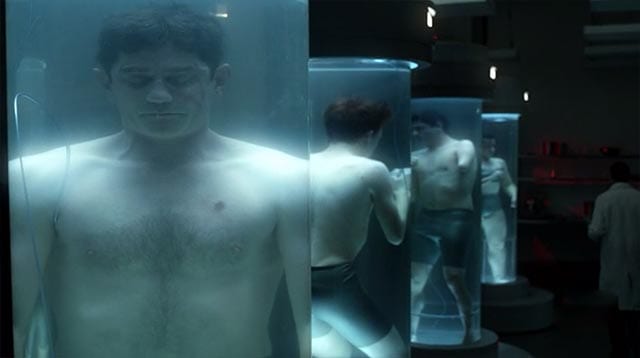 An sich eine gute Folge mit tollen Momenten, Bildern und eigentlich guter Story. Mich nerven aber die vielen kleinen Ungereimtheiten bzw. offensichtlichen Fahrlässigkeiten, was das ermöglichen von Plot-Entwicklungen angeht. Viele arg inszeniert wirkende Zufälle. Ansonsten ein schöner Ausblick auf was da kommen mag und ebenso eine wichtige Folge für die weitere Entwicklung von und Beziehung zwischen Figuren (z.B. Bruce oder Lee).

So bleibt am Ende aber eine äußerst unterhaltsam und wunderbar düster inszenierte Viertelstunde Fernsehen, die Lust auf mehr macht.

Bilder: FOX

-->