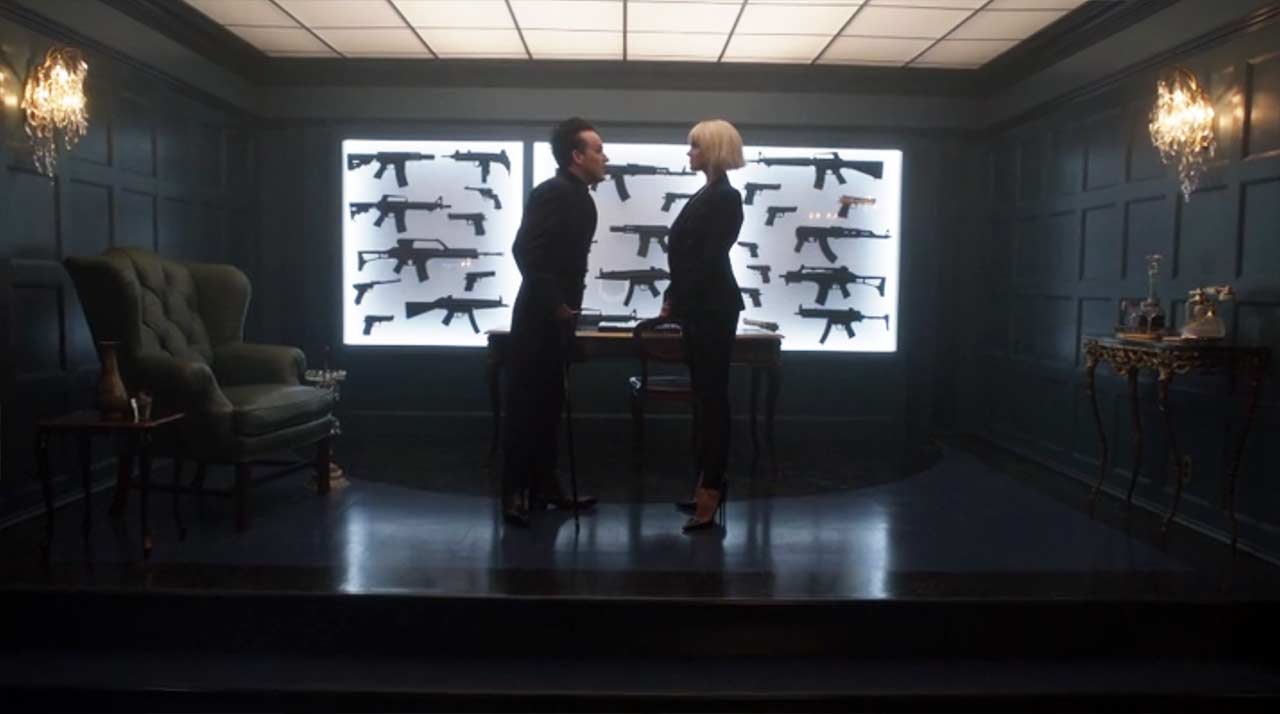 Die ersten Schritte eines womöglich großen Gegenspielers, eine Verabredung zum Mädelsabend und "The Rise of the Dark Knightchen". Oder so. Diese Woche hatte "Gotham" wieder einiges zu bieten, hat dabei aber hin und wieder das Pacing etwas verfehlt.
Zunächst zur eher handzahmen Nebenhandlung. Eine Möglichkeit erwartet Cat und Tabetha bei Barb. Yep, irgendwie wenig überraschend, die Karte schrie bereis Barb und dass mittlerweile mehr Leute auferstehen als sterben in dieser Stadt/Serie, sollte auch gelernt sein. Dabei hilft eigentlich nicht mal der Check des Pulses…
"It's Gotham – check for a pulse next time." (Barb)
Nun soll es also Waffenhandel statt Club sein. Poison Ivy will mit ins Team, was ein bisschen Doppelagenten-Action im Stily Penguins aus der ersten Staffel versprechen könnte. Gehen jetzt alle gemeinsam Hand in Hand? Beachtenswert ist jedenfalls schon einmal, dass Barb zu jeder Tageszeit den gleichen schönen Lichteinfall in ihrem neuen Laden hat. Der ist aber auch toll!
"He's coming!" – "Who?" – "SCARECROW!" (Gangster & Jim)
Achso, ja – Gegenspieler. Das Scarecrow-Kostüm gefällt mir wirklich sehr gut. Drastisch und doch irgendwie realistisch gehalten, kein CGI-Mumpitz. Ebenso mochte ich das Spiel von Damian Young als Warden Reed. Sogar eine Prise Joker wehte durch die Anstaltsgänge, als er seine Clownangst besiegt wird. Die ganze Sequenz mit Jim und seiner Shotgun erinnerte mich dagegen eher an "Resident Evil" – nur ohne die packende Atmosphäre. Einige Stroboskope und Lichteffekte machen für mich noch keine Stimmung. Da passt es irgendwie, dass die vorläufige Lösung des verrückten Systems H2O lautet.
"Play nice!" – "No." (Harvey & Jim)
Natürlich wird auch Jim beangstspritzt, wie er ja eigentlich jeden Virus-Trend mitmacht. Seine größte Angst: eine sterbende Lee. Dass er sich derart leicht und schnell herauswinden kann, verwundert nicht nur Scarecrow, sondern auch mich. Schön war aber wenigstens der Shot mit der Reflektion in dem Rasiermesser (über nötigen Abstand und Winkel mache ich mir jetzt mal lieber keine Gedanken).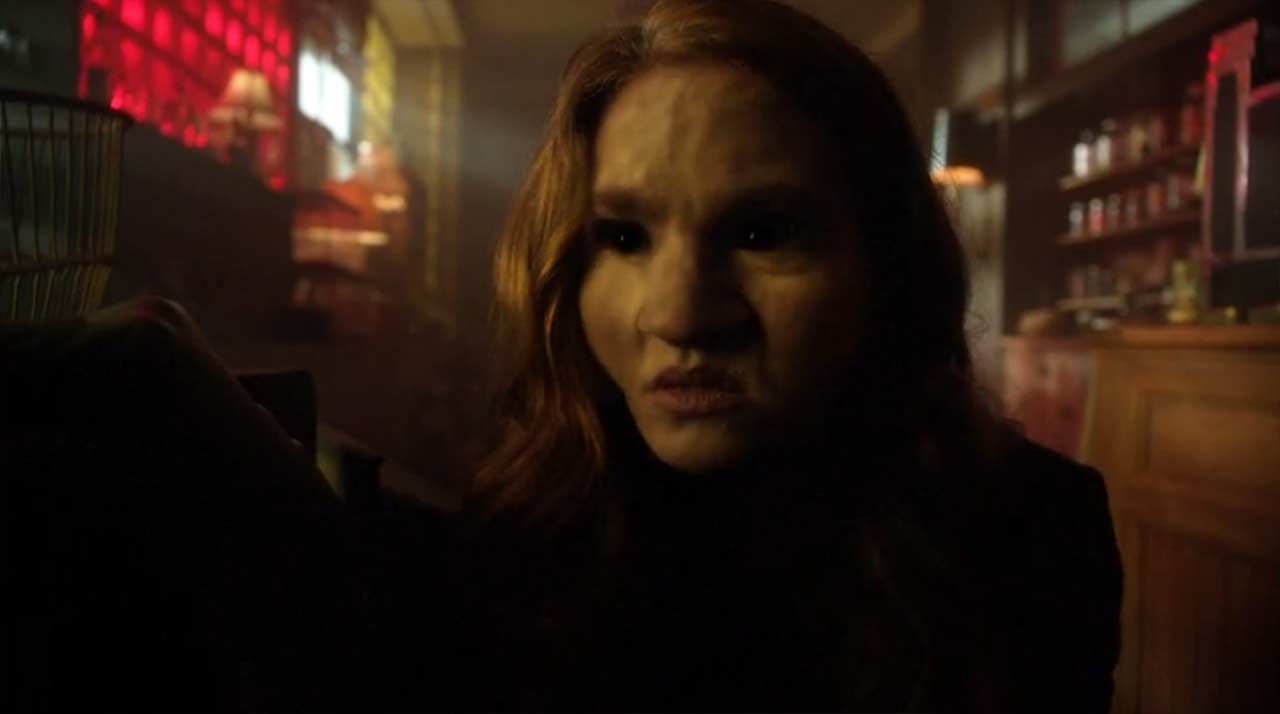 Kommen wir zu den Transformationen diese Woche. Ivy trinkt blind vermeintliche Wundermittelchen – klar doch. Schade nur um das wirklich hübsche Aussehen von ihr – ich bin gespannt, wie sie finale ausschauen wird. Eine Mini-Entwicklung gibt es auch in der Story selbst, denn Jim will unseren immer-wieder-weg-und-doch-wieder-da-Bekannten Falcone aus dem siebten Ruhestand holen.
Wirklich interessant wird es aber – natürlich – bei Bruce. Der ist mittlerweile nicht nur größer als Jim, er fühlt sich auch viel lebendiger – kommt wohl vom Klettern.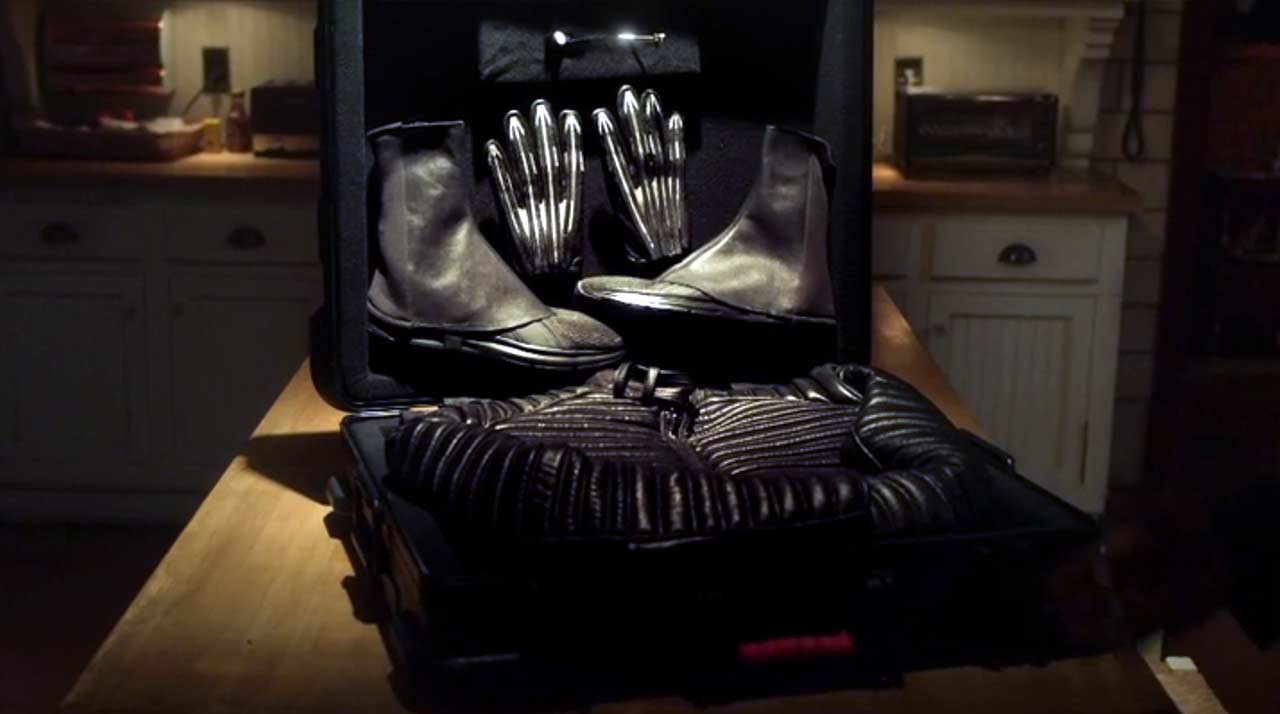 Mehr aus Versehen denn geplant benutzt er gar zum ersten Mal einen Grapling Hook, was ich sehr gefeiert habe. Freudiger war mein Blick nur als Fox mit seinem Köfferchen vor der Villa stand. Die ersten Gadgets – it's on!
Maske auf und da ist er also: Batboy!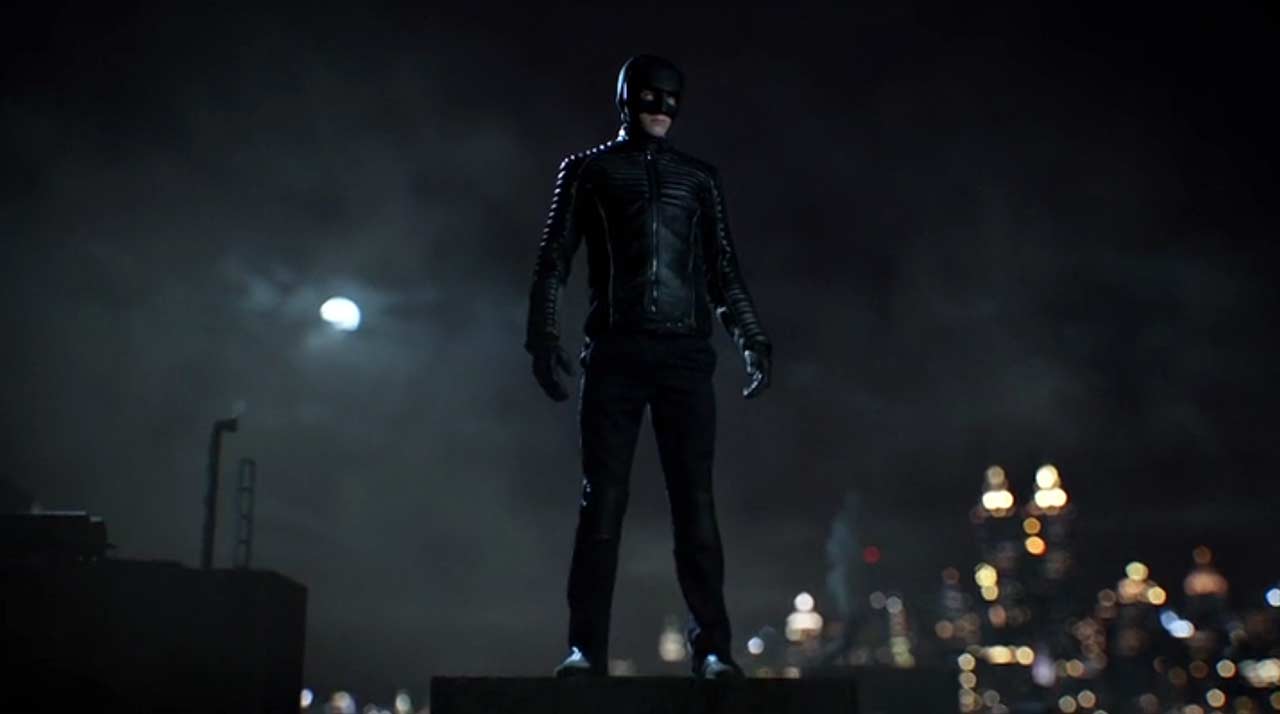 "Batboy, Batboy – what you gonna do?"… Okay, noch ist das die Trainingsphase, aber mir gefällt, wie diese ersten Schritte Richtung konkretem Batman begangen wurden – und das ging schneller als erwartet. Gerade im Umgang mit dem "gegen Kugeln kannst du nichts machen!"-Argument hat man das gekonnt gelöst. Auch wenn ich jetzt jede Episode eine Szene fürchte, in der Bruce ikonisch über den Dächern der Stadt steht, hatte das schon was für sich.

Weniger gelungen fand ich die Darstellung von Jim und "seinem" GCPD. Das war irgendwie halbgar, wirkte zu inszeniert und hat nicht immer ins Timing gepasst. So lange ich bei einer etwas schwächeren Bewertung als zum Auftakt, was eben auch daran liegt, dass sich der große Gegenspieler Scarecrow erst einmal an dieses ganze Bösesein herantasten muss. Wird schon, Großer, keine Angst!

Bilder: FOX

-->