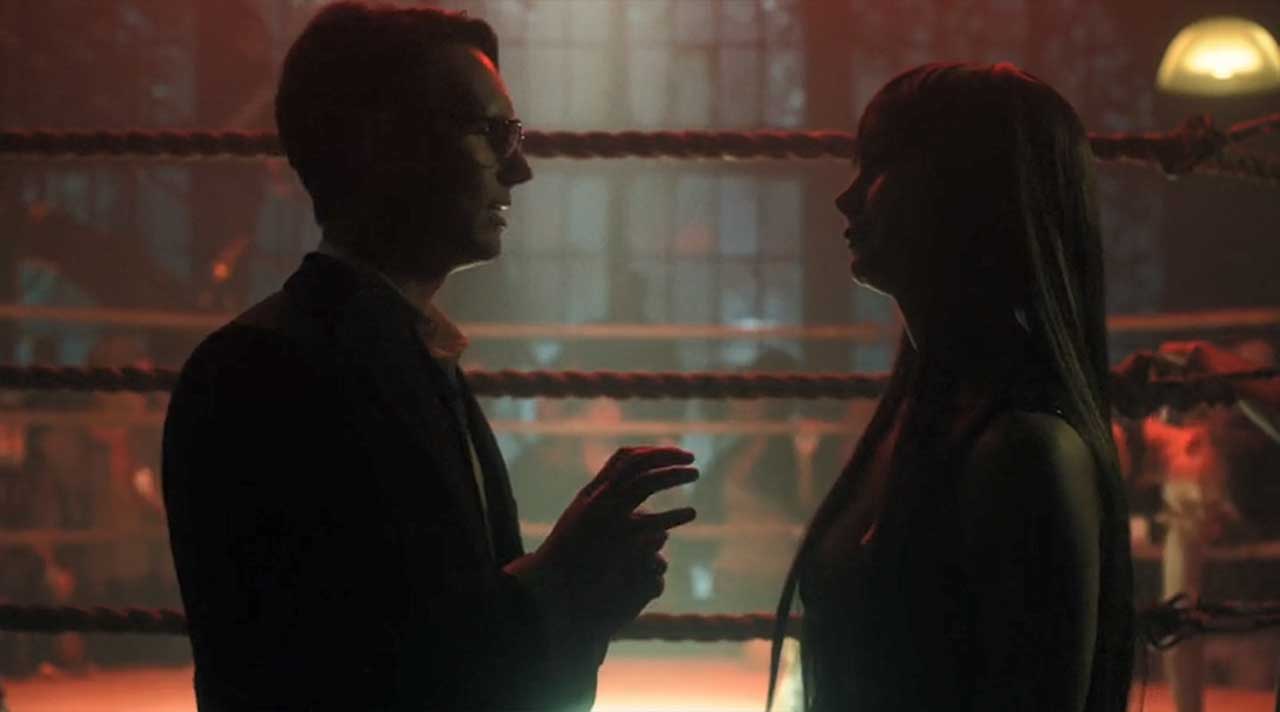 Eine Prise "Fight Club" weht durch "Gotham". Zumindest für ein paar Sekunden, in denen wir mit einem Bareknuckle Kampf in die Folge geführt werden. Dann setzt es nach einer exemplarischen Nasenbruch-Fixierung, eine ganze Portion Grundy. Der hat keinen Puls und sorgt dafür, dass es bei anderen auch so ist – und für ordentlich Kopfzerbrechen. Parallel ein bisschen zahmes Nygma-Spielchen und die Erkenntnis, dass Lee doch noch ein gutes Herz für Arme hat.
Sofia hat ganz schön schnell das Vertrauen Penguins ergattern können und spielt dann doch sehr offensichtlich mit ihm, indem sie das (natürlich total platonische!) Lunch-Date absagt. Drama pur! Bei Sofias doppeltem Vertrauensspiel mit Penguin war wenig Unterhaltungswert gegeben, da man weder überrascht, noch groß daran erfreut wurde, wie Penguin hingehalten wird.
"Just so we're clear: Is this a 'chat-chat', or a 'shovel in the trunk' kind of chat?" – "Get the shovel." (Victor & Penguin)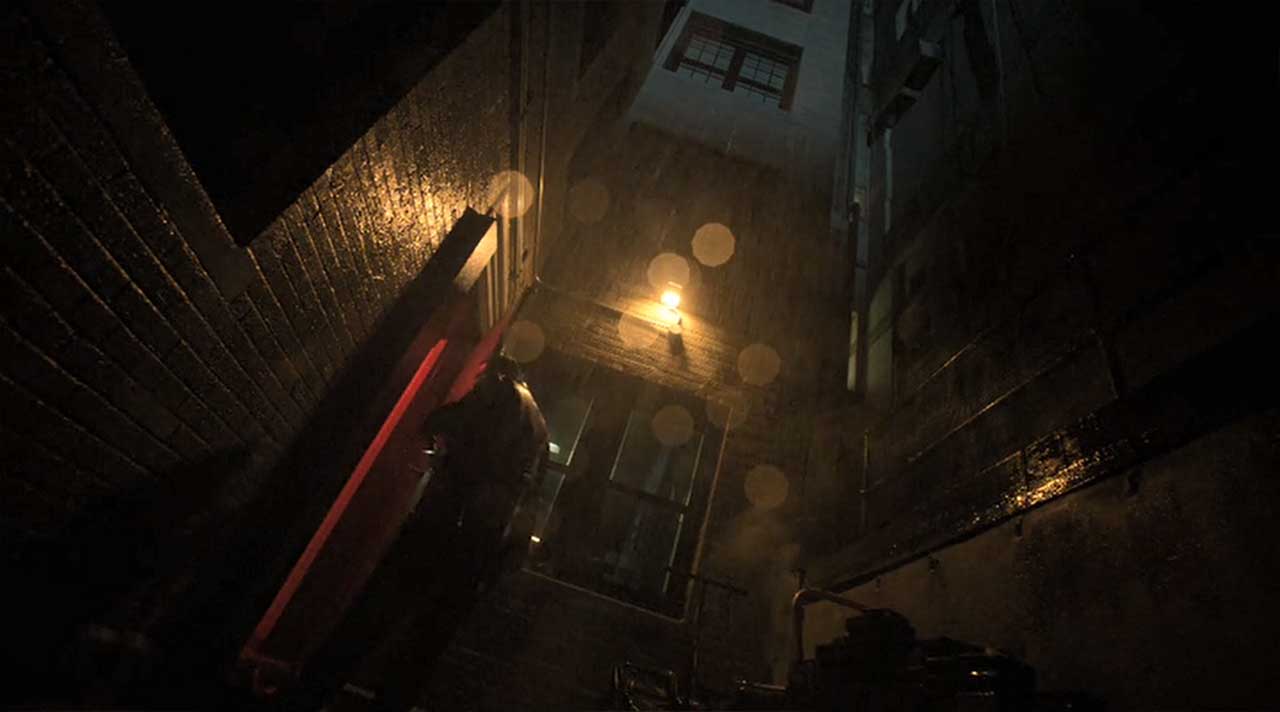 "Oink-oink." (Schwein)
Die Haupthandlung setzt mit einem Cop-Penguin-Infiltrator-Mord mit tierischer Maske an. Dass der Ermordete "Metzger" mit Nachnamen hieß, war natürlich ganz nett. Für die anderen drei potenziellen Opfer hätter man doch nur nach "Fleischer", "Schlachter" und "Wurstler" schauen müssen.
"Guess, you're always one step ahead." – "That's why I'm alive." (Jim & Penguin)
Der Mörder hat mir etwas zu viel "SAW" gesehen und die angebliche Moral-Keule, dass "Professor Pig" alle korrupten Bullenschweine schlachten möchte, ist mir dann auch zu grob geraten. Dass Harvey den Schlitzer überlebt, war so offensichtlich wie unsinnig.
"Huh, kids…" (Victor)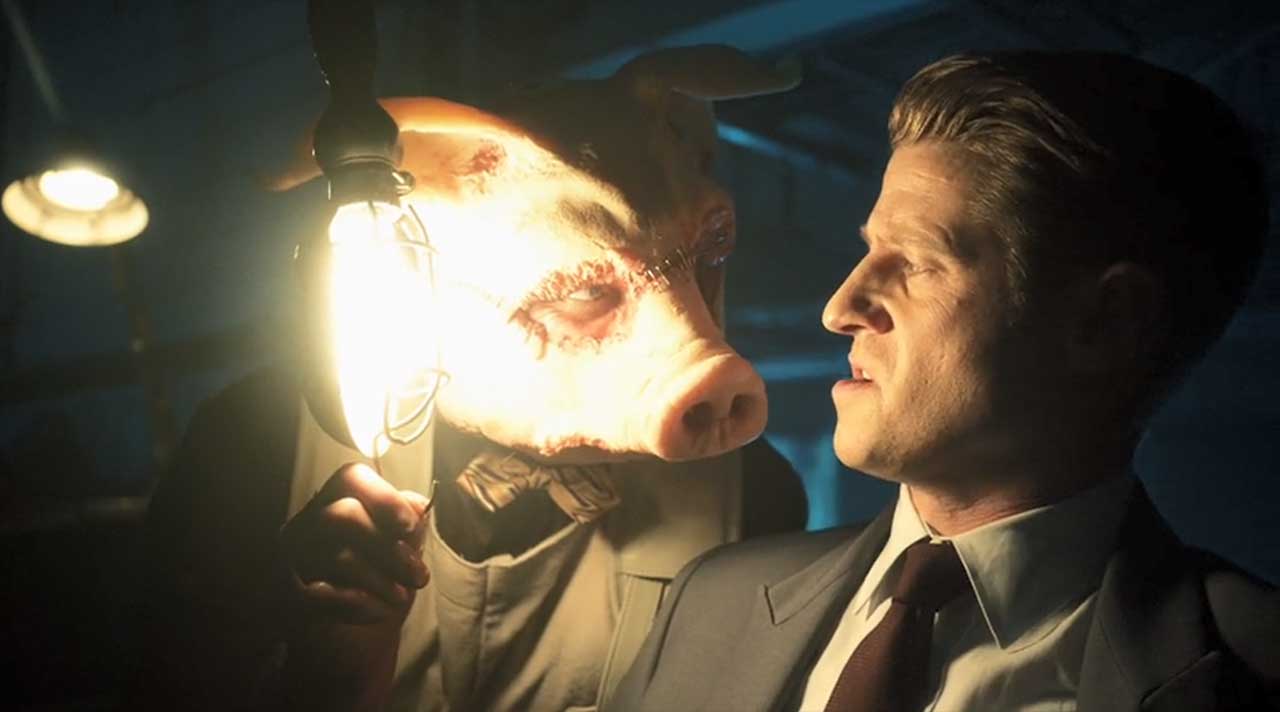 Eigentlich müsste man es "Gotham" zuguteheißen, dass mal eine Folge ohne große Übermenschlichkeit (okay, Grundy) und der Fokussierung auf einen beinahe klassischen Polizeithriller-Plot abgeliefert wurde. Und doch fehlte mir persönlich das Feuerwerk, das Spezielle und vor allem das Unvorhersehbare. So blieb es ein recht farbloses Zwischenspiel, das ein bisschen Moral ankratzte, ein bisschen Manipulation versuchte und nicht nur bei Grundy-Gegnern Kopfweh verursachte. Da hilft auch die fesche Schweinsmask nicht.

Bilder: FOX

-->