Da, schau an! Kaum schaffe ich es mal weider pünktlich zum Schauen und Rezensieren einer Folge "Gotham", schon steigt die Qualität. Auch wenn "Ruin" sicher noch bei weitem nicht der große Wurf war, zeigen sich Story und Pacing deutlich verbessert, alles wirkt stimmiger und insgesamt unterhaltsamer.
Der große Knall vom Ende letzter Woche verebbt, indem Jim alle der Reihe nach wachrüttelt und bei Penguin nur tätig werden kann, weil Barb Gnade hat walten lassen (was aufgrund der zum Staffelauftakt gezeigten Szene wenig überrascht). Wie sehr ein gemeinsamer Feind helfen kann, sich zu verbünden, zeigt die Tatsache, dass Penguin mit Waffen und Munition aushilft. Vorerst.
"We heard people talking about a shady guy lurking around Haven before it blew." – "This is Gotham, you're gonna have to do better than 'shady guy'." (Barb & Jim)
Ach ja, und wie ihr im ersten Bild oben sehen könnt: Viktor!!! Endlich ist auch mein Lieblings-Charakter wieder mit von der Partie und weiß sich direkt auf gewohnt charmant-eloquente Art einzureihen. Nebst gelassenem Drink-Schlürfen gibt es auch ein paar coole Sprüche – samt letzter "Worte" beim total fairen Verfahren.
"This is a really nice table! […] Hey, do you guys have any canned peaches? Man, I'd trade an arm or leg for that right now. Not mine, somebody elses!" (Viktor)
Dass Jim und Harvey aus der Nummer mit einer plumpen Handwaffe davon kommen, obwohl lauter bewaffnete Sicherheits-Schränke den Raum besetzt haben, leuchtet ebenso wenig ein, wie die zweieinhalb-minütige Munitionsverschwendung zur Dingfest-Machung Viktors zuvor. Klar, Schutzfeuer und so, aber müssen da zwei Dutzend Leute gleichzeitig alles drauf hämmern?!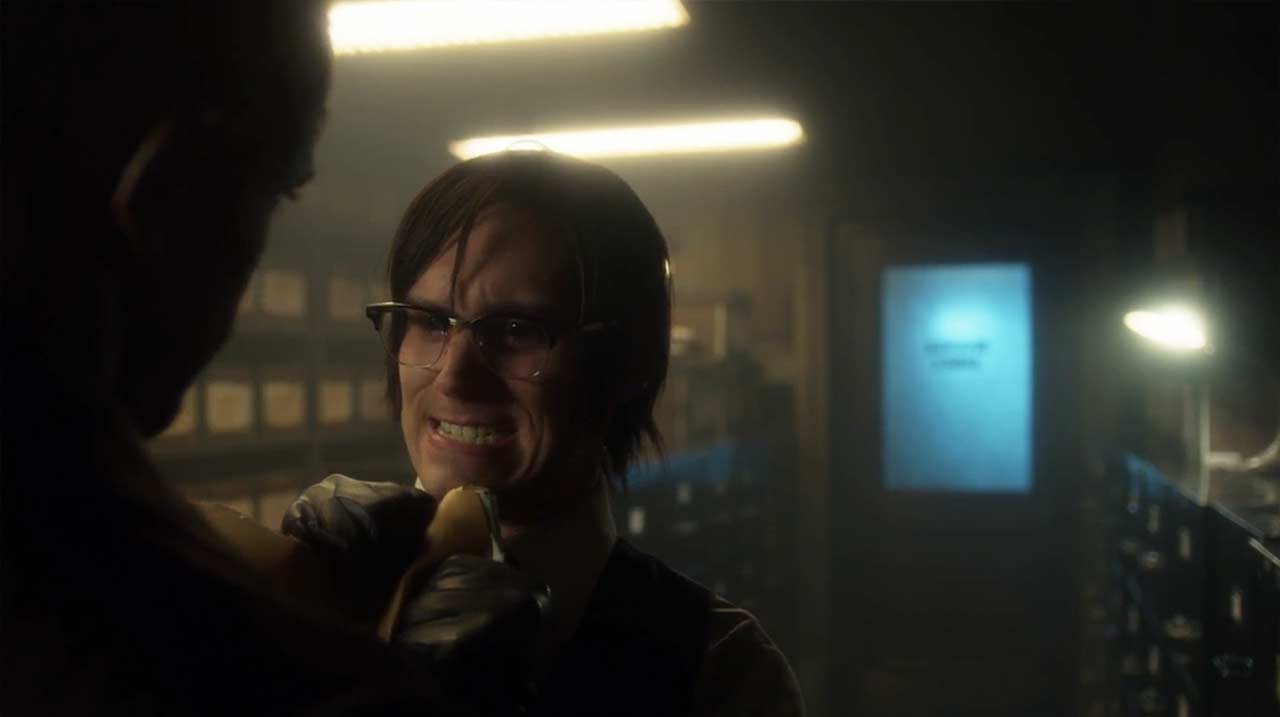 Interessanter wird es aber eh bei anderen Figuren. Nygma wacht nebst einem leeren Koffer auf und meint, einen Insassen verhören zu müssen. Lucius erpresst sich dessen Hilfe und schafft es so, eine für utopisch lang dauernd erachtete Untersuchung binnen weniger Minuten zu lösen (war doch gar nicht so schwer?!). Erneut war es der Raketenwerfer und endlich wissen wir auch, wer vermutlich auch beim Helikopter-Abschuss dahinter steckte: der Riddler. Mich hatte direkt irritiert, dass Ed "Inmate" aus der verwischten Botschaft gemacht hat, lag doch offenkundig eine Lücke zwischn "A" und "T". Immerhin hat er eine arme alte Lady von ihrem einsamen Dasein erlöst (mit dem Rollstuhl wären die Treppen wohl eh suboptimal gewesen).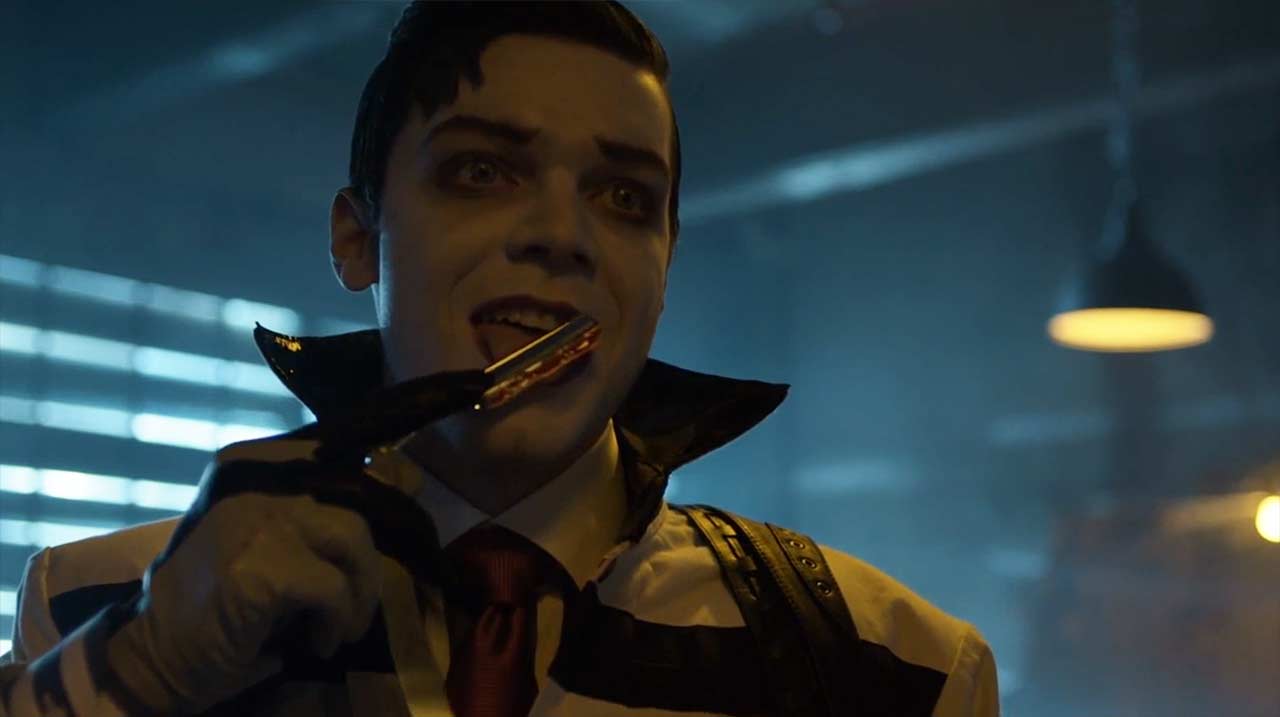 Noch eine willkommene Präsenz-Rückkehr prominenter Art beschert uns Jeremiah, der tatsächlich leibhaftig vor Ort ist und den ominösen Tunnelbau leitet. In gewisser Weise haben wir ihn direkt doppelt, denn kurz liegt eine kleine Smeagol/Gollum-Situation vor. Bevor wir jedoch weitere Kostproben dieser schönen Eigenart erhalten, wird er auch schon abgestochen. Mehrfach. Mir gefällt die drastische Direktheit, die diese letzten Folgen der Serie mit sich bringen, auch wenn klar sein dürfte, dass Jeremiah das überlebt hat.
"Bruce Wayne and his sidekick curl… or is he the sidekick?" (Ecco)
Dass sie mit Frisur-Variante Nummer 749 nun endlich eine entdeckt hat, die zu gefallen scheint, lernt Barbara beim Büro-Besuch von Ex Jim. Quasi seine zweite eingegangene Kooperation diese Folge, soso.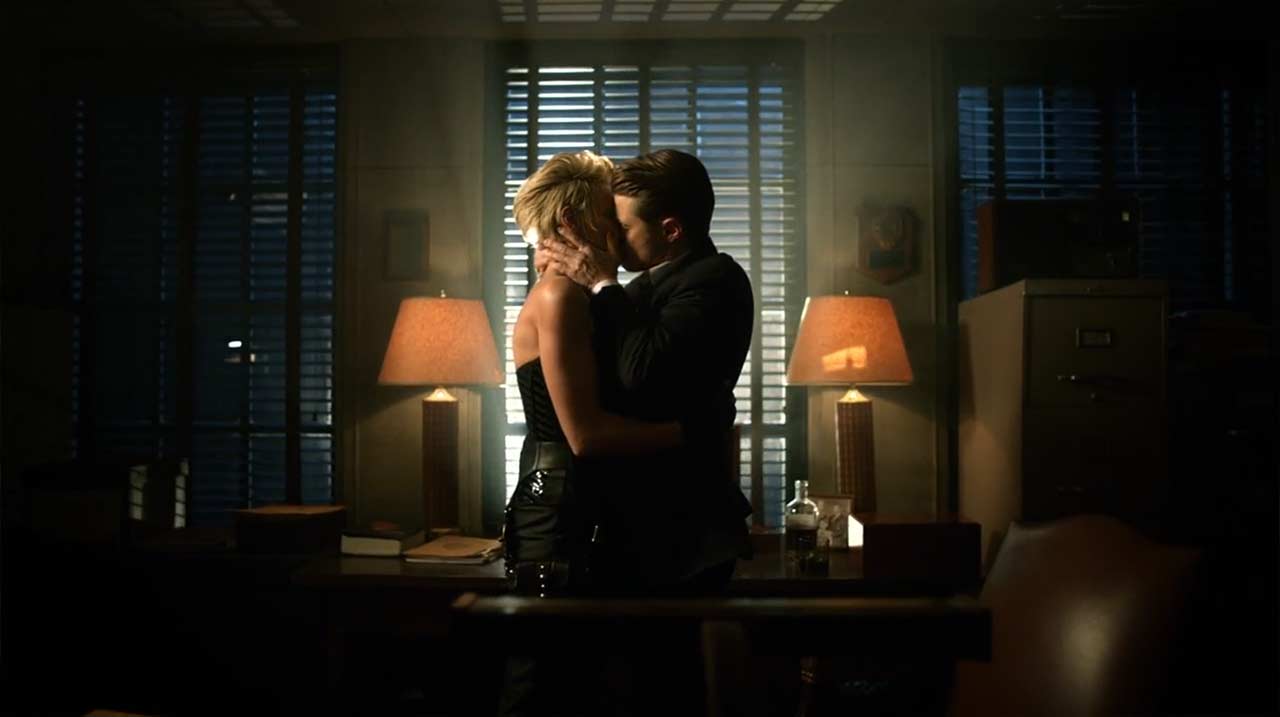 Und dann war es auch schon vorbei. Vor allem die zweite Hälfte der Folge habe ich als sehr kurzweilig empfunden. Allgemein war "Ruin" unterhaltsam, hatte eine ordentliche Portion Action, ohne – von den üblichen Logik-Löchern abgesehen – zu übertreiben und hat dazu vor allem charakterlich enorm dazu gewonnen. Neben den bereits sehr gefälligen Nygma/Riddler, Ecco und Penguin jetzt also auch noch Jeremiah und Viktor. Da wird Bruce Wayne tatsächlich zum grauen Nebencharakter. Für mich die beste Folge der bisherigen Staffel!

Bilder: FOX

-->