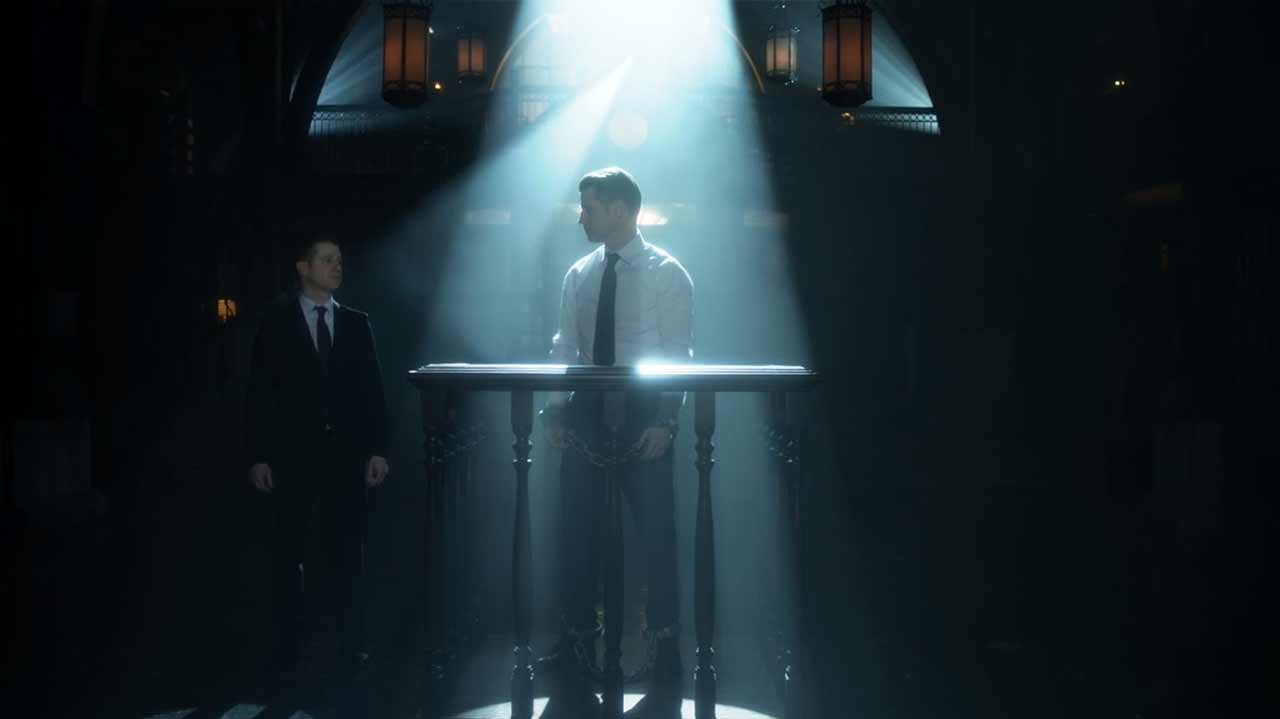 Dieses Mal hat mich nach dem Anschauen der Episode ein seltsames Gefühl ereilt. Die Folge war gut, hat aber dennoch allerorts Potenzial liegen gelassen. Man möchte sich kaum ausmalen, was möglich gewesen wäre, hätte man auf die ein oder andere Dummheit verzichtet. Aber was wäre "Gotham" (Stadt wie Serie) nur ohne Dummheit?
Eine der großen Stärken der Serie wurde direkt zu Beginn ersichtlich. Nein, damit meine ich nicht etwa die nicht allzu überraschende Offenbarung, dass Jim angeschossen wurde, sondern die Aufmachung der Truppe bei Penguin "Pengi" – die kreativen Kostümierungen waren schon verdammt schön anzusehen. Dann noch ein romantisches Candlelight Dinner inklusive Dosenfutter auf feinstem Porzellan – da könnte man schon fast vergessen, dass Jim im Sterben liegt. Ähnlich vergesslich ist scheinbar auch Lee – als ob die seit ihrer Ausbildung keine chirurgischen Eingriffe mehr gemacht hat. Die ein oder andere Kugel dürfte auch in den Narrows zu entfernen gewesen sein. Beinahe ebenso seltsam war es, einen der seltenen Momente zu erleben, in denen Harvey mal wirklich konkretes Polizistenhandeln an den Tag legt. Scharf kombiniert, Sherlock!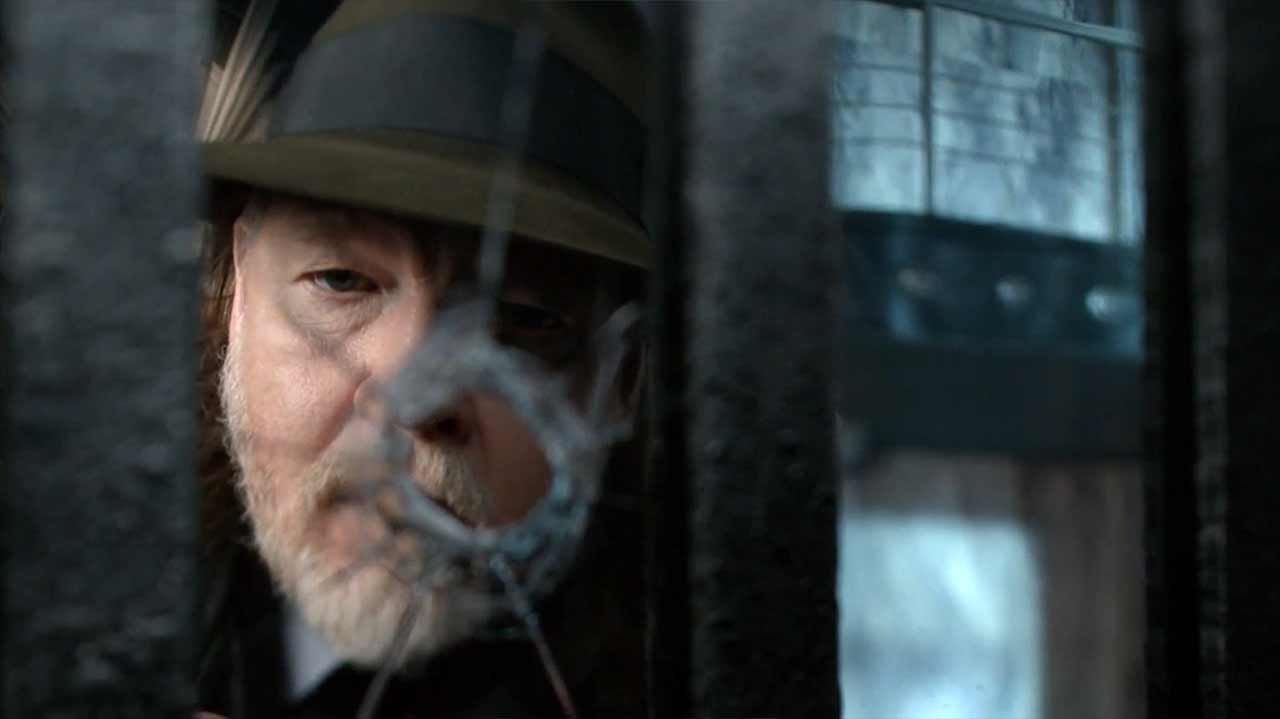 "I don't think things are ever gonna be normal. For me anyways." (Bruce)
Für die humoristische Note war diese Woche Ivy zuständig. Zum einen, weil sie wieder mal für grenzdebil verliebtes Grinsen vielerorts gesorgt hat (auf und vor der Mattscheibe), aber auch, weil sie mal eben so den kampfausgebildeten Bruce in den Schwitzkasten nehmen kann?! Und so sehr ich Viktor auch mag, sein Auftritt war total unrealistisch. Seit er Veganer ist, verhält er sich irrationaler als sonst… Klar, er war durch Ivy hypnotisiert, aber dass die Polizisten ihn in Überzahl und derart auf dem Präsentierteller nicht erschießen?! Und das Ganze gleich nochmal wiederholt in der Wache. Ne, das hätte man anders lösen müssen (zumal die Schusswechsel mehr oder weniger unnütz waren). Aber dafür gab es für uns einen verliebten Viktor, der mit motivierenden Lebensweisheiten um sich wirft – herzallerliebst!
"Sorry – did you just say 'people, uh!'?" (Fox)
Mit Anschuldigung um und gegen sich wirft der in einem Bewusstlosigkeits-Delirium schwebende Jim. Im Rahmen einer Gerichtsverhandlung gegen sich selbst – im wahrsten Sinne des Wortes – stellt er sich seinem Gewissen.
"Are the people in Jum Gordon's life better off with him alive or dead?" (Anwalt-Jim)
Hier hatte ich zunächst angenommen, wir bekommen eine wunderbare wirre Fahrt durch Gedanken und Gefühlswelten zu sehen, wie einst bei den Visionen Bruce'. Aber auch hier empfand ich die Umsetzung als nicht ganz konsequent genug. Irgendwie hatte ich mir das länger, extremer und vor allem konkreter hinten heraus vorgestellt. So war es eine kleine Abrechnung mit sich selbst, ein "Best of Widersacher" bei Jims Beerdigung, der er selbst beiwohnt, ehe er auf den elektrischen Stuhl muss. Ja, eine Abrechnung mit sich selbst, die ihn ins Reine und die Prioritäten hat überdenken lassen. Aber da hatte ich mir mehr erhofft.
Und so überlebt er (Überraschung, war ja im Ausblick zu Staffelbeginn zugegen) und einen Monat später heiratet er gar Lee (schon eher überraschend, vor allem den Umständen entsprechend, als gäbe es aktuell nichts Wichtigeres in dieser Stadt, als die paar guten Menschen, die übrig sind, an einem Ort zu versammeln und abzulenken). Und so erhalten wir erneut ein "The O.C."-gleiches Ende voller Emotion und Küsschen, yay…
"He should be thrilled, marrying a woman who is smarter and better looking than him." (Selina)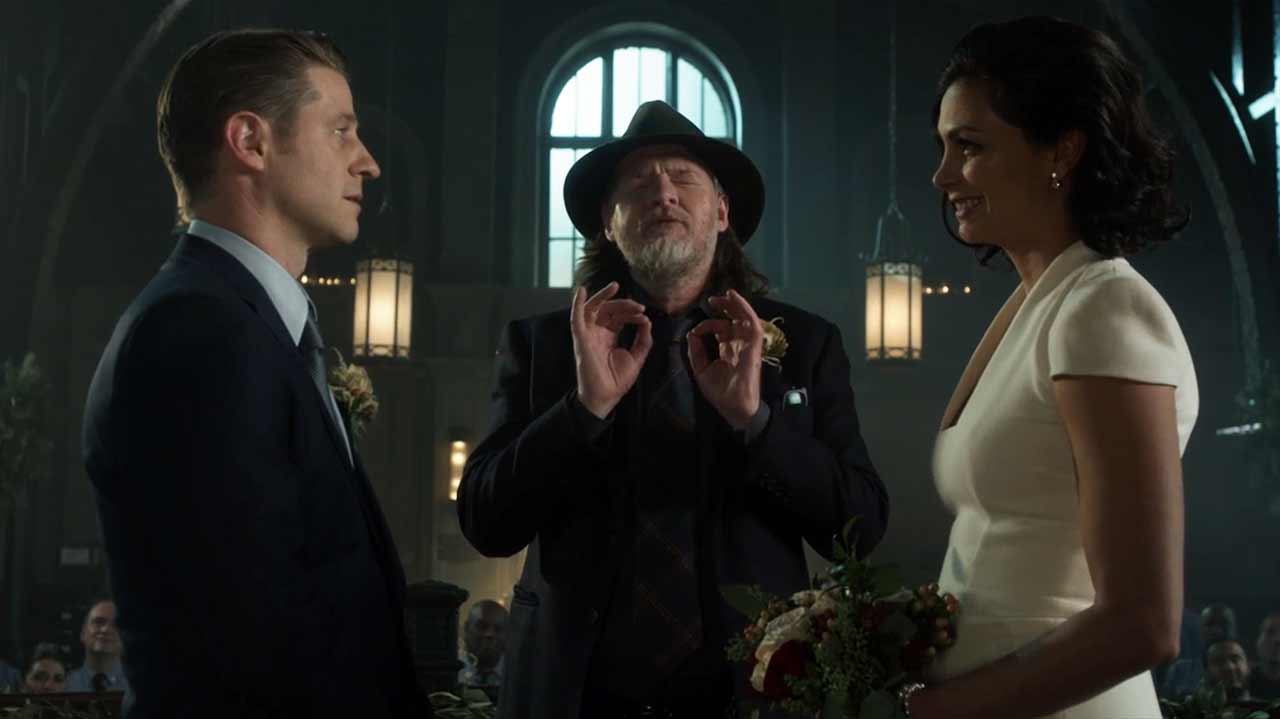 Wie eingangs gesagt ist das Seltsame, dass ich trotz meiner vielleicht etwas zu meckernden Darbietung der Ereignisse vier Kronen vergebe. Die Story war an sich erfreulich konzentriert erzählt, das Timing hat gestimmt, die Ideen mit der "inneren Gerichtsverhandlung" und den versammelten Oberbossen (auch wenn seltsam ist, dass die derart ungeschützt und naiv unterwegs sind…) haben mir gut gefallen. Und vor allem die Kamera-Arbeit muss ich diese Episode hervorheben, da waren einige gelungene Fahrten und Perspektiv-Winkel dabei.

Dennoch hat man eben auch den einen oder anderen Punkt liegen lassen. Unnötige und vor allem unlogische Schießereien, nicht ganz ausgereizte Plots und Kampfesfähigkeiten sind anscheinend so flexibel wie die Motivationen einiger Charaktere. Aber bei der Macht, die mir von niemandem verleiht wurde, erkläre ich diese Folge hiermit zu: ganz gut.

Der Titel der nächsten Episode lautet übrigens "I Am Bane" – mal schauen, wie sie das inszeniert bekommen! Dafür müssen wir uns jedoch etwas gedulden, denn nächste Woche wird pausiert.

Bilder: FOX

-->